I'm the kind of person who likes to end the day with a glass of wine and a good puzzle game before bed. Whether it's The Room series, Monument Valley, or Back to Bed, I enjoy puzzle games where I can move at my own pace and contains the pick-up-and-go quality needed to keep me coming back level after level. I knew I discovered a new, favorite nighttime puzzle game when I came across SiNKR at TERMINUS, Atlanta.
Developed by Robert Wahler, SiNKR is a minimalist puzzle game where you use hooks, pucks, and other contraptions to clean up each level. Accolades for the title include being voted Fan Favorite at SIEGE Con Atlanta, the Megashow Selection at Indie Mega Booth, and Indie Selection at Dreamhack, Atlanta. Though the game doesn't revolutionize the puzzle genre, it offers plenty of things to enjoy across its 60 levels.
Hook, Line, and SiNKR
The core mechanics of the game are simple: guide pucks to their designated place using hooks and hexagons to gently drag them home. Apart from the title screen, there are no words or tutorials. Players have to jump in and start figuring things out on their own.
As difficulty progresses, elements like hooks capable of changing orientation (and linking together), square pucks, teleporters, and launch pads are thrown into the mix. The learning curve is perfectly paced, and all levels are handcrafted. By the time you become comfortable navigating one mechanic, another is soon added for you to conquer.
No lie — later puzzles look overwhelming with all the contraptions and paths on the screen. Sequencing is critical, and it pays to take a moment to visualize paths before you start reeling those pucks to their designated slots. Trial and error is a large part of SiNKR. If you mess up, just tap the reset button in the lower, right-hand corner. No fuss, no worries. The satisfaction of completing a level and progressing forward is worth the effort.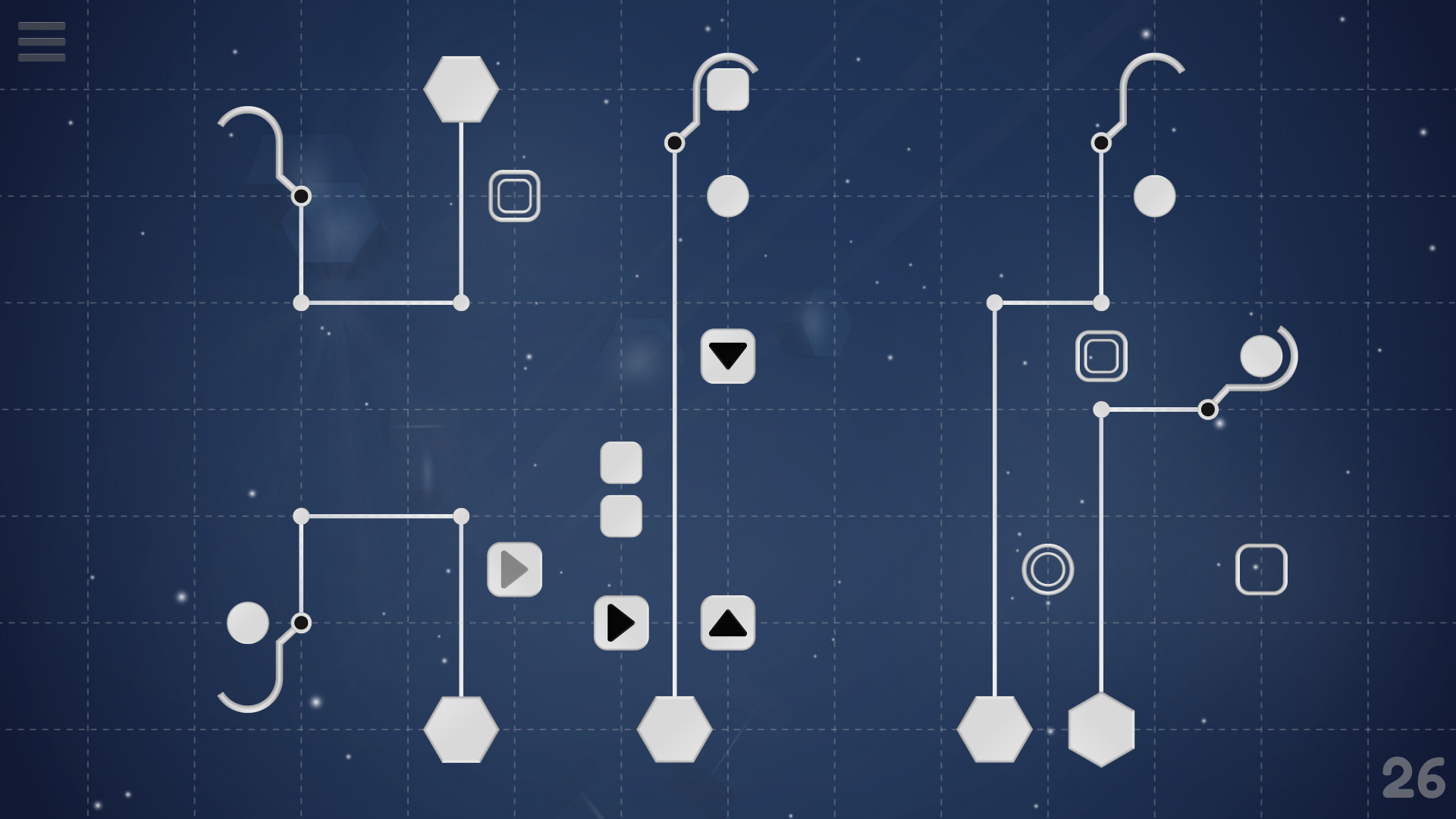 The grid on the screen definitely comes in handy.

Simple Sounds by Design
There are a few things that stand out about SiNKR — the main point being just how relaxing it is. A large part of this is due to the game's ambient soundtrack — developed enough to be present but not so complex as to be distracting. It seamlessly follows you as you progress through the levels. Its repetitive nature may annoy some, but for puzzle fans where concentration is key, SiNKR offers a soothing track that encourages thinking and relaxation.
As an added bonus, the soundtrack is also responsive. Your actions are accompanied by piano samples that further create a relaxing atmosphere for the game. With no scores, timers, or distractions, SiNKR is a game where you can zone out and lose yourself in puzzle solving.
The Skinny on SiNKR
You'll love this game if:
You're a legit puzzle game fan;
You enjoy a minimalist approach to game design;
You like figuring things out on your own with no direction.
You may not like this game if:
A repetitive soundtrack gets on your nerves;
You need a lot of action or variation on-screen to enjoy your gaming experience;
Trial and error isn't your cup of tea.
TL;DR: If you enjoy a good puzzle game to while away a few hours or to unwind with before bed, you'll have a hard time finding something more relaxing than SiNKR.
SiNKR is now available on Steam for $0.99 (and is controller supported) with iOS and Android versions coming in the near future.
[Note: The developer provided a copy of SiNKR for this review.]
9
SiNKR Review: A Soothing, Minimalist Puzzle Experience
If you're a fan of puzzle games with chill vibes, SiNKR is definitely worth checking out.
What Our Ratings Mean
About the author