Like most Sonic fans, I awaited Sonic Frontiers with a mixture of excitement and trepidation. The trailers for Sonic Team's latest didn't exactly get me hyped with their bland environments and seemingly moderate speed. You gotta go fast in a Sonic game, right? And where were the slick tunes?
Sonic Frontiers is an instance where you shouldn't judge a game by its trailer. It's not the sort of open-world Sonic title that fans have theorized about over the years, but it is a far more worthwhile game than it appears.
There is no such thing as a perfect 3D Sonic game — not now and probably not ever — but Frontiers does an amazing job of stirring the Pot of "What Ifs." What if it had more fantastical environments and a more lively open world? What if instead of seeking out Kocos for stat increases, you sought out Chaos or Chaos boosters? What if the enemies were brighter and more akin to the rest of the series?
The Pot of "What Ifs" is hard to stop stirring as you blaze through the obstacles and challenge stages found in Sonic Frontiers. Despite its considerable length compared to many games in the series, you'll find yourself at the end of what's been an amazing blue blur and simply crave more.
You're allowed to progress through the game's five islands at your own pace — that pace being fast, of course, but also open enough that you can speed around getting each collectible in an order with which you're comfortable. And it's very likely you'll find yourself exploring every nook and cranny to seek out additional Kocos or Red and Blue Seeds. It's hard to resist the temptation of rails and ring trails.
In a series rarity, Sonic is able to both increase his stats and learn new abilities to aid in exploration and combat. You'll increase them via collectibles, a system that ultimately provides a smooth sense of progression; you instinctively seek them out over the next obstacle.
That said, it did take some time to warm to the stat system, and the same can be said of the erratic placement of environmental obstacles. Neither seems to belong in concept, but they work wonderfully to make you feel more effective and powerful.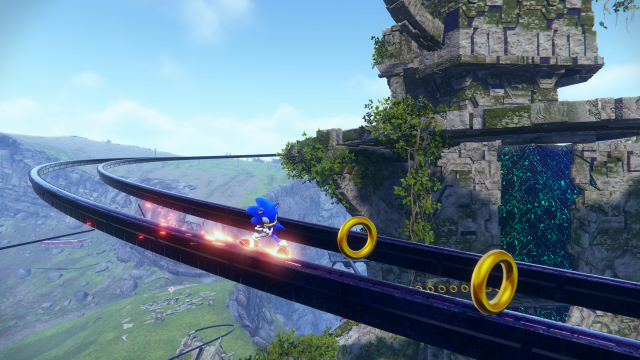 Speaking of power, Sonic Frontiers is the most combat-heavy mainline Sonic game. That does not mean the combat slows it down, though. It's as fast as the rest, just with more button-mashing. Phantom Rush and the other skills you learn along the way are fun, fast, easy to pull off, and don't detract from the overall speed of the game.
It also helps that bosses are intense and memorable, despite not being the most colorful bunch in the series. I'd say more, but I truly believe that the boss fights are something every Sonic fan should experience for themselves. You will not be disappointed.
The Cyber Space stages will be the most familiar territory for fans of the series, with many taking after fan-favorite locations in previous titles. Green Hill Zone, Radical Highway, Dragon Road, and many more make appearances, and each should tickle most fans and give some much-needed scenery changes from the islands.
My largest complaint is just how unremarkable the open world is at large. Though there are some portions that stand out, not even the day-night or weather cycles can make the islands feel more alive. They just don't feel right for the franchise, and neither do the pop-ins they bring with them.
If the open world at was more vibrant, Sonic Frontiers would be lauded as the second coming of the series more than it already is. To be very fair, it is the best game in the series since Sonic Generations very easily. Is it better than Generations? No. But it could be, and the next very well could be, too. There is far more to love about Sonic Frontiers than it initially lets on.
Sonic Frontiers Review — The Bottom Line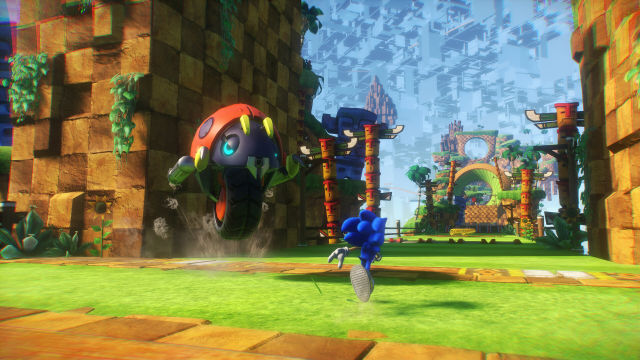 Pros
Fast enough once you upgrade Sonic.
Memorable boss battles.
Well-paced despite the open world, thanks to the slew of collectibles, stages, enemies, and obstacles.
Considerable length for a Sonic game (15~ hours).
Cons
The open world needs more pizzazz.
Obstacle pop-ins can be troublesome when you're boosting around.
I suppose I've been waiting for a Sonic game to usurp Generations for a long time. Though Sonic Adventure 2 is my personal favorite, Sonic Generations stands as my gold standard for the 3D portion of the series. Sonic Frontiers doesn't outdo Generations, but it doesn't have to. Sonic Team has tried something new with this entry to Sega's long-running series, and it's one heck of a ride.
Always fast and sometimes furious, Sonic Frontiers gives me a sense of wonder I haven't had with the 3D portion of the franchise in a decade, and it does so with the sort of flair I want from Sonic Team. It's not perfect, but it is a huge spin dash in the right direction for the Blue Blur. The next game needs to build on what Sonic Team has put together here because this is a formula with long legs.
[Note: Sega provided the copy of Sonic Frontiers used for this review.]
8
Sonic Frontiers Review — Fast as the Rest
Sonic Frontiers gets the most important thing about the Blue Blur right, and some other things, too.
What Our Ratings Mean
About the author