Throughout my entire playthrough of Spyro: Reignited Trilogy, I couldn't help but smile.
Revisiting the original Spyro games with an adult mindset and beautiful HD graphics brought about a flood of nostalgia. I could vividly see myself, sitting on my bed, playing the original games on my PlayStation. I remembered the joys of exploring each unique level and showing off to my family what I had achieved.
I never thought I could ever feel such a deep, emotional response with the return of a cartoon-y purple dragon, but by God, did the Reignited Trilogy do that.
I had no doubt that the original Spyro Trilogy would hold up well, as the Crash Bandicoot N. Sane Trilogy proved PS1 classics could gain a second life in today's gaming world. Sure, there are some hang-ups that don't quite line up as they did in 1998, but Spyro: Reignited Trilogy is another example of why we need more platformers in an age that's filled with open-worlds.
If you've never played Spyro, here's the gist of his first three games:
Spyro the Dragon has the titular character fighting against Gnasty Gnork, after the latter turns all of his dragon elders into stone.
The Sequel, Ripto's Rage, has Spyro attempting to go on vacation when he's summoned by a Professor and his two friends to help fight against the titular Ripto and his henchmen.
Finally, Year of the Dragon has an evil sorceress stealing dragon eggs, and Spyro must team up with a group of colorful animals to get the eggs back.
I say all of that to say this: don't expect much in the way of in-depth story. This is, after all, a platformer. Don't expect something like Jak and Daxter or Ratchet and Clank level's of storytelling
However, the charming cast of characters you meet are filled with personality. From the Surfer-Dude-like Hunter to the Greedy Moneybags, each of the characters is filled with well-defined characteristics. You'll even get a few chuckles from the various cutscenes that bookend each level.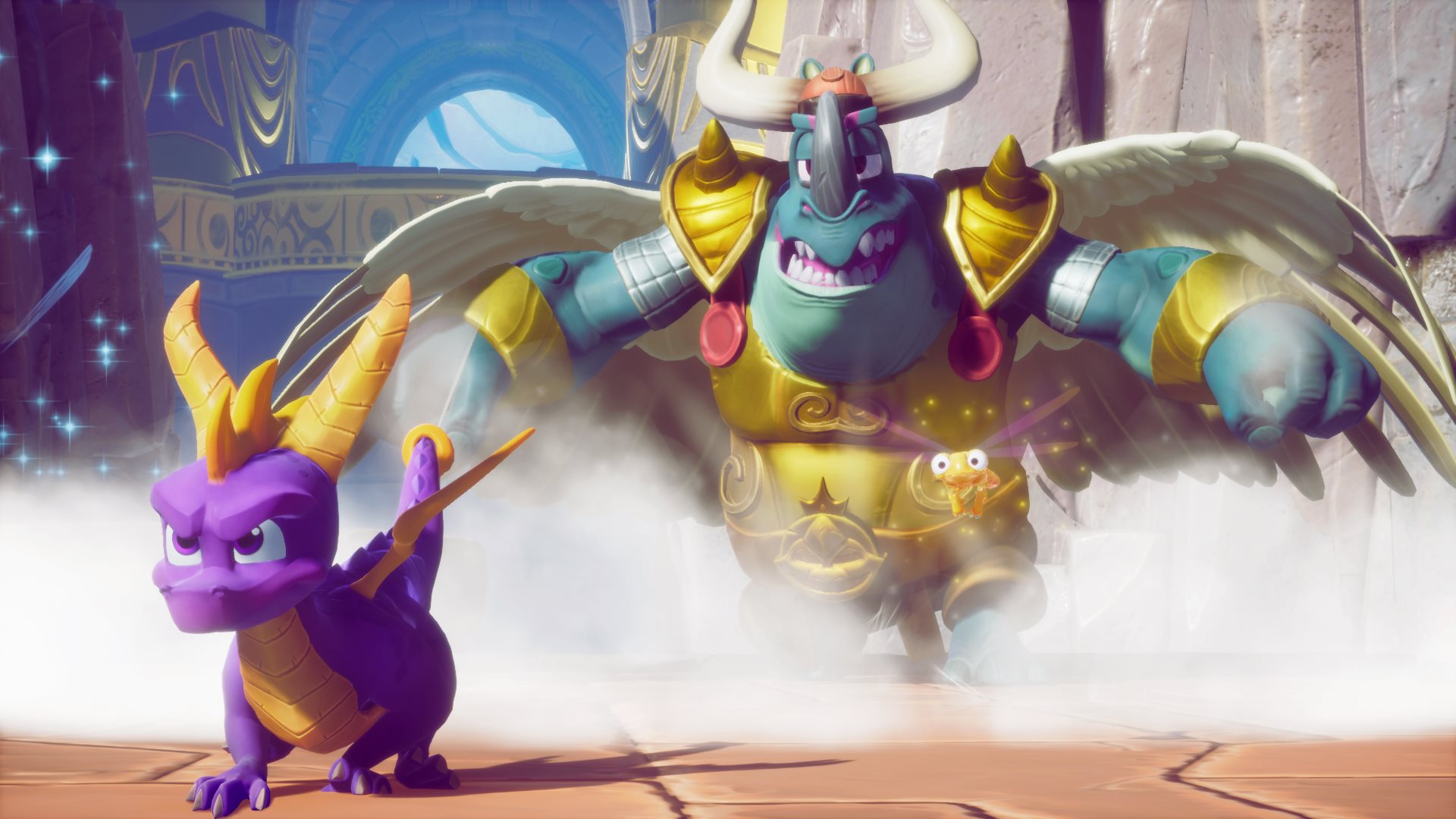 If you never played a Spyro game before, it may just come off as just another 3D platformer. You'll jump, glide, and collect to your heart's content. Your only means of attack includes fire breath and a charge attack to take down shielded and metallic enemies.
What made Spyro stand out from other '90s platformers was the emphasis on exploration. While the worlds you visit aren't quite as deep or complex as in something like Super Mario Odyssey, there's still a lot to do and collect in each of the worlds.
The first game, in particular, is all about collecting, as you'll spend most of your time exploring and looking for dragons. In the Reignited Trilogy, the guidebook you have has seen a noticeable upgrade from the original and now does a much better job of keeping track of the dragons and gems still left to collect.
Aside from a few dragons that are hidden in some obtuse places and will require some finesse platforming skills, the original Spyro is mostly a breeze to get through, taking around four hours to complete.
That being said, you can add an extra hour if you want to collect everything. It's a much simpler game when compared to the other two, but the platforming and "urge to collect everything" still holds up — even by today's standards.
Ripto's Rage and Year of the Dragon, on the other hand, have aged even better and both feel like what the first game should've been.
Where the first game was a collect-a-thon, Ripto's Rage and Year of the Dragon are more about completing various tasks and mini-games, like skateboarding, jumping challenges, and "killing X enemies" in some sort of order. While a few mini-games haven't aged as well, they're few and far between.
Ripto's Rage introduces power-ups, like increased fire and charge damage, shooting fireballs, short-term flight, and more. It also introduces abilities like swimming, climbing, and other interesting moves that propel the game forward. Some level sections are inaccessible without them, encouraging you to replay old levels with your new movesets.
It all adds up to a much more varied and a meatier game, lasting longer than the original (though it can still be beaten in about six hours).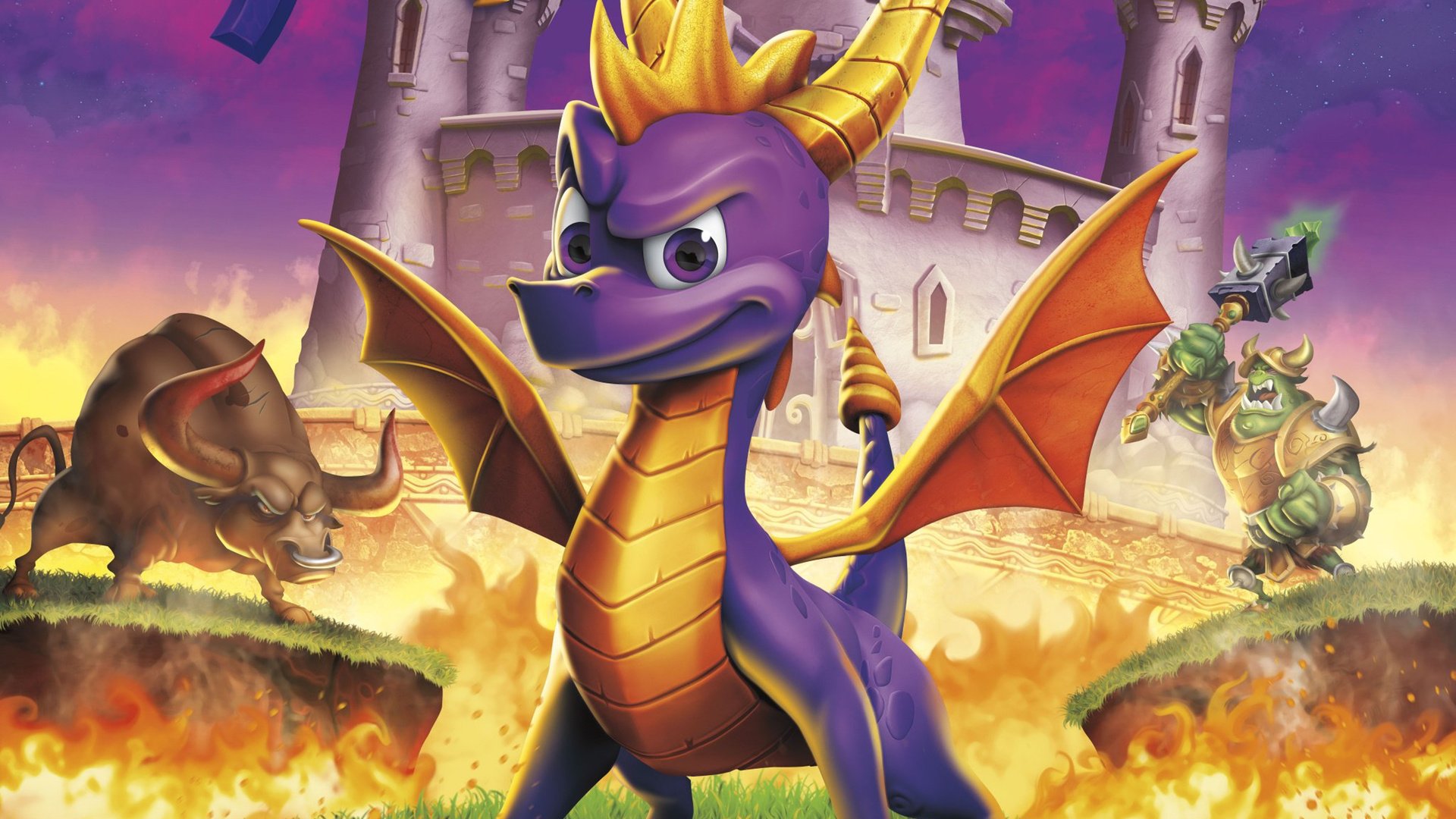 Year of the Dragon, meanwhile, continues to improve upon the foundations laid by its predecessors and has sections where you play as new characters, such as Shiela the Kangaroo, Sgt Bird, Agent Zero, and Bently the Yeti. Each brings a different and unique style of gameplay to the standard platforming, but they never feel out of place.
None of this would mean anything if Spyro didn't control well.
Luckily, Spyro has always had simple-to-learn controls and the Reignited Trilogy keeps that going. Spyro moves just as silky-smooth as he did in 1998 and the added analog controls make for better movement. Save for a few instances where Spyro just barely missed where you wanted to go and somewhat stiff flight controls, all three games handle like a dream.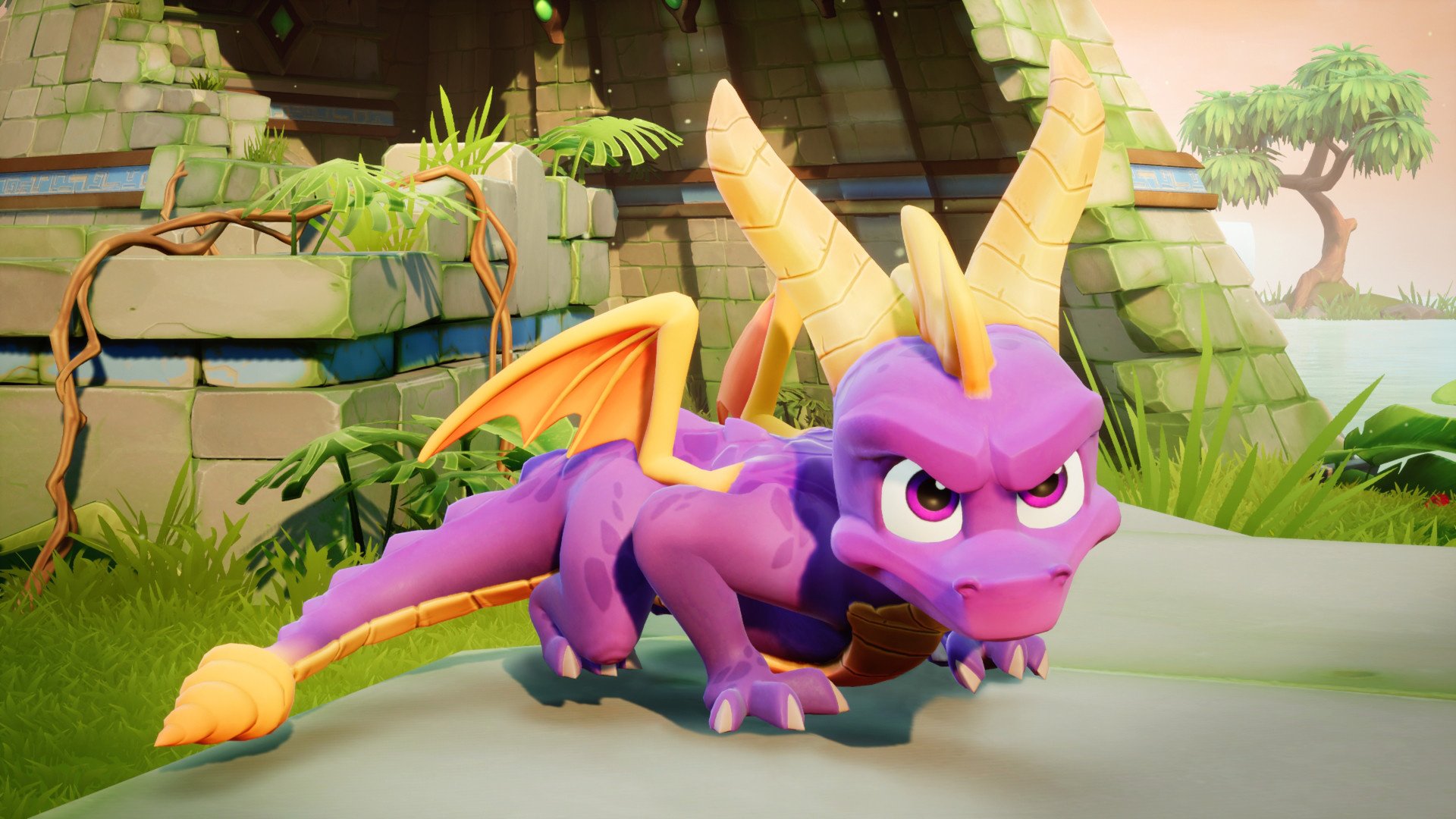 The only real misstep with the controls is the default camera mode. It's far too sluggish to keep up with the action, so I recommend going to the options and choose the alternative camera option. You'll thank me later.
The biggest update to Spyro is the new graphics. The Unreal Engine is put to great use in bringing the blocky, triangle characters and world of the original games to the HD world. It's a beautiful looking game with vibrant colors, excellent animations, and character models that do a great job of mixing new and old.
On a base PS4, the performance kept well, though some of the cutscenes had some noticeable slowdown and it'll take you out of the experience. While some have taken issue with the game's use of motion blur, I never found it to be a problem and thought it worked fine.
The audio is equally impressive, with series composer Stewart Copeland remaking all of the music from the original with a modern take. It sounds just as good as the originals, though you can change back to the original soundtrack if you're not a fan of the new arrangements.
On the voice acting, the game sees Tom Kenny, Greg Burger, Michael Gough and more reprising their roles. They all sound just as great as they did back in the late '90s and it's a nice piece of fan service to have them back. The newer voice actors also do good jobs, though a few characters start to sound too familiar to one another.
Spyro: Reignited Trilogy is another win from Activision. It manages to modernize what made the original Spyro games so memorable while staying to its roots. Some parts haven't aged as well, but it's a testament to how strong game design never ages.
Now that both Crash and Spyro have returned, I can't wait to see what the future holds for these two icons.
8
Spyro Reignited Trilogy: Reigniting a Franchise
The Purple Dragon returns in one of the best remasters of a classic franchise.
What Our Ratings Mean
About the author