SteelSeries is a well-known brand with a reputation for making high-quality hardware and devices that you genuinely enjoy using. Now with this latest SteelSeries headset, the SteelSeries Arctis 1 Wireless, they're targeting a slightly different market with an eye for affordability.
Good gaming headsets are often regarded as expensive and far too cost-prohibitive to be worth purchasing for the average consumer, but a headset like this changes the conversation a bit. For $100 you can get a headset that easily works with your PC, Switch, Android device, and PS4 wirelessly. It can also plug into anything else you own with the included 3.5mm cable. Out of the box. No Bluetooth required.
Arctis 1 Wireless Design
Before we get into the nitty-gritty details of performance and tech specs, it's important to analyze the visual design. Headsets are functional, but they're also something you wear on your body — often in public — so design is a crucial factor.
The Arctis 1 is blessed with a very light, low profile, as well as an unobtrusive design that is frankly much smaller and thinner than what you would typically expect out of a "gaming" headset. The smaller form factor is likely a big reason why the audio quality isn't up to par with higher-priced models on the market, as expected, but it does mean they're much more usable in a normal everyday setting. You can just unplug the mic and wear them to listen to music while commuting or walking around and easily stick them in a backpack for travel.
The ear cups rotate cleanly to lay more flatly while in a bag, which is extremely useful. My HyperX Cloud headset that usually gets stuffed in my bag is very bulky and leaves a big lump on my back when stored.
One downside is that the headband is not elastic at all, only the pieces connected to the ear cups extend. This means it likely won't be a great fit for all head shapes, especially since it's designed to pull the ear cups toward the middle when not being worn.
The Arctis 1 Wireless is an extremely light headset. The left ear cup has a spot to plug in the included detachable microphone, a plug for the included optional 3.5mm cable, a port for the included USB cable for charging, a volume wheel, and a switch to mute or unmute the microphone. The right ear cup only has the power button and a battery indicator light.
Arctis 1 Wireless Comfort
For me, the most important aspect of a device you're expecting to wear on your head for hours on end is comfort. As someone who wears glasses, I can't wear headsets that pinch my ears on my frames, are too tight, have small ear cups, or are generally not comfortable to wear. I want to forget I'm even wearing a headset as quickly as possible.
Overall, the Arctis 1 Wireless is quite comfortable. The steel headband is very firm and sturdy with a soft cushion that rests on top of your head. It keeps things nice and fluffy. The ear cups also use that same soft material and are large enough to completely cover my ears to avoid pinching.
That being said, I did find it a little annoying at first that the ear cups aren't very deep. When first putting them on, you can feel the speaker portion of each ear cup actually touching the tips of your ears. Eventually, I could ignore it, but each time I put them on, I was reminded my ears were rubbing against the speaker fabric, and it was a bit odd. I've honestly never had a headset sit like that on my head.
Arctis 1 Sound Performance
Sound performance is really where the Arctis 1 Wireless leaves a bit to be desired. It simply doesn't have much bass and doesn't deliver a very "full" sounding audio profile. For gaming, it's good enough and is certainly loud enough (it honestly hurt my ears if I turned it up all the way when plugged into my PC) and can communicate subtle nuances like game music, sound effects, and spoken dialog well. It also worked very well with Discord for voice chat.
The lack of bass makes some music less enjoyable to listen to, but you get what you pay for. If you appropriately level your expectations, you likely won't be disappointed.
I played some PUBG, a bit of The Outer Worlds, and a handful of indie games over the course of a few hours and was happy with the results on PC. It's not as good as the fancier Lucid Sound headset I'm used to, but it's far more flexible across all of my devices.
Speaking of which, using it on Switch is great. Since the Switch has a USB-C port right in the bottom, you can plug the Arctis 1 in without having to use an adapter cord like you'll need to do on PS4 or (probably) on PC. The dongle is so small you can barely tell it's there. Even with the dongle plugged in, my Switch still fits cleanly into its case. Although, there is no passthrough USB-C port on the bottom to let you charge it and use the headset at the same time on Switch — a feature the Bluetooth adapter from Bionik thankfully did include.
One other thing to point out is the range on the dongle, which is frankly astounding. My Lucid Sound PC headset, which also uses a USB dongle, has a pretty limited range. If I leave my office and go into the living room, the audio and mic both start to skip. But with the Arctis 1 Wireless, I was able to walk all the way out of my office, down the hall, through the living room, and into my kitchen without any loss in audio at all. It's remarkable. That's all the way on the other end of my entire house. Reportedly the range is 30-feet, but it seemed much farther in practice.
The SteelSeries Engine software has a good selection of tweaks to make as well, including equalization to get the audio sounding just right as well as monitoring battery life (which is about 20 hours). And all of those settings you make on your PC using the app are saved to the headset, no matter which device it's plugged into.
Finally, SteelSeries did a great job of making the Arctis 1 adaptable because when you unplug the dongle and plug it into another system, like moving from PC to Switch, it only takes about five seconds before audio picks back up. Bluetooth devices can often take several minutes to resync or troubleshoot. The Arctis 1 Wireless is purely painless.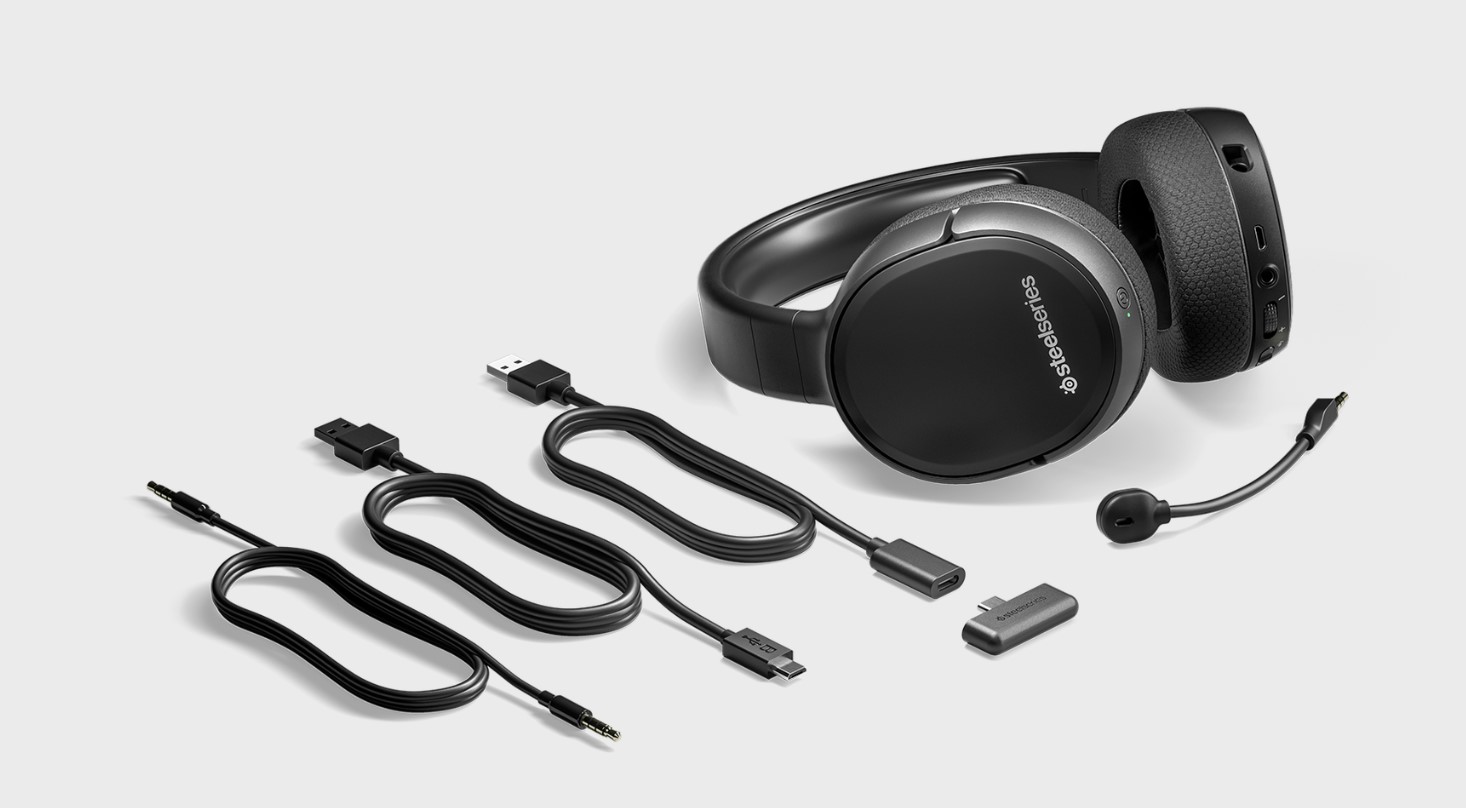 The fact of the matter is that if you're looking for a budget headset that can do it all, it's hard to beat the SteelSeries Arctis 1 Wireless. Not only is it comfortable enough to wear for long sessions, durable enough to not feel cheap, and affordable enough to not break the bank, the wireless functionality is great, and it works across basically every device you'd want to use it on.
Pros:
Wide range of compatibility options
Dead simple to use
Comfortable to wear
Excellent value
Cons:
Mediocre mic and sound quality
No elastic headband
Arctis 1 Wireless Specs
| | |
| --- | --- |
| Headphone Frequency Response | 20–20000 Hz |
| Headphone Sensitivity | 98 dBSPL |
| Headphone Harmonic Distortion | < 3% |
| Headphone Impedance | 32 Ω |
| Headphone Volume Control | 40 mm |
| Mic Frequency Response | 100–6500 Hz |
| Mic Type | Detachable Boom |
| Mic Sensitivity | -38 dBV/Pa |
| Mic Polar Pattern | Bidirectional Noise-Canceling |
| Wireless Type | Lossless 2.4 GHz |
| Range and Battery Life | 30 ft, 20 hours |
| Headset Weight | 8.9 ounces |

[Note: A SteelSeries Arctis 1 Wireless headset review unit was provided by SteelSeries for the purpose of this review.]
8
SteelSeries Arctis 1 Wireless Headset Review: Affordability Meets Wide Compatibility
Coming in at an affordable price point with wide-ranging compatibility in a comfortable design, the SteelSeries Arctis 1 only suffers from imperfect audio quality.
What Our Ratings Mean
About the author