When you open the box for SteelSeries' Sensei Ten gaming mouse, you're faced with a bright orange flap with BOW TO THE MASTER written on it in big block capitals. It feels like something out of John Carpenter's They Live, and sets you up to expect something life-changing.
But no, the Sensei Ten is just a mouse. It's a perfectly good one, with a clean design, solid responsiveness, and an ergonomic feel, but it's not anything I'll be genuflecting towards on the regular.
At an MSRP of $69.99, and with a demand for obedience on the box it came in, I don't think I'm being unfair if I feel a little let down overall.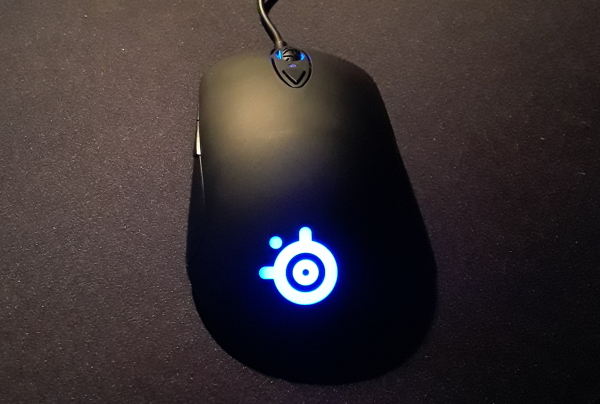 The feature set on the Sensei Ten, however, is impressive if not flashy. It's an ambidextrous, lightweight mouse designed for gaming, but which is small enough to fit easily in a laptop bag, has a durable dual-spring setup, and is tested to work with a wide variety of mouse pads.
Most of what you get out of the Sensei Ten is subtle. I didn't really appreciate what the mouse was until I spent some time working with a much cheaper mouse, then going back to the Sensei Ten. SteelSeries' mouse is designed to simply work, with a lot of small quality-of-life bonuses built into the model.
What it doesn't have, really, are any of the big visible features that I usually associate with gaming mice. It has a DPI switch on the top that, by itself, lets you toggle between five pre-set sensitivity settings, and two extra buttons on either side.
In the latter case, the buttons are located so high on the unit that they don't feel ergonomically useful, in or out of game. You have to retrain your thumb to rest a little higher than usual, which gave me hand cramps in short order. It was often easier to just pretend the extra buttons weren't there than retrain my hand into a raptor grip.
On the plus side, the Sensei Ten features a Tilt-Move optical sensor, which is apparently close to the current top of the line. It comes with a tracking system, so your pointer's position stays consistent even if you pick up the mouse and move it around in the heat of the moment. The sensor features a 450 inches-per-second tracking speed on any particular surface. It's usefully sensitive on anything from a bare table to an expensive custom mousepad or that cheap slab of styrene you got as free swag that one time.
That's about it, really. The Sensei Ten is a working-man's mouse, with sturdy construction and customizable sensitivity, with the option to use it ambidextrously if you're a left-handed player. (It's downright weird how seldom you see that in a gaming mouse.) The Tilt-Move sensor stabilizes your movements and allows for smooth motions on just about any surface, and the whole package is still small enough to easily fit in your laptop bag.
You can get a perfectly decent user experience from the mouse, or install the SteelSeries Engine to further tweak its responsiveness and sensitivity. By default, it hovers around a CPI (Counts Per Inch) of 1,800, but you can push it all the way up to 18,000 if you should, for whatever reason, need to do so.
Pros:
Ambidextrous
Tunable CPI
Customizable button layout
Configurable to specific games
Surprisingly portable
Cons:
$69.99 can be a bit steep
Relatively small; Big- or medium-handed users need not apply
Extra buttons on the sides might as well not be there (see above)
Bottom line: I'm used to gaming-specific mice that have a lot of extra buttons, settings, or various bonuses (i.e. Razer's assortment of custom grips) that simply aren't on the Sensei Ten. Most of what I can recommend about the Sensei Ten is invisible, and it is hard to appreciate without a couple of weeks of testing.
It's perfectly responsive even on old, grimy mousepads; it's built to last; and it's quite responsive. If you need a mouse that'll do just as well for daily tasks as it will for your preferred shooter, and which will probably last for a good few years, the Sensei Ten is here for you.
Sensei Ten Specs
Sensor
TrueMove Pro
Sensor Type
Optical
CPI
50-18,000 in
50 CPI increments
IPS
450
Acceleration
50G
Polling Rate
1,000Hz 1ms
Hardware
Acceleration
None

[Note: SteelSeries provided a Sensei Ten review unit and a QcK Edge mousepad for the purposes of this review.]
8
SteelSeries Sensei Ten Gaming Mouse Review: All About Quality of Life
SteelSeries' Sensei Ten doesn't look like much, but it's got a lot going for it under the hood — even if it is a little pricy.
What Our Ratings Mean
About the author