In late January, Fun Punch Games released their very first game, Strikers Edge, for PC and PS4. At first glance, the game looked like a Flash game that got taken way too far, but with a closer look, the game exudes quality and depth. For a new studio, I was already impressed by the game's looks and couldn't have been more excited to check it out once I saw more of the game.
Surprisingly Good Lore
Strikers Edge has a surprising amount of lore for an indie game. The game has eight short campaigns for each playable character, each with its own interesting backstory. The campaigns themselves are simple but still provide a good amount of story to make you want to play through all the other campaigns as well. It would have been cool if the stories had intertwined more with one another, but all in all, the lore of Strikers Edge is surprisingly good and definitely helps the game elevate itself above a glorified Flash game.
When reading the stories, it's clear that a lot of time went into the lore and that it was thought out very well. This gives the lore a lot of potential to expand to new characters or even to new mediums like comics and books, and it would be interesting to see if Fun Punch Games will take their lore to a whole new level.
Intense Gameplay
Strikers Edge is a hero arena brawler that's a little different from your standard brawler game. The core of the game mostly resembles dodgeball, everyone's favorite P.E. activity. In the game, you pick a character and take on your opponents in either a 1v1 or a 2v2 fashion. Both teams have their own sides and have to hit each other with projectiles. To make the concept a bit more exciting, the developers threw in a dodge mechanic, a charged attack, a block, and a unique ability for each character.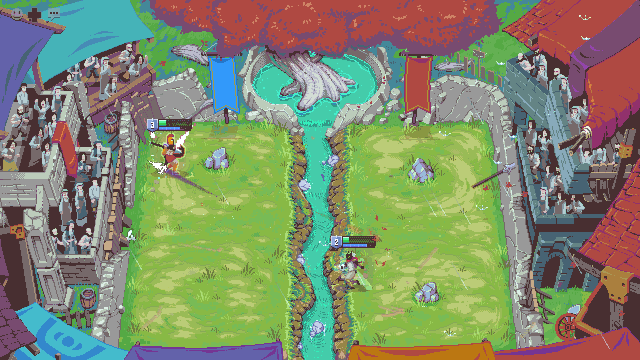 All these mechanics perfectly support each other and make the overall gameplay of Strikers Edge really fun and mechanically intense.
Simply said, the game just works!
The fights always feel fair, and you'll need to be quick on your feet and utilize both your defensive options and your offensive options to come out on top of your opponents. The game's mechanics really give you the ability to create your own playstyle and surprise your opponents with interesting ways to claim your victory.
Overall, Strikers Edge uses a simple concept but makes it so much more fun and mechanically deep by adding simple but impactful mechanics that really spice up the gameplay to the point where it's super intense and fun to play on your own in online matches or locally with a group of friends.
Arcade Look
When looking at Strikers Edge, the game just screams "arcade." From the graphics, sounds, and even the way the menu behaves, it almost seems like Strikers Edge was made to be played on an arcade machine. The pixel art and the overall fantasy style really suit the game and make Strikers Edge a joy to look at. The characters, though simple, all have a cool and distinctive look to them that expresses who they are.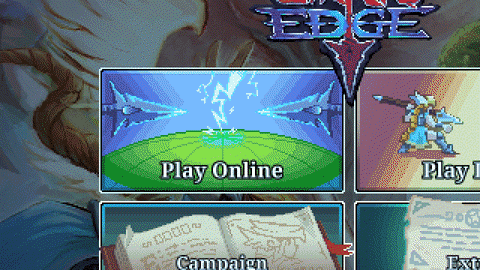 The game has four different arenas that do vary in quality; three out of the four arenas look detailed and lively, while the last arena, "Battleships," kind of looks unfinished or rushed and lacks the detail the other arenas have. Apart from that, the graphical design of the game is great and sets itself apart from other similar indie titles.

Satisfying Sounds
The music in Strikers Edge definitely could have been better. The menu music is a nice and calm track, but it doesn't fit the game at all. The other music in the arenas does fit the game, but it's repetitive and not as good as expected. However, playing your own music over the game is a great alternative.

The sound effects are where Strikers Edge shines. The menu sounds are just like how you'd expect them to be and give off that arcade vibe once again. In the arena, the hit sounds and especially the headshot sounds are super satisfying, making each hit just feel a bit better. The crowd also cheers whenever you do something good, making the matches feel more lively and making you feel even better when you pull off that clutch win.

Small Player Base
At this point, the only thing that's holding Strikers Edge back from becoming something big is its player base. Finding online matches takes a little while, and there is no real community around the game yet. This is sad to see because the game has a lot of potential to become a competitive game, and with features like Twitch integration, it is an awesome game to stream. Strikers Edge just needs some good marketing right now to grow its player base and become an awesome game.
Conclusion
With all that said, Fun Punch Games did an awesome job with Strikers Edge. The game feels great, it's fun, and it looks awesome. There are still things left to be desired, like better music and some more in-game settings, but all in all, Strikers Edge is a very cool and interesting game that has the potential to become even better.
8
Strikers Edge Review: TowerFall Meets Dodgeball
Strikers Edge is a new dodgeball-like brawler game for PS4 and PC that has nice lore, an awesome graphical style, and in-depth gameplay.
What Our Ratings Mean
About the author