Some of our favorite video game franchises come from the arcade cabinets of yore: Donkey Kong, Street Fighter, and Michael Jackson's MoonWalk (look it up). Toki, while frustrating, is one of better platformers from that era and, luckily, a game that plays great on the Nintendo Switch.
Toki has all the platformer/shooter things that you love: six different levels, a hard-to-defeat boss at the end, enemies that can kill you in an instant, and a limited amount of credits. It's a game that tasks you with expertly going through each level with cat-like reflexes and focus.
Danger and instant-death lurk around every corner.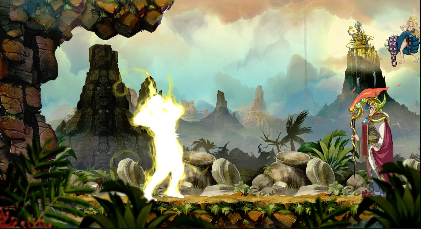 Toki starts as a human but is transformed into a slow-moving ape who must save the damsel in distress so he can return to his human form. To fend off the enemies keeping him from reaching his goal, Toki has one attack: spitting energy balls. Luckily, you can upgrade your attack for a short time with several power-ups scattered throughout the levels. You'll be able to spit two balls at once, three balls at once, shoot fire, and more.
Just like the original arcade game Toki will die if he comes into contact with anything. If you lose all your lives, you have to restart the level and you get a credit taken away from you — classic, but frustrating all the same. If you lose all your credits, you have to restart the entire game.
Since basically anything can kill you, you're going to die a lot. Dying over and over really isn't fun, per se, but after you die a couple dozen times (like I did), you start to pick up on where the enemies are and how you can complete each level rather quickly.
One way to not die is to get the helmet power-up (kind of like the armor power-up in Super Ghouls n' Ghosts). This allows you to take an extra hit from an enemy without you instantly dying.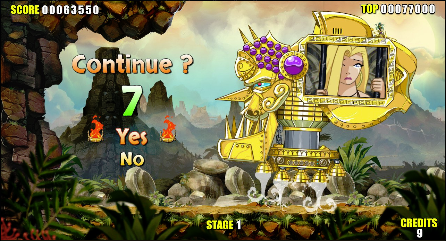 Throughout the game's six levels, you will find the usual water and fire levels found in platformers like these (which are always my favorite levels). Whether it's swinging on a vine or jumping on a see-saw, each level has you face to face with the boss at the end.
Each boss will have different things to throw at you while you try and shoot them. I tried just aiming for the boss and avoiding the obstacles but due to Toki's slowness, I often died while going side to side. Your best bet is to take out the obstacles, whether they are giant balls bouncing towards you or the B.U.R.P letters in the fire level, and then go on a full-blown attack of the boss.
One of the downsides to having an arcade remaster on the Switch is that there is no save function in the game. Yeah, that's right. No matter how far you get, you can't exit the game and play a few rounds of Super Smash Bros. Ultimate. Just like the old days, you have to play the whole game through in one sitting. You won't lose everything if you put your Switch to sleep after a level, but you'll lose everything if you close out of the game.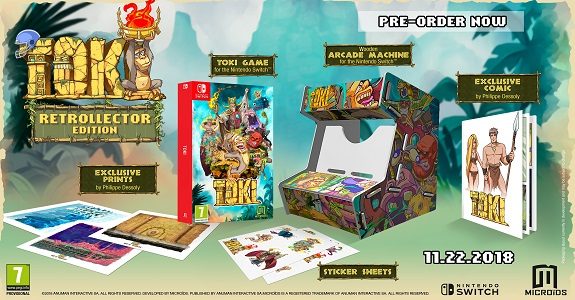 Pros:
Beautiful Remastered Graphics and Soundtrack
Lots of fun
Challenging
Cons:
Not many levels
Challenging
No save support.
Toki is available now on the e-shop and a physical Retrocollectors Edition is available only at GameStop, which features a mini arcade cabinet that you can put your Switch into so you can play the game as if you are in an arcade.
The combination of a fail-and-try-again arcade game, hand-drawn characters, remastered graphics along with a re-orchestrated soundtrack makes Toki a true remaster. While the arcade die-and-lose-all-your-progress style isn't that popular in games nowadays, this game remains true to the original arcade cabinet, and I respect that choice.
Toki is a great way to introduce the new generation of gamers to the pain that many faced in those arcades with just a handful of quarters and a few hours until their parents came to pick them up.
[Note: The developer provided the copy of Toki used for this review.]
8
Toki Remaster Review: Frustratingly Great
Toki is a true to form remaster of the arcade classic with updated graphics, music and that ever growing death tally.
What Our Ratings Mean
About the author