It's kind of funny how Turtle Beach packages its products. I have a wired Elite Atlas headset, which seems to have been designed for the sake of an unboxing video; you unwrap that thing and you feel like humming the theme from 2001: A Space Odyssey.
The cheaper the headsets go, however, the less spectacular the presentation. If Turtle Beach made cheap convenience-store headphones, they'd come in a brown paper bag.
The Recon 70, conversely, is designed as a mid-range, affordable option for your headset needs, priced at US$39.99, with no frills or particular gimmicks. It's the product of a designer who knows the audience; this is a headset for somebody who wants a bargain and has nothing to prove.
You can spend a lot of money on PS4 peripherals without really trying — because Sony — and headsets are no particular exception. After a few days of marathon sessions with the Recon 70, I can say that at this price point, it'd be hard to do much better. It's a durable headset that provides decent sound for the money.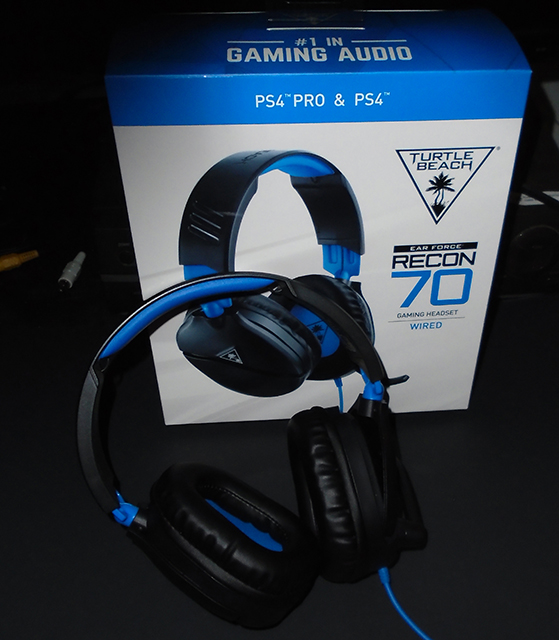 The word "decent" is crucial here, of course. You're paying for "serviceable" with the Recon 70, and that's what you get. The sound is clear, adjustable, and audible. If you're looking for a pair of headphones that'll fully embody the majesty and orchestral flavor of a particularly bombastic game soundtrack, these aren't them.
The Recon 70 also has a trademark Turtle Beach feature, as does the Atlas One on PC: the microphone is automatically muted if you flip it up. I go through a lot of headphones, and I've seen a lot of them that put their mute switch in some seriously awkward positions. (I have a Corsair PC headset where the mute switch is just on the side of the left cup, so it's basically always on. I can't not turn it on.)
With Turtle Beach's cheaper sets, if the mic's out of the way, it's off. It's a common-sense approach that should really be an industry standard, and if you play a lot of games on PS4 with voice chat, it makes the Recon 70 an attractive budget option.
The design is a bit bare-bones in all plastic and synthetic leather, with a master volume dial on the left cup, and it took me a little work before I found an angle at which the headset was comfortable. Once I did, though, I found the Recon 70 easy to wear for long periods of time, which is really all I ask from a headset of any kind.
All in all, it's worth the money. If you just want a pair of headphones so you can play late at night without waking up the house, or you'd rather save your money for one more game, the Recon 70 is a decent all-around option that offers acceptable performance and comfort at an acceptable price.
Pros:
$39.99 gets you a decent wired headset that's compatible with anything that has a 3.5mm jack.

Reasonably comfortable, even if you have them on for an entire workday.
Decent sound.
Cons:
It does feel a little cheap: synthetic leather, thin plastic.
The short cord makes it hard to use for anything besides console play.
"It does the job" is hardly a ringing endorsement.
[Note: A Recon 70 review unit was provided by Turtle Beach for the purpose of this review.]
8
Turtle Beach Recon 70 Headset Review: A Thrifty Option for PS4 Owners
Turtle Beach's Recon 70 gaming headset is cheap but effective — a headset for somebody who wants a bargain and has nothing to prove.
What Our Ratings Mean
About the author