It should come as no surprise that the Yakuza series has come full circle. With the mainline story running strong through 7 games (including a prequel in Yakuza 0), it was time for the series to return to its roots with a total remake of the original game for the modern market. No matter how you feel about this console generation's penchant for remakes and remasters, Yakuza Kiwami is a shining example of how to do it right.
The original Yakuza made its way to North American PlayStation 2 consoles in 2006 and the series has sporadically made its way stateside time and time again ever since. Kiwami, being a remake of the original game, revisits the beginning of Kazuma Kiryu's trials and tribulations outside of the reigns of the Dojima clan.
A good remake should improve upon the original in almost every aspect, and Yakuza Kiwami does just that.
Adding to an already great game
The Yakuza series has been strong in Japan ever since the original game, which had a staggering budget of approximately $21 million and stood out as a very adult-oriented yakuza drama with a huge helping of side content to dump countless hours into.
The plot of the original game not only remains intact, but has been improved upon with links to this year's Yakuza 0 and a more impressive localization. All of the side stories that were present in the 2006 game are still here in Kiwami as well, with only minor changes that are ultimately for the better.
Some mini-games that were present in the original (such as pachislots) were removed for the remake, and the amount of hostesses Kiryu can woo has been reduced to two. As a trade-off, two additional mini-games have been added. Those who played 0 will find Pocket Circuit here in Kiwami, as well as an altered version of the prequel's catfight mini-game — which is now a card-based arcade game you play against children.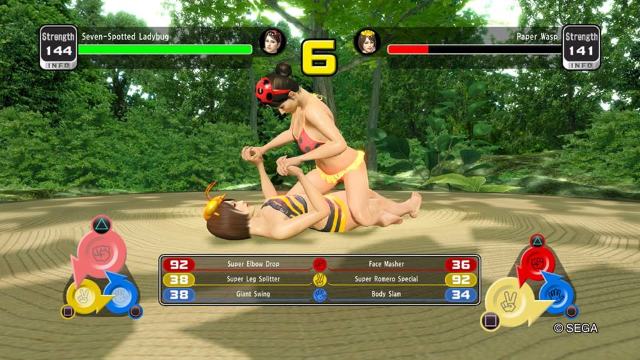 Welcome to MesuKing! Unfortunately not a particularly gripping nor difficult minigame.
As for the game's graphical and audio improvements, they are fantastic.
All of the dialogue has been rerecorded by the series's signature voice actors. The Japanese voice acting is spot-on, as it has always been. Those looking for an English dub will be out of luck, as there is no English audio option. (And why would there be?)
There are absolutely no complaints in the graphical department. As with other modern entries to the series, storyline characters and the streets of Kamurocho are detailed and realistic. But also as with the other modern games in the Yakuza series, non-story characters are as lackluster as ever. This isn't so much a complaint as something to comment on — I personally don't care that unimportant characters don't have much detail. Do you? Probably not, considering how much detail there is to the streets of the city.
Anyone who played the original shouldn't have much to complain about with Kiwami, as it is a direct and full upgrade from the clunky combat of the PlayStation 2 exclusive. But those who expected a big upgrade from Yakuza 0 will be disappointed as both have a number of similarities.
Yakuza 0 +1
If you played Yakuza 0 earlier this year, you may not find Kiwami to be super fresh. Kamurocho hasn't changed much between the events of the two games, both in aesthetics and overall side content.
Some longtime fans may call the recycling of content from the prequel in this remake "lazy", but it's not too surprising considering the costs and effort required to build the city anew each time. That said, it is a little disappointing considering there is a 17-year gap between the events of the two games — though some side content, such as certain Pocket Circuit-related sub stories, addresses the gap appropriately (and humorously).
Kamurocho isn't the only thing that hasn't changed in the 17 years between the two games. The game's two combat systems are one in the same, both featuring the ability to swap between combat styles on the fly to adapt to the situation.
The continuation of Yakuza 0's combat system in Kiwami isn't necessarily a bad thing. The former's combat was the best in the series and it's been further tweaked in Kiwami to include the Dragon of Dojima style, which features signature moves from fan-favorite character Goro Majima — and you've got to beat him senseless dozens of times via the Majima Everywhere system to unlock all the features of the style.
The Majima Everywhere system itself is GREAT (in all caps). Yakuza's signature madman will ambush Kiryu not only on the street, but also at some of the most inopportune moments. Having Majima pop out of a manhole in costume, pop out of nowhere in the middle of plot sections, or chase you down the street for your next fight isn't just a way to progress the Dragon of Dojima style — it's also a much-welcome feature for fans who just want more more MORE Majima. There's a reason for that, but newcomers may find it grating.
I didn't go into Yakuza Kiwami thinking it'd be as huge and packed with content as 2015's Yakuza 5, but I did go in expecting it to be a total remake of the game that started it all — and I got that and more. Though there are certainly some reused assets and a stark absence of some of my personal favorite minigames in the series, its plot is more solid than ever and it still has plenty of side content to chomp down on as you push your way through the politics of Kamurocho's organized crime.
8
Yakuza Kiwami Review: 2005 Kamurocho Never Looked So Good
Yakuza Kiwami is a worthy remake of the original game, but may leave fans hungry for more side content and minigames.
What Our Ratings Mean
About the author