Gunman Clive 2 Review
A throwback to the early West and early video games, with all of the nonsensical adventure it needs to be pleasing.
Gunman Clive 2 will satisfy young Earth creationists: Clive rides a Triceratops, rumbles with a Tyrannosaur, and slides on Brachiosaurs. Humans not only co-exist with dinosaurs in this eShop gem, they're sometimes friendly allies. Then again, Clive rides a panda through a bamboo forest away from a rolling 20-foot sawblade as sumo wrestlers practice their form on tree stumps. Maybe Gunman Clive isn't taking this premise all too seriously.
The wild international zeitgeist which powers Clive is often colorful, more so than the scattered application of faded pastels which loosely fill in the sketchy aesthetics. Gunman Clive appears like an elderly example of film's early colorized bastardizations, as if each frame is hand painted – i.e. poorly. Lines matter not. In its own distinctive way, the look is charming.
Cowboys vs. Everything
There is some level of fetishist love for eccentric film. Clive's tussle with a stone kicking Tyrannosaur leeches the cowboy-versus-Allosaurus scuffle from Warner Bros.' 1969 cinematic classic, The Valley of Gwangi, for inspiration. Further, this mish-mash is rife with the idiosyncratic nature of early theater's chapter-based serials, and the price mirrors the shared entertainment value, albeit with inflation: $3.
Of course, this is a video game too, one which appears at a glance to mirror Konami's flamboyant 16-bit Sunset Riders although the comparison would only be relevant to the Western themes. In actuality, the mellow pace recalls a suite of Ocean Interactive's early European delights, including Robocop and Navy Seals on Game Boy. It makes sense for Clive's adventures to reside here on portable hardware.
It's all so cheerfully stupid.
From an (almost) one-man crew comprised of Swede Bertil Horberg, Clive becomes a lean run through marginally treacherous territory. Outlandish as it is, Gunman Clive has the sense to revel in the weird without restraint. Three intersecting 3D stages offer third-person rides on horseback (into a beautifully cliche and hazy sunset), an early wooden flying machine, and eventually a chummy Pterodactyl. These sit between mine cart chases, icy escapades, gravity lifts, early industrial Americana, and a growing rebellion of steamy robotics. It's all so cheerfully stupid.
Short ride to sundown
While few decisions are particularly brave, the diversity and range offered is clever. The risk of design failure is minimal when each moment is fleeting. Gunman Clive's first playthrough will barely break an hour. A bit of additional energy is generated by a trio of selectable characters – Ms. Johnson and her puffy, floating dress; Chieftain Bob with a brutally challenging close range spear; the final a silly unlockable.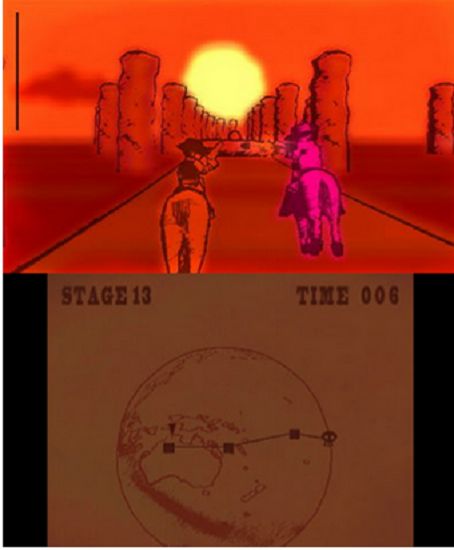 Not much is left. Guman Clive 2 is blink-and-miss-it farcical escapism, vintage but with polygons, a full on charge into good versus evil with almost no understanding of why. Ninjas, Samurais, boomerangs, and kangaroos are playful moments of the Wild West-centric cultural ribbing, rubbed into the mixture of other threats - laser spitting machines, cavalrymen, and angry fowl. While it may never be splashy (as if needs to be), that mixture of opposing firepower comes to be Guman Clive 2's wacky signature. The untethered enthusiasm and exuding personality are utterly likable if not around long enough to be particularly memorable.
Our Rating
A throwback to the early West and early video games, with all of the nonsensical adventure it needs to be pleasing.
Published Feb. 2nd 2015