Eminence: Xander's Tale Kickstarter Pitches Triple Triad: The RPG-MMO
Imagine a world where you can walk up to anyone at all... and challenge them to a card game. If you ever wanted to be FFVIII's Queen of Cards, this is the game for you.
Imagine a Trading Card Game (TCG) where you collected cards simply from beating and outsmarting your opponents in a competitive, high risk card game.
Eminence: Xander's Tales is the ambitious and utterly gorgeous project from London, UK-based Aeterna Studios - a reimagined trading card game for mobile, tablet, and desktop.
More than just a trading game, it promises to be the first title of its type to feature an MMO environment combined with RPG elements like an explorable virtual world and driven by a unique and evolving story.
Inspired by simple mechanics of card games like Triple Triad from Final Fantasy VIII, you play against others in a strategic high risk card game where the winner can actually take the loser's cards - and unlike FFVIII's Triple Triad, there is no pressing reset.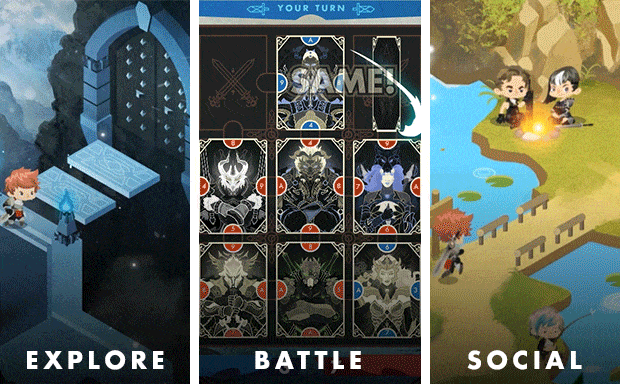 From Aeterna Studios:
"Imagine taking your opponent's rarest card simply from beating and outsmarting them. Going beyond the traditional system of attack and defence points found in many other TCG/CCGs, cards in Eminence: Xander's Tales have to be strategically deployed in order to win, providing an extra layer of strategy where players have to carefully consider each move.

Every card has a personal story and the more you acquire the more you'll unfold the grand tale. In addition to this, the game offers an incredible virtual world where players can interact and challenge one another, forge alliances through guilds, participate in events and tournaments or take up story based quests to advance the storyline."
Current features include:
Card Collecting: There are hundreds of beautifully designed cards that can be collected in this game - trade them with your friends, or unlock exclusive cards from story-based quests.
Card Stealing: Build a collection of uniquely designed cards by conquering your opponents and taking their cards.
Evolving Story: The storyline is progressive, and taking up Xander's quests will reveal the tales that unfolds the game's overarching storyline.
Exploration & MMO: The virtual world is in real time and populated with real people - like most MMOs it is constantly expanding.
Character Creation: Player characters are customizable, and you have the choice of a variety of different looks, hairstyles, and gear upgrades to make a completely unique avatar.
Multiplayer Action: Ongoing events and tournaments will offer rare cards, and exclusive prizes.
Unique Guild System: Join forces with other heroes and build a team to battle cooperatively against other teams.
Of course, bringing all of this to life is an expensive undertaking and the Eminence Kickstarter, racing into the last handful of days left before the deadline, has a base goal of £50,000, which, as of this writing, has hit just under £33,000.
After all, hasn't everyone always wanted to be able to walk up to somebody, anybody, and challenge them to a game of cards?
Having put all of this effort into presenting the most polished framework possible for potential backers, it would be a downright shame to see this idea disappear.
Furthermore, while this is going to be released as a free-to-play game fueled by microtransactions, the voices behind Eminence are adamant that this will not be pay-to-win. Promising to monetize respectfully, Aeterna promises that any player can unlock every item and reward without spending a cent.
Art & Music Direction
Of great personal interest to me is the absolutely stunning artwork that has already been produced for Eminence. This game is the combined efforts of a team of award winning designers - and it shows. Every card has a personal story and plays a key part in the overall narrative.
As one of the stretch goals is to include a new set division of cards (Harlequin), this narrative promises to only keep growing.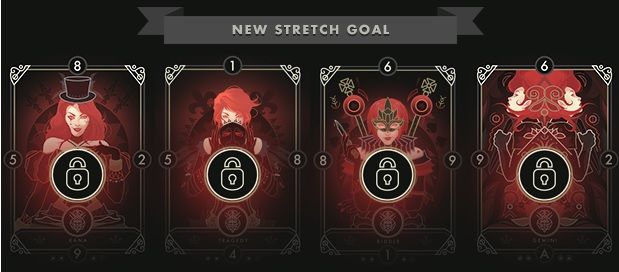 Far from relying on stunning artwork alone, the Eminence project already has a small collection of music ready for listening. (Main theme below.)
Reminiscent of Final Fantasy and the franchise's majestic background music, these tracks are beautifully composed and a promise of more to come.
Play Before You Pledge
Aeterna is hardly expecting you to plunk down money on their word alone - and so they have provided free access to the current demo version of the game. If you're interested, check it out below!

If you're interested in pledging, you can check out their Kickstarter HERE.

Published Oct. 1st 2014