Injustice (Mobile) - V2.2 is HERE and It's War!
NetherRealm keeps the wheels of Injustice turning with new characters and PvP REVENGE!
Version 2.2 of Injustice: Gods Among Us posted on Apple's App Store for iPhone and iPad today. No word when the Android version will be released.
The premise of NetherRealm Studios' fighting mobile app hasn't really changed much from Day 1. You still have 3 on 3 teams battling it out Mortal Kombat style, you still pick from a variety of DC Universe heroes and villains. And you still beat the snot of AI team's or other player's team to get rewards.
What's new is the always growing roster of characters and their unique abilities, that can be used in countless combinations, new gear to equip your evolving fighter with, and a more competitive player-vs-player environment that teaches 'Turn the other cheek, only if you're going to back hand that fool.'
Revenge! Now, We're Cooking, Huh?
One gripe of the PvP mode is that you're really not fighting another player, only their team controlled by the AI, but worse is your carefully selected and high-trained warriors are also controlled by the same unimaginative AI. So, the odds are NOT in your favor for good defense unless your team is stacked with some high-end gear.
"Oh Magnificent one, he's just one, but you are three, (*Non growls*) or four, if you count him twice." - Lex Luthor (Superman 2)
Since match selection is purely random match-making, one couldn't get righteous payback. Until now. You don't have to sit passively watching the post-fight game footage, you can gear up and go after them.
New Characters
At long last, Zatanna will be joining the ranks. Also, a Silver Level Raven is coming, too. Though when Raven first appeared, it was rumored that she may have been meant to be a silver from the start - similar to Killer Frost.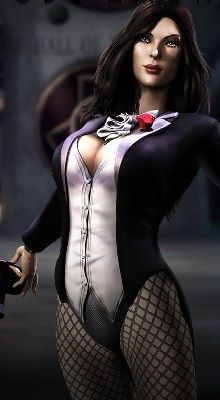 The Red Son crew will be getting a new member in the form of Red Son Green Lantern. A King of Atlantis version of Aquaman is scheduled to appear soon. Not sure how many were clamoring for a new Aquaman, but you got him.
Also, it's rumored that a Cassandra Cain version of Batgirl might be swinging her way onto the roster.
And look for Ares. He's still one of the original console characters that has NOT made the leap to mobile. The God of War is likely planning a sneak attack.
Of Course You Know, This Means War!
Is War on the horizon? NetherRealms is hinting that upcoming PvP seasons will be dishing out some surprise goodies. I'm guessing this will motivate players to be a little more... enthusiastic about battling online for supremacy.
The term War sounds like it's more than just new prizes on the table. Maybe, Ares will make himself known there. Be looking for the warning signs.
I Can See!
One complaint by players was the lack of a search or sort for their Collection as well as look through the Store with more options than just alphabetical order. Now, the User Interface has been ungraded. And it's a nice improvement for us using iPhones and their small 4" screen.
This interface has added new tabs like Promote and Add Character The Add Character and Support Cards also can show what cards have NOT been purchased as well. Nifty feature.
Also, if you already own a character, you don't buy another copy, you just Promote them to next Elite level. The UI displays the cost and their new stat values before you confirm the purchase.
New gear for PvP has also been added, including items for the upcoming Challenge Mode characters. Expect new support cards as well.
Published Sep. 17th 2014