If you're new to the cozy life or looking to get back into the game, choosing the layout of your island is some of the most fun in the game. If you're having a hard time designing it, we have the 10 best ACNH island layout ideas of 2023.
Animal Crossing New Horizons: 10 Best ACNH Island Layout Ideas 2023
Sunbeam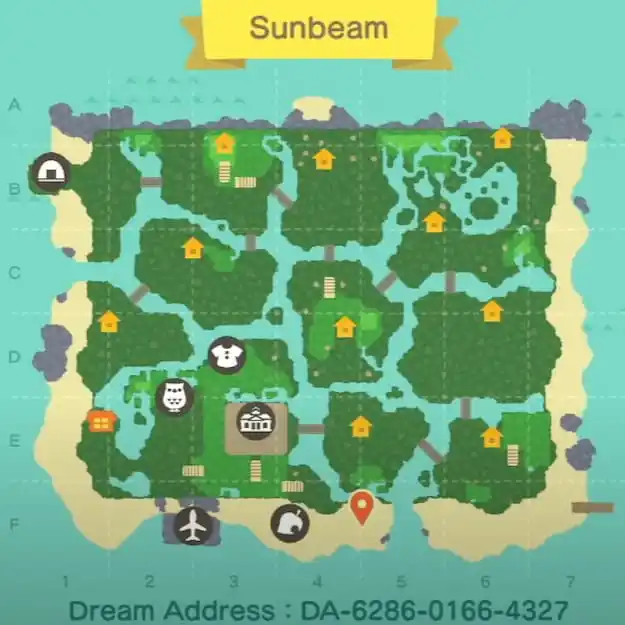 Dream Address: DA-6286-0166-4327
Sunbeam takes the tropical theme of the game and cranks it up to 10. Each section of the map has its own mini-island, forming a lovely archipelago. I just love all the water and bridges on the map. If you're lucky, your map might come with one island naturally. You could even put up some palm trees everywhere to really lean into the tropical vibes.
Breezewood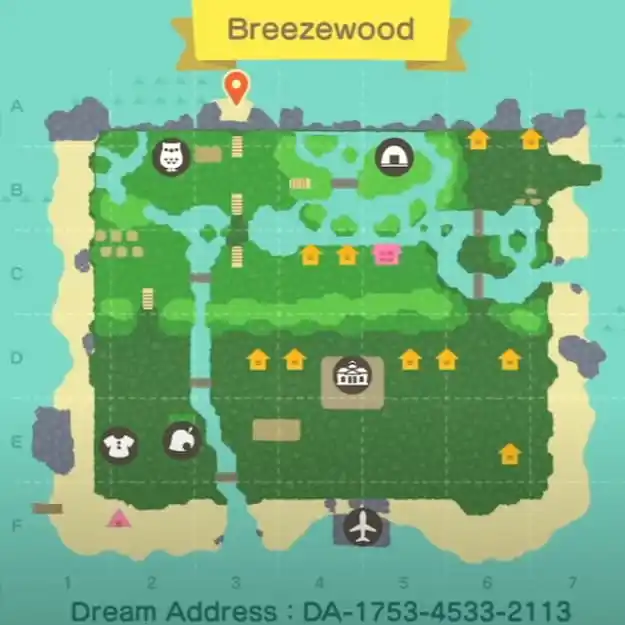 Dream Address: DA-1753-4533-2133
Breezewood is on the simpler side, but simple can be good! My favorite part of this layout is the campsite. It's on its own island in the middle of a lake, perfect for casting for river fish, which is the best camping activity. I also like how the shops have their own section, so you don't have to go far to check them. The land in the south has plenty of room to build, too.
Atemoztli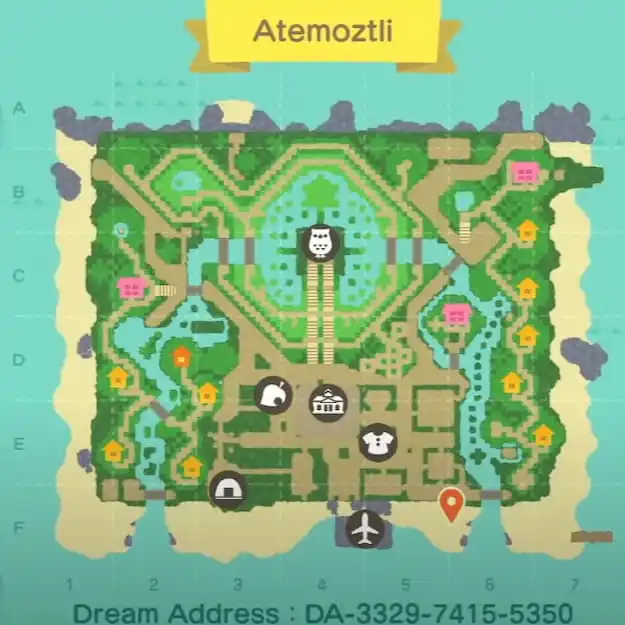 Dream Address: DA-3329-7415-5350
Atemoztli is one of the most complex designs I've ever seen in an Animal Crossing game. The zig-zagging paths around the edge of the island are very unique. However, the focal point of the map is the Museum. The water and paths surrounding it are stunning. Although there isn't much land, it's worth it for the temple-like construction of the museum. The houses are also placed in a unique way that's different than your usual side-by-side layout.
Bluesyde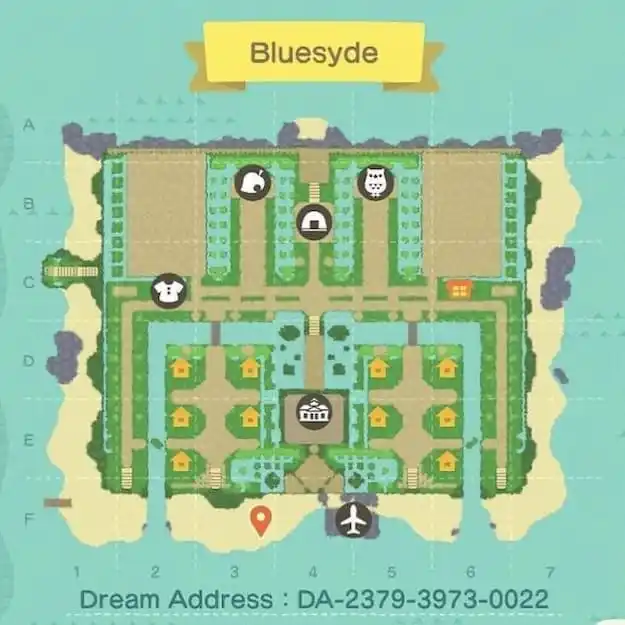 Dream Address: DA-2379-3973-0022
If you want your island perfectly symmetrical, take notes from Bluesyde. The best part of the map is the two little neighborhoods on each side of the island. I'm a big fan of putting villagers close together to make it feel more like a close community. The main takeaway from this map is that it looks more like your traditional city builder, even a little like Sim City 1.
Wahoo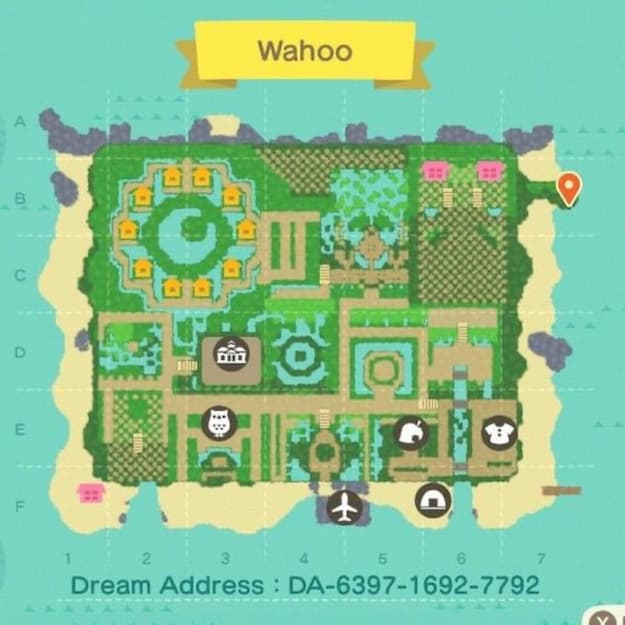 Dream Address: DA-6397-1692-7792
Wahoo island is another complex design, but it's super pleasing to the eye. The main takeaway here is the villagers' houses in the top left corner. Having them in a circle is nice, but the crescent-shaped moon lake would be perfect in any part of your island. Even though it may look cramped, the way its laid out still leaves plenty of room for you to build.
Everland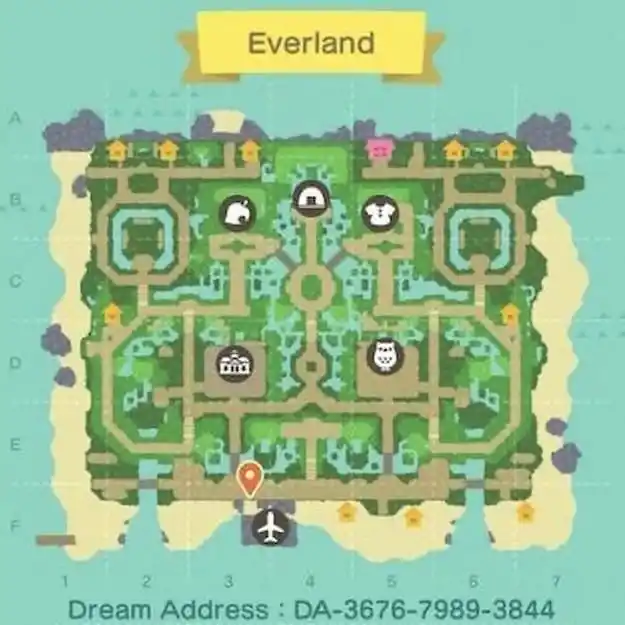 Dream Address: DA-3676-7989-3844
Everland is another symmetrical island, but the details are stunning. If you don't mind putting in the time terraforming and laying paths, I think the water and all the pathways are definitely worth it. If you want to take inspiration from this one, you should make a main pathway in the middle of the island to make traversing your island easier. You'll never be too far from where you need to go.
Broukeland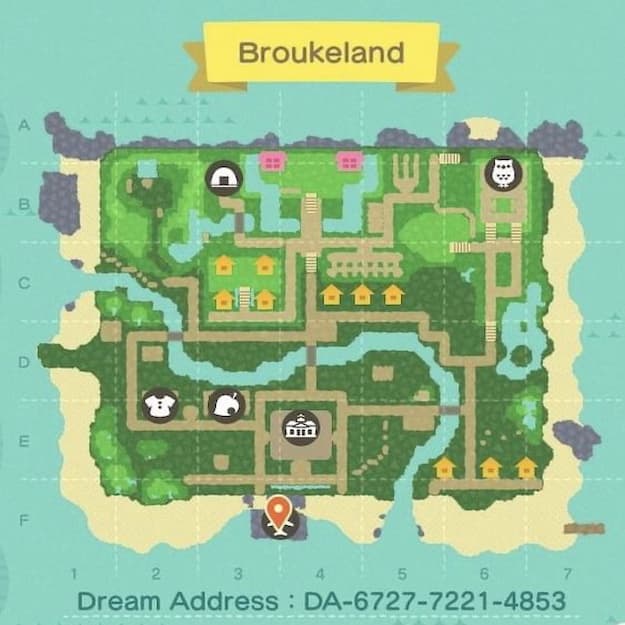 Dream Address: DA-6727-7221-4853
I like this one for its simplicity. It reminds me of my own personal island, actually. Even though you can go wild and change the look of your entire island with terraforming, keeping it to a minimum can be just as creative and fun. I love the large river that runs west to east, which changes up the entire layout of the island in a very simple and easy way. The paths are simple but complement the map.
Grimalkin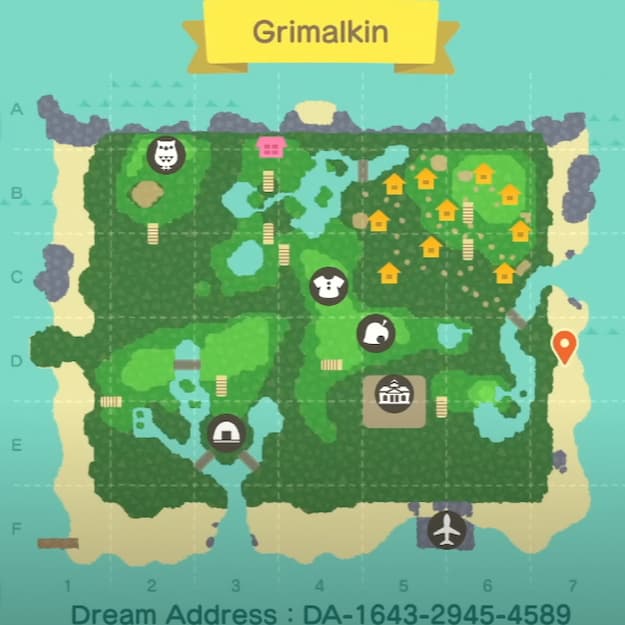 Dream Address: DA-1643-2945-4589
Grimalkin is another cozy and natural layout. There are lots of levels and thoughtful water placement that complement each other well. If you want something to take away from this island, it's that there are no full rivers, which make it unique. This also lets you have more space to decorate and place buildings.
Ivywood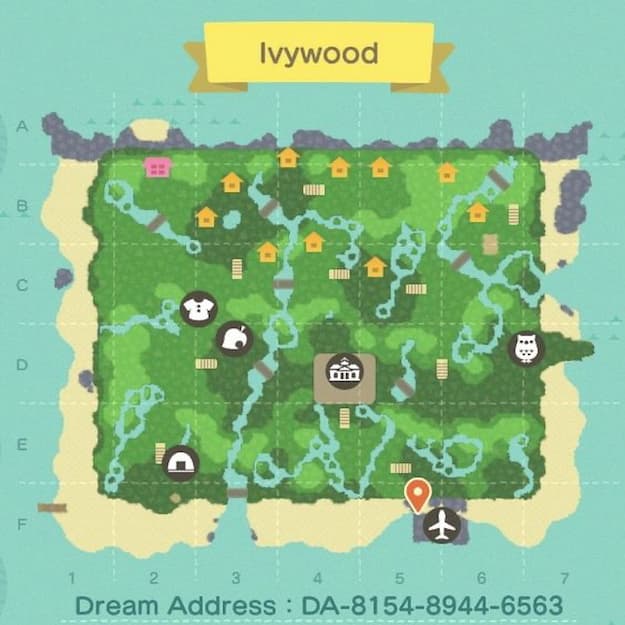 Dream Address: DA-8154-8944-6563
Ivywood is a beautiful layout with all the thin rivers that run throughout. This makes it perfect for fishing. And you'll be catching a lot of black bass! If you want design ideas for your island, try putting small islands in your rivers, which add a natural kind of beauty. Although all of the houses are at the top, you don't have to do that. There's still plenty of room to put houses or different buildings all over the place.
Near You
Dream Address: DA-4739-7116-7546
Near You is an ironic name for this island since everything is spread out. However, that's what I like about this layout so much. It reminds me of older Animal Crossing titles where you couldn't move buildings around, and you had to go all across the map. If you want that old-school feel, spread everything out.
Those are the best Animal Crossing New Horizons island layout ideas of 2023. For more ideas and guides, like our list of best spooky items, click the link or check out our dedicated hub.
About the author