There are hundreds of various weapons in Assassin's Creed: Origins, many of various rarities, styles, and stats. The most powerful weapons in the game are of Rare and Legendary rarities, of course, and some of them can be easily located in the usual places. Others, however, require a more deliberate approach.
Hunter bows are definitely the most plentiful weapons in the game, but you will also find all sorts of swords, axes, maces, spears, and even scepters that you can add to your stash.
If you are looking for a specific Rare or Legendary weapon in Assassin's Creed: Origins, then you'll want to keep this guide of hints and weapon descriptions handy.
All Rare and Legendary Regular and Duel Swords in Assassin's Creed: Origins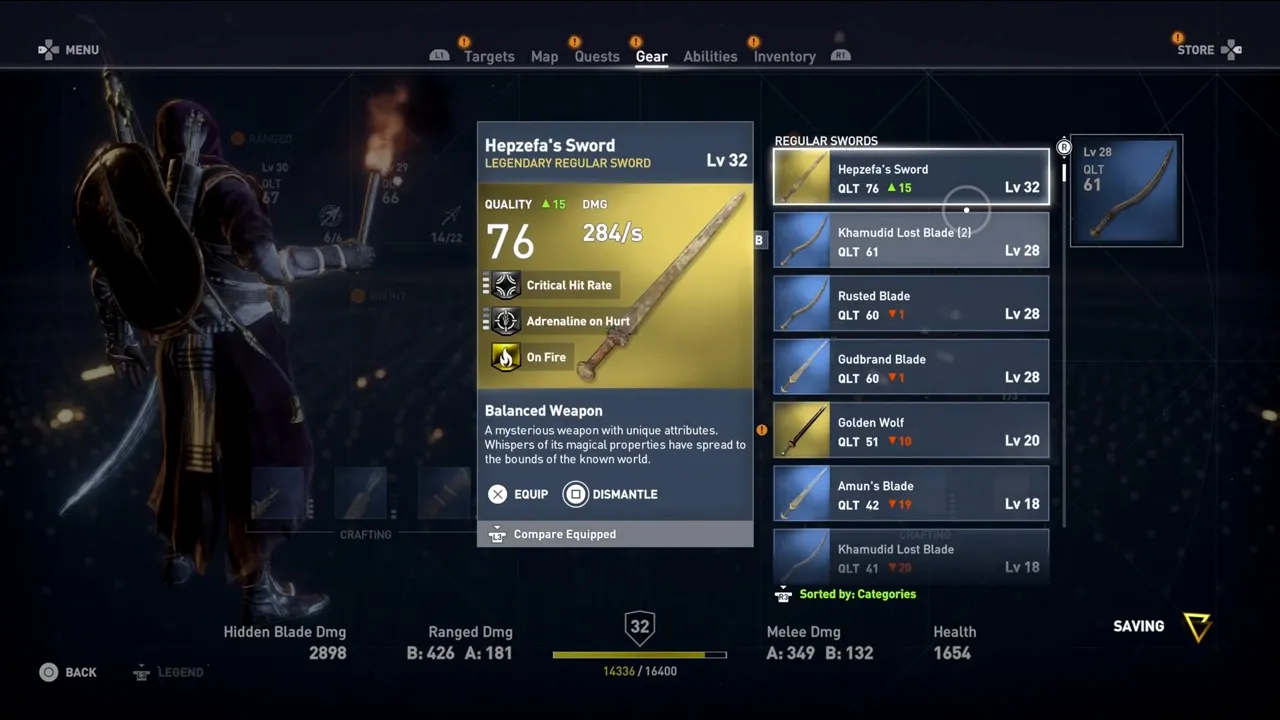 Weapon
Damage
Location
Copper Sword
Low
Blacksmith, Loot
Freeman Sword
Low
Defeat Boss in Cyrene Gladiator Arena
Golden Wolf
Low
Blacksmith, Loot
Gudbrand Blade
Low
Blacksmith, Loot
Khamudid Lost Blade
Low
Blacksmith, Loot
Rusted Blade
Low
Blacksmith, Loot
Bronze Khopesh
Low
Blacksmith, Loot
Devotee of Montu
Low
Blacksmith, Loot
Harpe of Perseus
Low
Blacksmith, Loot
Sword of Path
Low
Complete Medjay Quest — Song
of the Desert
Viper's Tooth
Low
Blacksmith, Loot
Jutes & Cimbri
Low
Blacksmith, Loot
Mirror Blades
Low
Blacksmith, Loot
Scissor Blades
Low
Blacksmith, Loot
Amum's Blade
Medium
Blacksmith, Loot
Bronze Sword
Medium
Blacksmith, Loot
Coast of Russicada
Medium
Nomad's Bazaar
The Falcata
Medium
Nomad's Bazaar
Shamshir
Medium
Uplay
Sword of the Free
Medium
Complete Medjay Quest — Are
You Not Entertained?
Iron Shotel
Medium
Blacksmith, Loot
Khopesh Sword
Medium
Blacksmith, Loot
Nilotic Khopesh
Medium
Blacksmith, Loot
Sanaa Khopesh
Medium
Complete Medjay Quest — Bayek's House
Hash and Slash
Medium
Blacksmith, Loot
Hepzefa's Sword
High
Complete Main Quest — Meet Aya at Siwa
Humbaba's Fang
High
Nomad's Bazaar
Sea People's Blade
High
Blacksmith, Loot, and Normad's Bazaar
Silver Wind
High
Nomad's Bazaar, and e-Store
Thutmosid Sword
High
Blacksmith, Loot
Aruna
High
Nomad's Bazaar, and e-Store
Battle of Gibeon Blade
High
Blacksmith, Loot
Canaanite Blade
High
Blacksmith, Loot, and Normad's Bazaar
Imitation Siwan Khopesh
High
Complete Medjay Quest — The
Nomad's Bazaar
Pearl of Dur-Jakin
High
Nomad's Bazaar
Thorn
High
Nomad's Bazaar, and e-Store
Eyes of Horus
High
Nomad's Bazaar, and e-Store
Motivational Duet
High
Blacksmith, Loot
Storm Blades
High
Blacksmith, Loot
Wadjet's Knives
High
Nomad's Bazaar
Mustapha's Blade
Extreme
Blacksmith, Loot
Berserker Blade
Extreme
Blacksmith, Loot
Fatal Duet
Extreme
Blacksmith, Loot
All Rare and Legendary Heavy Swords and Blades in Assassin's Creed: Origins
Weapon
Damage
Location
Boredom Bane
Low
Blacksmith, Loot
Bronze Bludgeon
Low
Blacksmith, Loot
Marcus's Thunder Ball
Low
Blacksmith, Loot
Battleaxe
Low
Blacksmith, Loot
Crescent Axe
Low
Blacksmith, Loot
Fan Axe
Low
Blacksmith, Loot
Scalloped Head Axe
Low
Blacksmith, Loot
Diamond Exchange
Medium
Blacksmith, Loot
Mace
Medium
Blacksmith, Loot
Skull-Breaker
Medium
Blacksmith, Loot
Spade of All Trades
Medium
Blacksmith, Loot
Sycamore
Medium
Uplay
The Uab Block
Medium
Blacksmith, Loot
Bronze Axe
Medium
Blacksmith, Loot
Medusa
Medium
Complete Medjay Quest — Grand Theft Cargo
Sharp Cut
Medium
Blacksmith, Loot
Copper Mace
High
Blacksmith, Loot
Eye of Ra
High
Nomad's Bazaar, and e-Store
Gruesome Mattock
High
Blacksmith, Loot
Minoan Poppy Pin
High
Blacksmith, Loot
No Borders
High
Nomad's Bazaar
Sharur
High
Complete Medjay Quest — Mound of
Grain and Gold
Bronze Epsilon Axe
High
Blacksmith, Loot
Cutting Axe
High
Blacksmith, Loot
Mushussu
High
Nomad's Bazaar, and e-Store
Nebuchadnezzar's Wrath
High
Nomad's Bazaar
Serpent Axe
High
Blacksmith, Loot
Shark Fin
High
Nomad's Bazaar and e-Store
Headache Remedy
Extreme
Blacksmith, Loot
Headsplitter
Extreme
Blacksmith, Loot
Leviathan
Extreme
Defeat Elite Brothers in
Krokodilopolis Gladiator Arena
All Rare and Legendary Scepters in Assassin's Creed: Origins
| Weapon | Damage | Location |
| --- | --- | --- |
| Cypriot Gabbro Head | Low | Blacksmith, Loot |
| Pharoah's Mace | Low | Blacksmith, Loot |
| Acacia Rod | Medium | Blacksmith, Loot, and Nomad's Bazaar |
| Bringer of Chaos | Medium | Blacksmith, Loot |
| Peasant's Scepter | Medium | Blacksmith, Loot |
| Staff of Sehetep | Medium | Complete Medjay Quest — All in Bad Faith |
| Alexandria's Light | High | Nomad's Bazaar, and e-Store |
| Apep's Staff | High | Nomad's Bazaar, and e-Store |
| Bladed Scepter | High | Blacksmith, Loot |
| Ceremonial Staff | High | Blacksmith, Loot |
| Hasanlu Skeptron | High | Blacksmith, Loot |
| Nubian Scepter | High | Nomad's Bazaar |
| Scepter of Amun | High | Complete Medjay Quest — Making History |
| Scorpion Sting | High | Nomad's Bazaar, and e-Store |
| Siwan Scepter | High | Blacksmith, Loot |
| Raneb's Hammer | Extreme | Blacksmith, Loot |
All Rare and Legendary Spears in Assassin's Creed: Origins
| Weapon | Damage | Location |
| --- | --- | --- |
| Leaf-Shaped Impaler | Low | Blacksmith, Loot |
| Light Spear | Low | Blacksmith, Loot |
| Needle | Low | Blacksmith, Loot |
| Iron Spear | Medium | Blacksmith, Loot |
| Shooting Star | Medium | Complete Medjay Quest — Fair Trade |
| The Trial | Medium | Uplay |
| Cyrene's Spear | High | Complete Medjay Quest — Loose Lips |
| Golden Feather | High | Nomad's Bazaar, and e-Store |
| Handy Spear | High | Blacksmith, Loot |
| Lance of Anhur | High | Nomad's Bazaar, and e-Store |
| The Phoenix | High | Nomad's Bazaar |
| Pilum | High | Blacksmith, Loot |
| Sarissa | High | Blacksmith, Loot |
| Sekhmet's Spear | Extreme | Blacksmith, Loot |
All Rare and Legendary Hunter Bows in Assassin's Creed: Origins
Weapon
Damage
Location
Combat Bow
Low
Blacksmith, Loot
Desheret Patrol Bow
Low
Blacksmith, Loot
Im-Khent Bow
Low
Blacksmith, Loot
Bitter Bow
Low
Blacksmith, Loot
Quick Bow
Low
Blacksmith, Loot
Toxotai Bow
Low
Blacksmith, Loot
Sty
Low
Blacksmith, Loot
Wall of Sand
Low
Blacksmith, Loot
Valkyrie Operator
Low
Blacksmith, Loot
Whisper of Death
Low
Blacksmith, Loot
Alchemist's Dream
Medium
Complete Medjay Quest — Predator to Prey
Big Game Bow
Medium
Blacksmith, Loot
Deathstorm
Medium
Blacksmith, Loot
Hunting Bow
Medium
Blacksmith, Loot
Nubian Bow
Medium
Blacksmith, Loot
Overseer of All Disputes
Medium
Blacksmith, Loot
Serpent's Scourge
Medium
Blacksmith, Loot
Wolfsbane
Medium
Blacksmith, Loot
Apedemak
Medium
Nomad's Bazaar
Arc Bow
Medium
Blacksmith, Loot
Hyperion
Medium
Complete Medjay Quest — The
Heart of Faiyum
Aldebaran
Medium
Blacksmith, Loot
Battos' Bow
Medium
Complete Medjay Quest — Founding Father
The Crimson Death
Medium
Nomad's Bazaar
Crown Jewel
Medium
Uplay
Rain of Arrows
Medium
Blacksmith, Loot
Ancestral Bow
Medium
Complete Medjay Quest — Seven Farmers
Copper Arc
Medium
Blacksmith, Loot
Desert Companion
Medium
Blacksmith, Loot
Jebel Barkal
Medium
Nomad's Bazaar
Mute Bow
Medium
Blacksmith, Loot
Victoria
Medium
Blacksmith, Loot
Wildland Bow
Medium
Blacksmith, Loot
Achilles Heel Seeker
High
Blacksmith, Loot
Bow of Arash
High
Complete Medjay Quest — Pax Romana
Cobra Royale
High
Nomad's Bazaar, and e-Store
Gazelle Bow
High
Blacksmith, Loot
Lion's Mane
High
Nomad's Bazaar, and e-Store
Longbow
High
Blacksmith, Loot
Obsidian Bow
High
Blacksmith, Loot
Ta-Sety Bow
High
Nomad's Bazaar
Bow of Wadjet
High
Complete Medjay Quest — Sleepless Nights
Composite Bow
High
Blacksmith, Loot
Corrupted Soul
High
Uplay
Griffin
High
Nomad's Bazaar
Hunger of the Underworld
High
Blacksmith, Loot
Ousirmaatre Setepenre
High
Blacksmith, Loot
The Parthian
High
Blacksmith, Loot
The Fourth Plague
High
Blacksmith, Loot
Hippopotamus Charge
High
Blacksmith, Loot
Priest of Ma'at
High
Defeat Boss Hammer in
Cyrene Gladiator Arena
Til-Tuba Bow
High
Blacksmith, Loot
Wings of Ashur
High
Nomad's Bazaar, and e-Store
Amenhotep's Bow
High
Blacksmith, Loot
Concealed Garment
High
Blacksmith, Loot
Hades
High
Blacksmith, Loot
Lord of Bones
High
Nomad's Bazaar
Trophy Hunter
High
Defeat War Elephant — Qetesh
and Resheph
Ash Bow
Extreme
Blacksmith, Loot
Neith
Extreme
Blacksmith, Loot
Khryselakatos
Extreme
Blacksmith, Loot
Smoke and Mirrors
Extreme
Blacksmith, Loot
—
That's it for all the Rare and Legendary weapons locations, but if you're looking for even more Assassin's Creed: Origins guides, make sure to check these out:
About the author