Long rests and hearty meals are the key to a long and successful Baldur's Gate 3 campaign. Having a long rest with your party means full heals, and of course you'll be able to socialize with your companions during the downtime. In this guide we'll go over how to get Camp Supplies in Baldur's Gate 3 and what you need to know about the system.
How to Get Camp Supplies and Food in Baldur's Gate 3
Camp Supplies and Long Rests
Baldur's Gate 3 Camp Supplies are related to Long Rests in your camp. Once you interact with your bedroll, you can have your party go to sleep by spending 40 Camp Supplies. This will replenish everyone's HP, spell slots, and actions that require a Long Rest. Moreover, certain options are refreshed, such as Illithid Wisdom dialogue responses.
Sadly, you'll only have a Partial Rest if you have less than 40 Camp Supplies. As the term implies, a Partial Rest will only restore a portion of your HP. Worse, you won't refresh your Illithid Wisdom, either. I don't recommend this since Long Rests are better.
Related: How to Do a Long and Short Rest in Baldur's Gate 3
How to Find Camp Supplies and Food
A single Baldur's Gate 3 Camp Supplies item, which looks like a stuffed pouch, has a value of 40. That means only one of these is needed to do a Long Rest. By default, your characters should each have one. Much later, you can find more as you explore the game world. This also coincides with looking for food in various areas. Below, I've added a couple of suggestions:
Make sure you talk to vendors in villages and towns, since some of them might be selling the necessary items. For instance, Auntie Ethel in the Druid Grove has some fruits.
I also suggest holding the Alt key when entering new areas. This highlights and shows the names of various objects in your vicinity. There are times when you might find meats and vegetables that have been left on tables and kitchens.
And, naturally, you'll want to loot everything. Chests, barrels, boxes, odd containers, and dead bodies might have food items, too.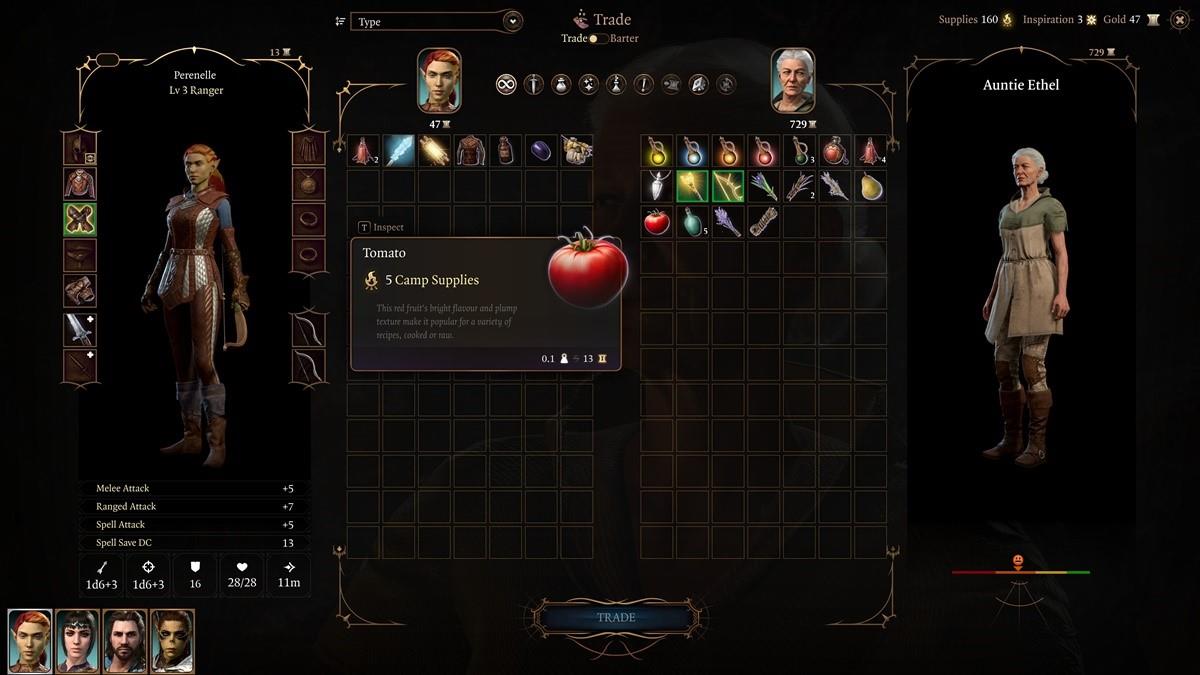 Examples of Food Item Values
Lastly, it's worth noting that general food items have a lower value. Here are some examples:
Goodberry: +1
Pear: +3
Dried Pork Sausage: +3
Roughly-Cut Ham: +5
Apple: +5
Tomato: +5

Potato: +5
Carrot: +5
Salami: +6
Sourdough Bread: +7
Baguettes: +10
Whole Chicken: +10
Spicy Sausage Links: +10
Waterdhavian Cheese Wheel: +10
Pig's Head: +15
Given the above examples of items, you're free to add as many as you want to reach the required value of 40 for a Long Rest. In any case, that's all you need to know about Camp Supplies and Food in Baldur's Gate 3. For more tips and tactics, you can visit our BG3 guides hub.
About the author