The new Borderlands 2: Commander Lilith DLC is now available for free for all owners of the game. It contains a brand new location and a ton of new weapons, including Legendary and Effervescent.
But not all of them are equally good and worth looking out for. That's why we've compiled a tier list of the best new weapons from the Commander Lilith DLC with a few tips on how to find them.
Toothpick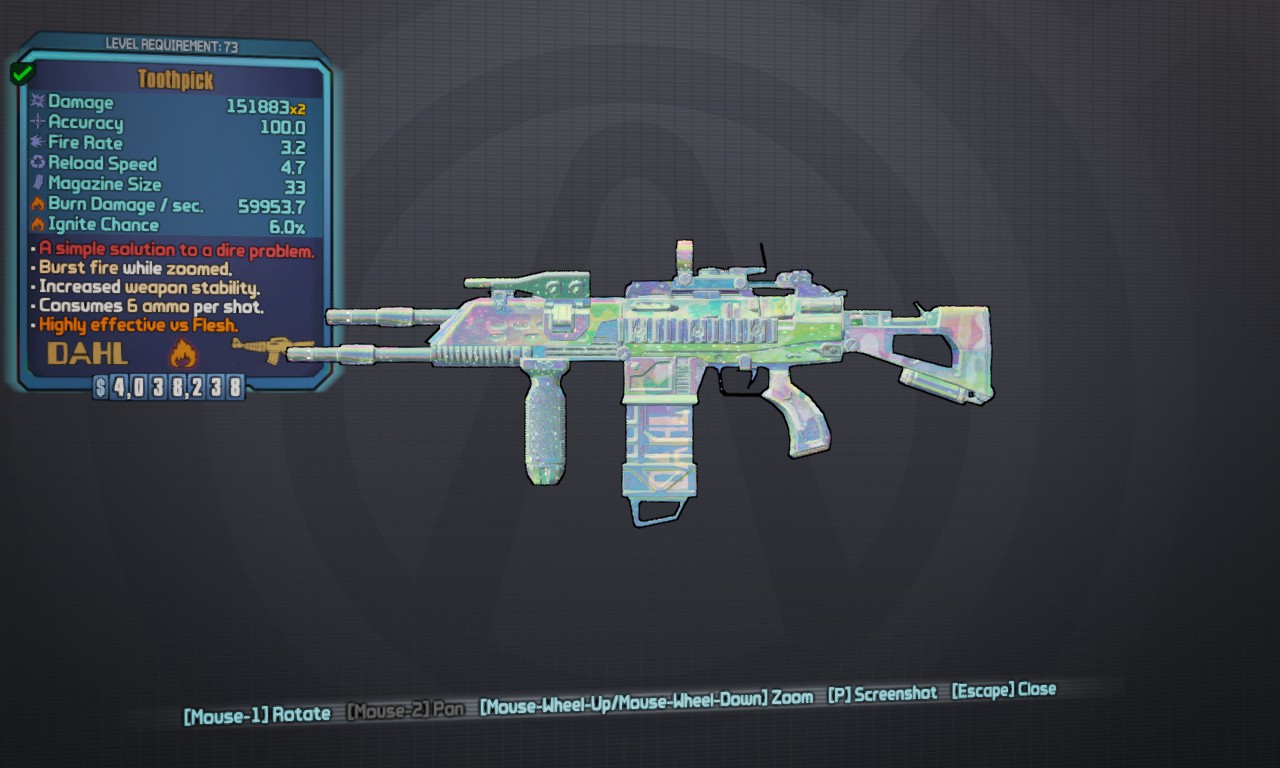 Manufacturer: Dahl

Type: Assault Rifle
Element: Incendiary
If you look at this Effervescent assault rifle's stats, you will notice that it has 100% Accuracy, which is mind-blowing.
You can pick this weapon up from Sand Worms in The Burrow or from Queen Sandworm during the second Vaughn quest "The Hunt is Vaughn."
Toothpick is a part of the Writhing Deep set, which also contains a relic and a shield that are capable of making the weapon even stronger.
Peak Opener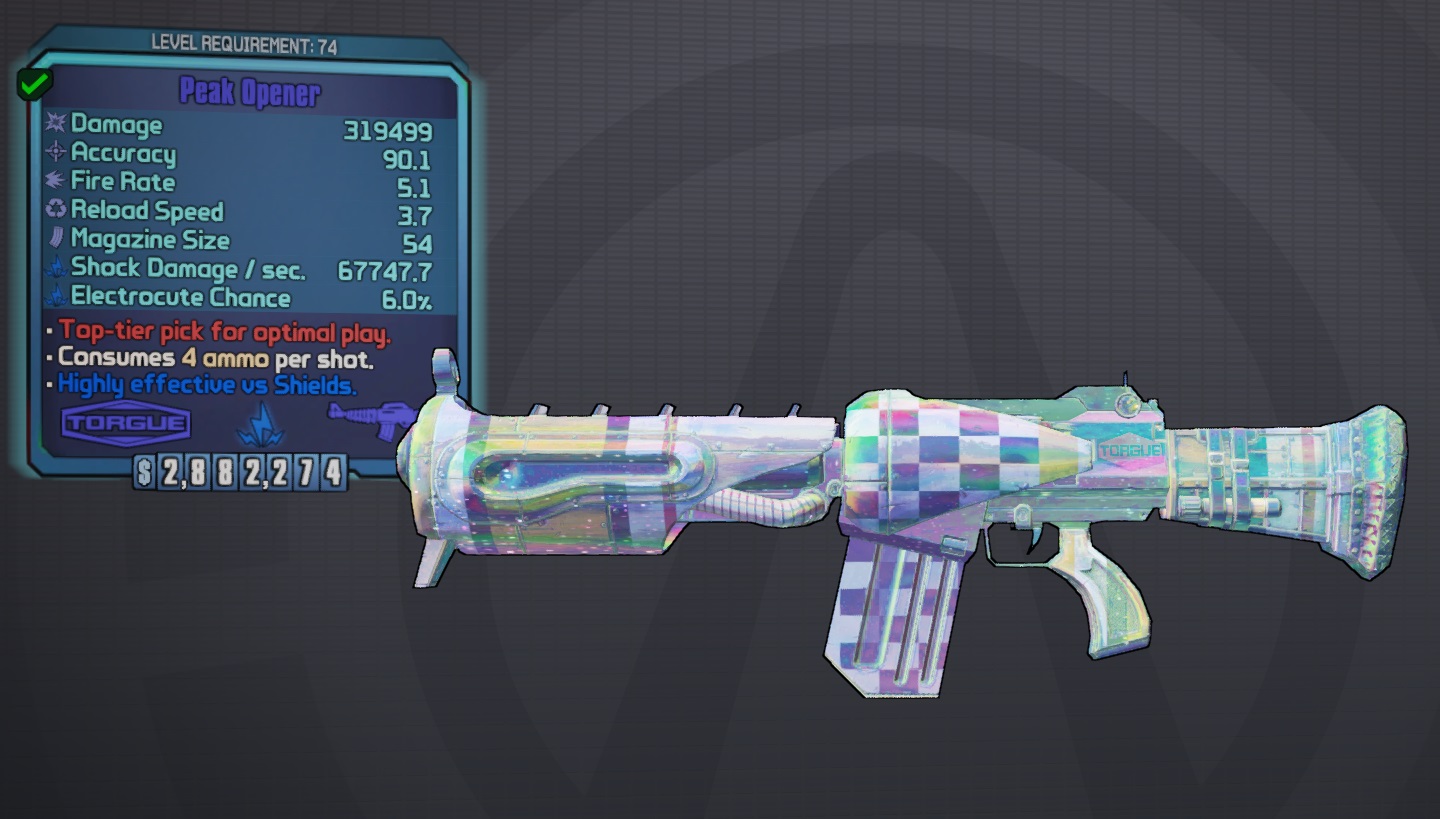 Manufacturer: Torgue

Type: Assault Rifle
Element: Shock
Peak Opener is another Effervescent assault rifle with the same amount of damage as the Toothpick, taking into consideration the double damage. However, the accuracy is a bit lower and since it is a part of the Digistruct set, its use is restricted to Digistruct Peak.
Other than that, you won't find a more brutal weapon in the game than this one. It consumes ammo like crazy, but the damage output is simply outstanding.
Amigo Sincero
Manufacturer: Jakobs
Type: Sniper Rifle
Element: N/A
Amigo Sincero or True Friend is the ultimate sniper rifle, which can be obtained during the "BFFFs" quest.
In the similar fashion to the infamous Trespasser, this weapon bypasses all enemy shields and deals damage directly to the enemy's health pool.
Another cool part about Amigo is that it will spawn with an attached scope and blade, unlike many other weapons in the game that spawn without any attachments whatsoever.
Overcompensator
Manufacturer: Hyperion
Type: Shotgun
Element: Shock, Incendiary, Corrosive, Slag, or None
There is no better choice for close combat than a shotgun with gargantuan amounts of damage. Overcompensator is a beast of a shotgun that can be obtained as a reward for the third Vaughn quest "Chief Executive Overlord."
One of the most exciting features of this weapon besides damage is the random chance of magazine auto-refill, which may occur while you're shooting at your enemies.
This feature may not be the most reliable one, but once or twice it'll save your character's life for sure.
World Burn
Manufacturer: Torgue
Type: Rocket Launcher
Element: Incendiary
The only effervescent rocket launcher in the game is definitely a weapon you should look out for. It can be dropped by Lt. Bolson in Dahl Abandon.
The explosion from the rockets is so wide that it can evaporate every single enemy hidden within a building or any type of cover with walls.
The damage output for each explosion is huge, and that's why it's called World Burn. It is also recommended to use the rocket launcher as an escape cover fire.
Hot Mama
Manufacturer: Jakobs
Type: Sniper Rifle
Element: Incendiary
Hot Mama is another great sniper rifle, which can be dropped by Lt. Hoffman in Mt. Scarab Research Center. Just be careful when dealing with Lt. Hoffman, as he will try to kill you with Hot Mama as soon as he drops it.
If you manage to get it and stay alive, then you'll have another excellent Effervescent weapon in your arsenal.
Hot Mama can be used both as a sniper rifle and as a bolt action rifle with an elemental capacitor. However, you will probably need to attach a Dahl stock to it in order to reduce the immense recoil.
Unicornsplosion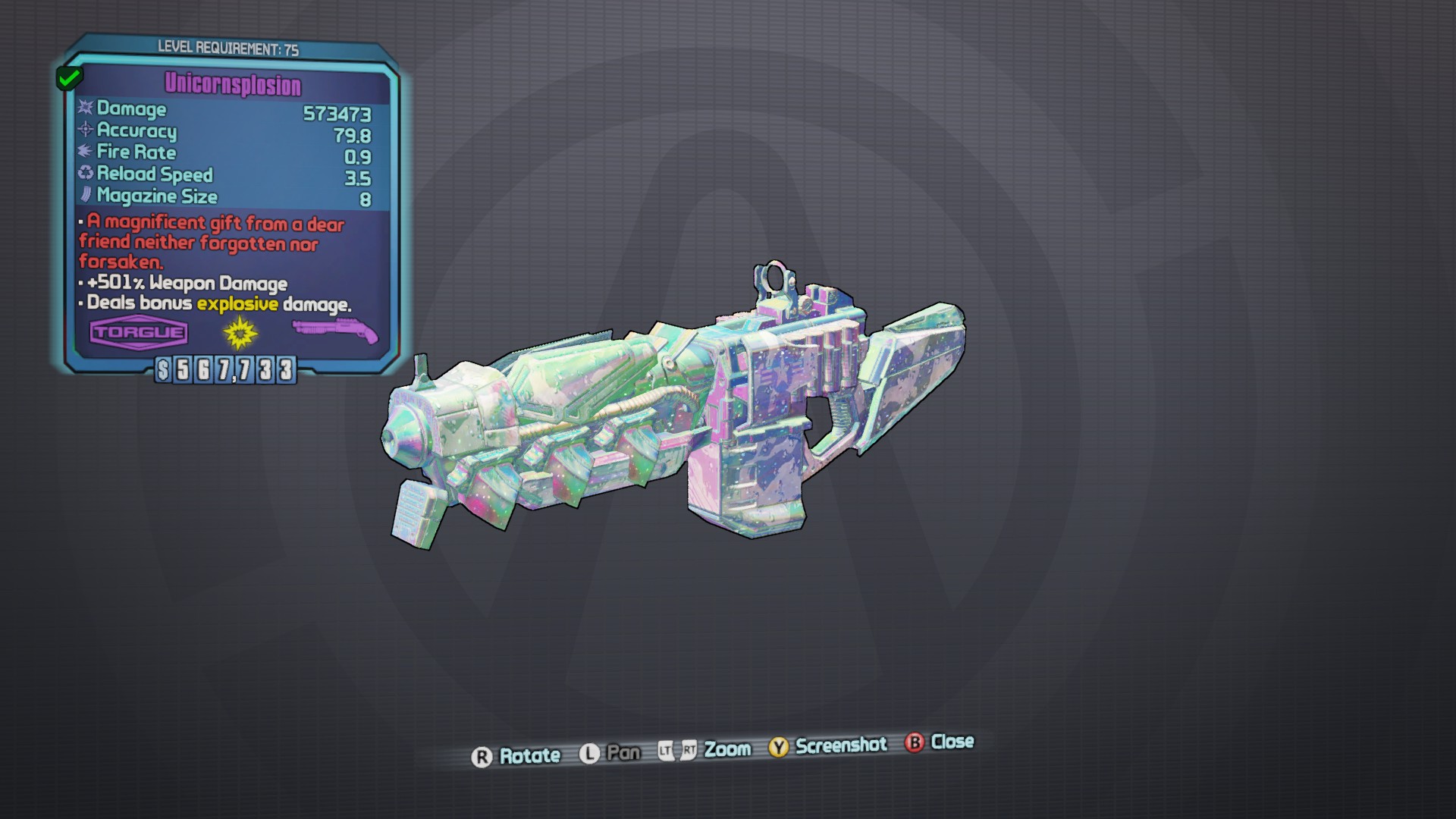 Manufacturer: Torgue
Type: Shotgun
Element: Explosive
If you're familiar with the Swordsplosion shotgun from Borderlands 2, then you will know what the Unicornsplosion is. The only difference is that this weapon shoots full-sized unicorns that explode into rainbows that deal a ton of damage.
Unicornsplosion can be obtained by feeding Butt Stallion while wearing the Mysterious Amulet in The Backburner.
Mysterious Amulet can be purchased from Mr. Miz during the mission The Amulet that starts in the Lair of Infinite Agony, which is a part of the Borderlands 2: Tiny Tina's Assault on Dragon Keep DLC.
About the author