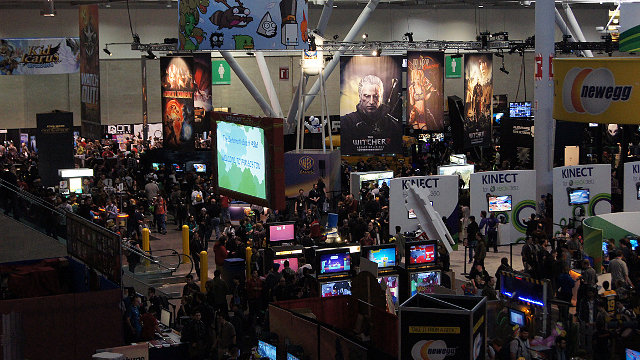 With convention season underway, many of us are gearing up for that gloriously grueling weekend of lines: panel lines, game demo lines, autograph lines...lines to get to the lines.
Conventions are a ton of fun, but it's easy to burn out from the long hours on your feet and moving around, lugging gadgets and accumulating merch along the way. After a few years experience with some of the biggest and busiest cons, I've managed to compile a list of surprisingly useful items that can save time, space, and stress to streamline your trade show tour and make it that much better.
---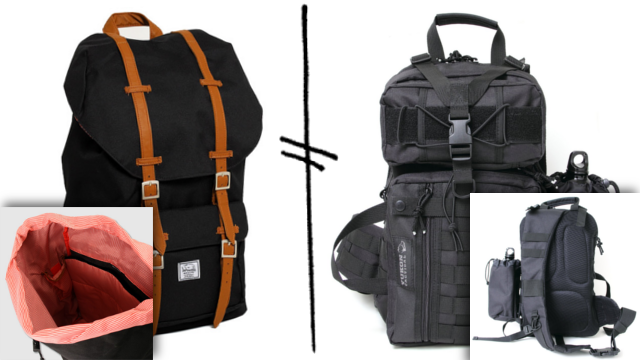 Item 1: The Pack
Before you start to get clever with the stuff you carry, you're going to need someplace to put it. After years at school, I was convinced that messenger bags were the apex of comfort and storage space. After a few conventions I quickly realized that not only did they stress out my shoulders disproportionately, but they were awkward for carrying anything more complex than a heavy textbook.
Chances are you have a backpack lying around at home, but that ancient Jansport you cram your books into every day has probably seen better days and puts some serious strain on your shoulders. My personal choice (both for conventions and everyday carry) is Herschel Supply's "Little America." Based on the design of early mountaineering packs, this one is sturdy, spacious and surprising comfortable for its traditional design. If your bags tend to fill with bulky items like T-shirts or plushes, this pack is almost a must.
Alternatively, a "tactical" pack like this one places more of a focus on comfort and modularity. The biggest selling point for this bag is the single cross-chest strap, which tends to distribute weight more evenly, and the option for essentials to be strapped to the outside for easy access. Unlike the Herschel, this pack has more compartments but less open space, making it more ideal for those who tend to bring more supplies (water, gadgets, etc.) but are less inclined to accumulate "swag" along the way.
---
Backpackers and campers have been innovating with minimalism since before video games had 3 dimensions. Balancing comfort while saving space and weight is a specialty of the outdoor crowd, and something that those of us more acclimated to indoor trekking can learn from.
The newest addition to my trade show trick bag seems obvious: a pillow. Long line waits are a perfect place to grab a nap (as long as you keep one eye on your stuff,) but even if you find a decent gap to stretch out or a wall to lean against, chances are your backpack is either too bulky for a headrest, or cleverly disguises the sharp edges of its contents. In addition, sleeping on the plane without a pillow can be just as bad as not napping at all. Collapsible backpacking pillows are a great tool if you have the space for them, as they're light and soft, but easily compress into themselves to be small and portable. Best of all, they're fairly cheap.
---
Doubtless you are already aware, but staying hydrated is, like, super important. It's pretty much a requirement when you're spending 3 days on your feet, unless passing out is kind of your thing. Carrying a hard plastic bottle big enough for a full day is a chore, and the marked-up water sold by vendors can hit your weekend's budget pretty hard. Once again, the backpacking crowd saves the day: a collapsible bottle is an easy way to keep water on hand, and still save space when it's empty.
There are a lot of great options available, including camelbaks, and if you're lucky vendors even give out soft plastic bottles for free on occasion. I chose the Vapur bottle above as an example for several reasons:
It's extremely durable and well-built. mine has seen over a year of moderate use with hardly any wear.
It's larger than most collapsible bottles, and holds just under 1 liter of water.
The design is great. The empty bottle to be rolled up and tucked under the attached clip, and you can stash it practically anywhere.
It's absurdly cheap for what you get.
If you expect to have access to a fairly reliable source of free clean water (avoiding the hall water fountains is advisable in most cities) a bottle like this can be a time and space saver, and odds are you'll wonder why you ever bothered to go without one.
---
As I mentioned before, one of the drawbacks to an open backpack like the Herschel is a lack of smaller pockets: though there are a couple, they're not ideal. Even with more compartmental packs, small-item storage is usually less efficient. For those who need to manage attachments for a million gadgets, these Grid-It organizer boards are the closest thing to perfect I've found.
I was skeptical of their practicality before I picked one up, but took a chance on it anyway. Having the option to pull out one notebook-sized boards, and instantly have all of my charge cables, thumb drives and pens out and ready is fantastic. Best of all, the boards are supremely modular; there is a band that will hold anything from a micro-SD card to a full size wireless mouse, and you can configure everything in multiple ways. Also, the bands are interwoven in a way that makes them easy to access, but you can rattle the board around all you want inside your bag and everything stays put.
These are a bit pricier than I would prefer: the smallest option will set you back about $20, but it's hard to argue price for how well-made these are. Still, after over a year mine is still in perfect shape, and has become an absolute must for both everyday use and my convention trips.
---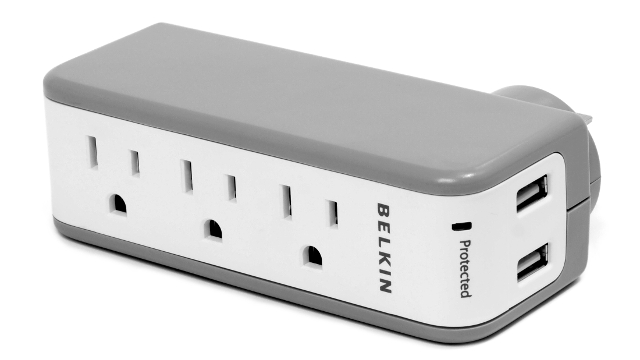 After a few years, I have learned that carrying a full-size laptop around the expo hall for 8+ hours is blunder on par with fighting a land war in Asia. Still, it's a safe assumption that you're going to have at least a few items on hand that will need charging at some point or another. AC outlets aren't necessarily rare in any convention space, but pack enough people in and they're bound to become a commodity, and USB charging stations still haven't spread too far beyond airport terminals. Having a compact, multi-port power strip on hand could make you a hero of foresight, especially if you're with a group or bargaining for space around a crowded wall socket.
There are numerous options available in most stores and online, at varying quality and price points. I recommend the Belkin pictured above for its solid design and small form-factor, as well as the fairly reasonable price. It was a great addition during my last convention trip, when traveling with two other people all carrying at least a phone, laptop and 3DS.
---
There are numerous simple items that can let you travel smarter and lighter. These are just a few of the options that many overlook, from what I've observed in panel lines. If you have any other great tips or items that you use to get around the expo hall, feel free to drop them in the comments. Beyond all the clever gadgets, the best advice I can give is to be safe, plan ahead, and have fun out there!