The Erebos Glance shader is new to Destiny 2 and is finally available for those who want to deck their Guardian out in (almost) all-black. Shaders have long been the bane of a collector's existence, going from being too numerous to not nearly available enough. That hasn't changed after the Lightfall expansion, nor the Season of Defiance. If you want the Erobos Glance Black Shader, you'll need to abide by a specific set of rules, and we'll go over how to get it below.
How to Unlock the Erebos Glance Black Shader in Destiny 2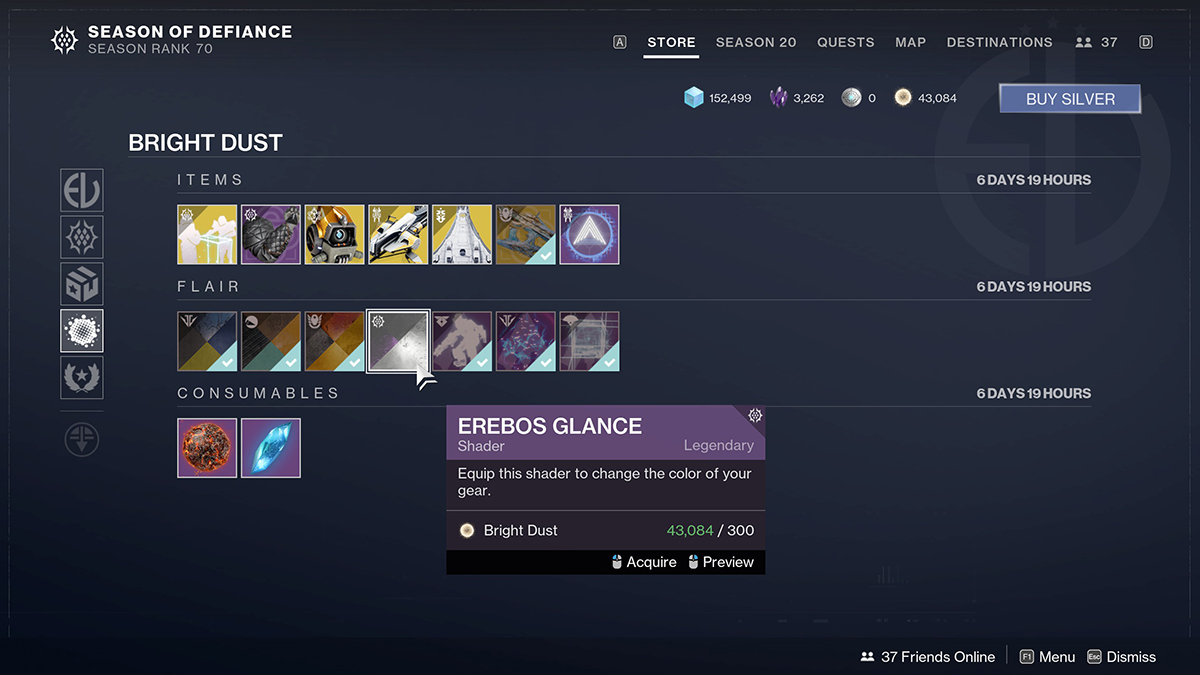 Screenshot by GameSkinny
Currently, the only way to get the Erebos Glance Shader is to pay 300 Bright Dust at the Eververse Stores in the Bright Dust section.
Erebos Glance won't always be there, as the Shader selection rotates weekly. Keep an eye on the weekly selection and the Seasonal Silver bundles, as these can also come with the Black Shader, too.
You won't be able to acquire the Black Shader from a Bright Engram, as Bright Engrams pull from no sooner than three Seasons ago. As of Season of Defiance, the latest cosmetics are from the Season of the Haunted.
There is a slight chance Erebos Glance will show up in Ada-1's inventory at some point in the future, but she's been primarily providing even older Shaders.
Should you not get Erebos Glance during Season of Defiance, you'll need to wait until it comes up in Eververse again, which older Shaders tend to do from time to time. It will always be 300 Bright Dust, which is thankfully easy enough to get. Your best bet is to complete Seasonal Challenges and level up your Season Pass, as both the free and premium tracks provide several thousand Dust apiece.
You can also get easy Bright Dust by completing the three core Ritual Vendor challenges: eight completed bounties from Zavala, Drifter, and Shaxx. One set per character is 360 Bright Dust, 1,080 if you do them on all three possible characters.
And that's how to get the Erebos Glance Black Shader in Destiny 2 — for now. You aren't liable to unlock it if you don't get it the instant you have the chance, at least not anytime soon. There are, however, plenty of other activities and regards to earn in Destiny 2 Lightfall, and we've covered quite a few of them in our D2 guides hub.
About the author