Destiny 2's Season of the Splicer continues to evolve the seasonal progression model with the Splicer Gauntlet. Framed similarly to the Hammer of Proving from Season of the Chosen, it is nonetheless unique in how it modifies the core gameplay loop and loot game of Override, the core activity of Season 14.
With the Splicer Gauntle, you have a good-sized collection of perks to choose from, but not all of them are created equal. There are also ways you can maximize the seasonal grind to get the most loot in the least time, all while keeping you from wasting undue effort in Strikes, Gambit, or Crucible.
You'll need a currency called Decrypted Data to acquire any upgrades to the Splicer Gauntlet. There are three levels to each perk, costing 100, 300, and 500 Data for levels 1, 2, and 3, respectively. Check out our Decrypted Data guide to learn how to get your hands on the currency.
Best Splicer Gauntlet Perks to Upgrade for Easy Loot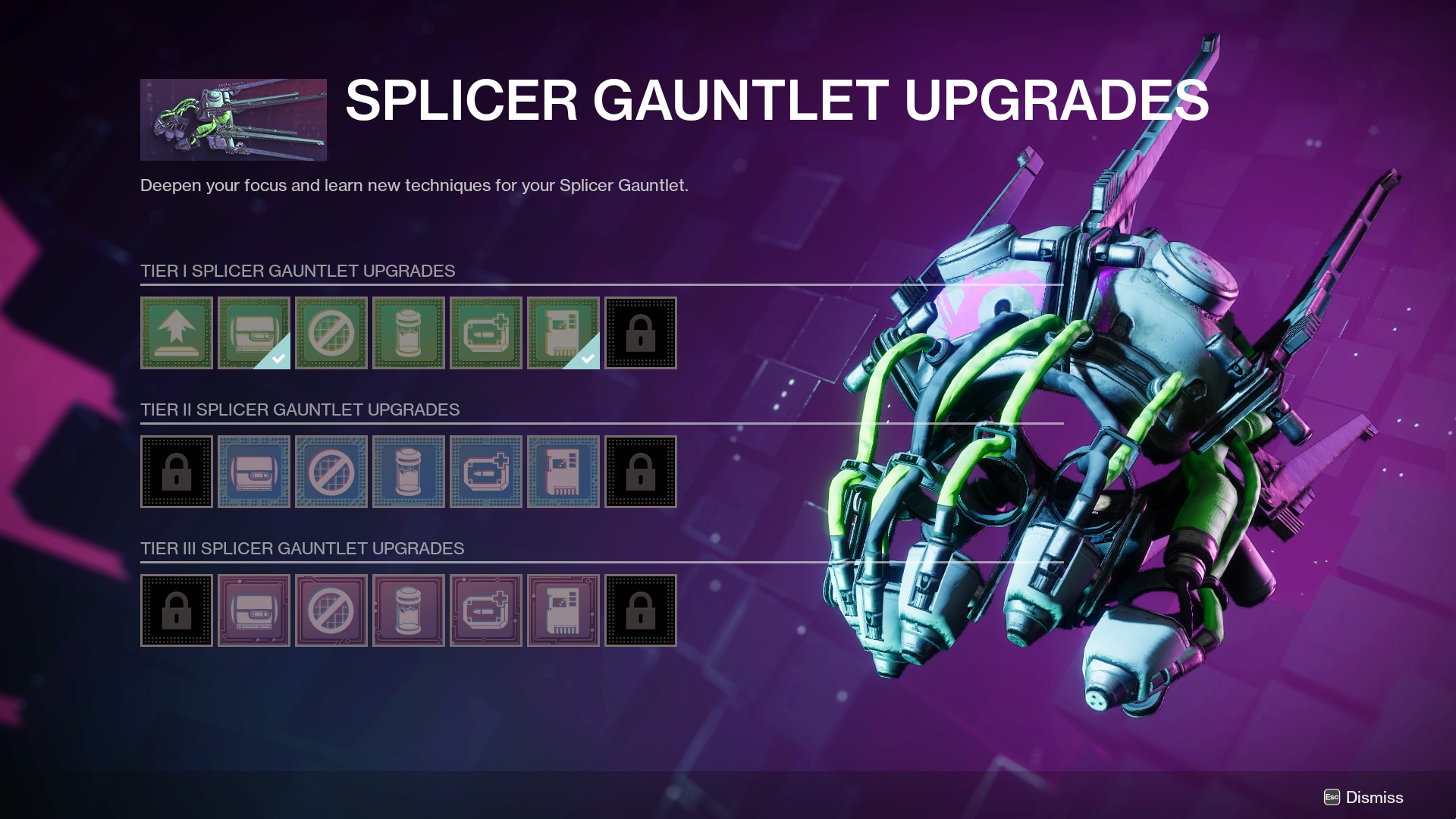 There are three perks you'll want to max out to make the most of your loot grind. They are, in order:
Memory Expansion
Override Efficiency
Ether Purifier
The other perks in the glove are relatively unimportant, providing quality of life improvements to Override and general Season of the Splicer progression. The only other perk worth your time is Code Strider, as that allows you to cut out some of the annoying parts of the platforming section in Override, getting you to the boss quicker and easier.
Take the Memory Expansion, Override Efficiency, and Ether Purifier perks to Level 1 as soon as possible, in the order presented, then focus on getting Expansion and Efficiency to Level 3, then Purifier to max at the end.
Mind that there are five hidden perks on the tree as of writing, which could turn the calculus here on its head. We'll update the article once they're revealed.
Priority Perk Upgrade #1: Memory Expansion
To get the Season of the Splicer loot from Override, you need to have a Splicer Key ready in your Splicer Gauntlet. Creating Splicer Keys costs 50 Ether, which you acquire through completing core activities and killing enemies. A single Crucible match, for instance, awards 50 Ether.
Starting out, you can only hold 100 Ether in the Gauntlet, and a maximum of three Splicer Keys. You will initially need to empty your Gauntlet of Ether, then complete a Strike, Gambit, or Crucible match, then make the third Key with the currency gained from the activity.
Memory Expansion increases both the number of Splicer Keys and the amount of Ether contained in the Gauntlet, to a maximum of six Keys and 250 Ether. That makes six runs of Override with a guaranteed piece of Season of the Splicer gear.
Combine this volume of rewards with the next perk on our list, and your grind for god rolls shrinks further.
Priority Perk Upgrade #2: Override Efficiency
Override Efficiency increases the quality and quantity of loot you receive from the chests at the end of Override. That includes Decoded Data amounts, as well as drops from both the standard and Conflux chests.
Conflux chests will also provide additional Umbral Engrams of both the Focused and Unfocused variety. The standard chests will have a higher chance of dropping seasonal gear, so taking Override Efficiency to Level 3 will all but double your chances of getting your hands on the new hotness.
Priority Perk Upgrade #3: Ether Purifier
You won't be getting any Splicer Keys without Ether, which you'll get through Strikes, Gambit, Crucible, and killing enemies across the system. The Ether Purifier perk increases your gains no matter what you're doing or where.
That's the perk's only benefit. However, when you get in excess of 100 Ether per Strike at only Level 1, you need just a few strikes to open up more opportunities to head into Override. You won't even need to waste too much time in the same Strikes you've been doing for four years. You'll be able to get tired of Season of the Splicer's offering instead.
Those are the best perks upgrades for the most efficient Destiny 2 Splicer Gauntlet upgrade path. You'll be wracking up Ether and loot in no time. For more on Destiny 2, consider heading over to our long list of other tips guides, including how to get the Aspect of Interference and the Cryosthesia 77K Catalyst.
About the author