For those looking to hunt all manner of creature in Fallout 76's Appalachia, the Honey Beast is an especially hard target. A large mutated bee that spits out bee swarms, it only spawns at a handful of places and is difficult to defeat. Here are the locations where they can spawn.
Where to Find Honey Beasts
Like other RNG spawns, if you do not find Honey Beasts at any of these locations, exit world and server hop until they spawn.
Cave Northeast of Freddy Fear's House of Scares
Seneca Rocks Visitor Center
Middle Mountain Cabins
Garden area between Whitespring Resort and Whitspring Golf Club
Treetops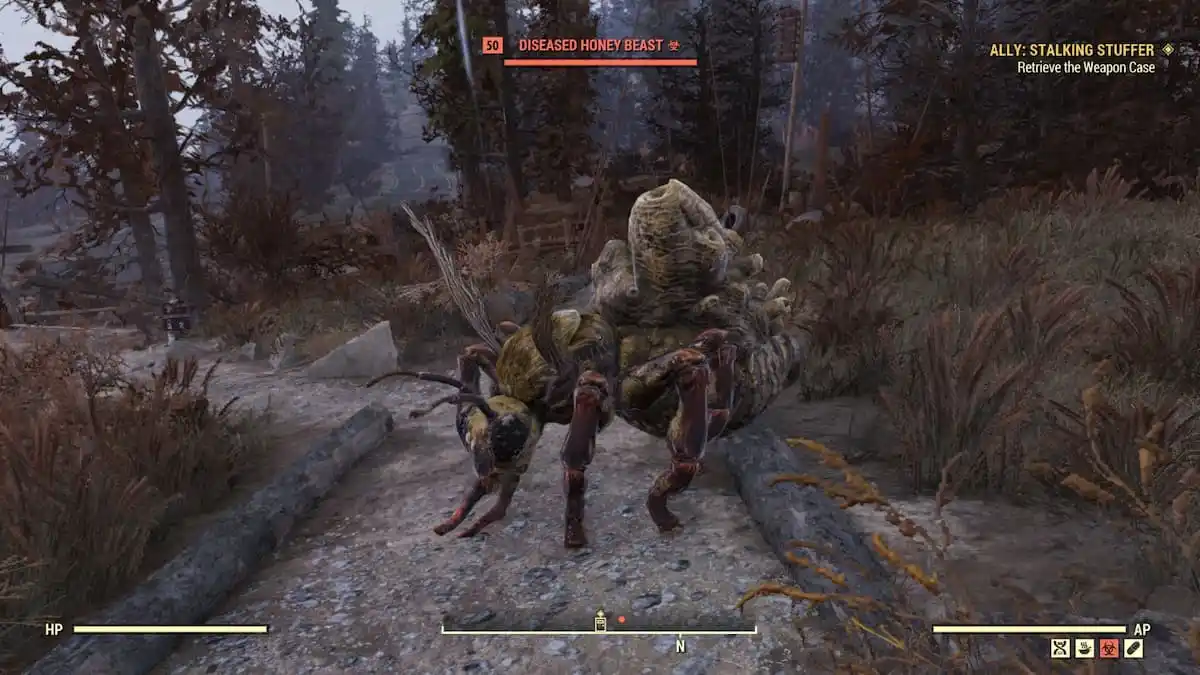 Screenshot by GameSkinny
Events
There are a few events that have a chance to spawn Honey Beasts in Fallout 76.
The seasonal Fasnacht Day in Helvetia
Irrational Fear in the Mire
Project Paradise at Artkos Pharma Biome Lab
Seasonal Prime Cuts event
Enclave Event: A Real Blast
Scorched Earth in Cranberry Bog
Honey Beast Weakness
Honey beasts are tough, but they're slow moving and that can be used to your advantage. While they are weak to both cryogenic and fire damage, you can focus on the mob's head to do additional damage. It'll take some time, but you shouldn't have too much trouble as long as you keep your distance.
Honey Beast Drops
All Honey Beasts, regardless of the variant, will have the following items as drops.
Stimpak

Honey
Honeycomb
Gold scrap
Excess adhesive
Royal jelly
If the glowing variant is encountered, it will also drop glowing blood, glowing meat and nuclear waste.
If you are looking to complete a Honey Beast weekly or daily challenge, or just in need of royal jelly, here is where you can locate them. Check out our other Fallout 76 guides for additional advice and help.
Featured image via Bethesda Softworks
About the author