Patch 5.45 is here for Final Fantasy XIV, and with it comes a hefty update to the Bozjan Southern Front and plenty of new goodies to come with it. The new Relic weapon tier is the most obvious, but 5.45 brings some other new items you may want to get your hands on.
Where to get the new Queen's Guard Barding is still unknown, but it will be added to this guide once it is discovered.
FFXIV 5.45 Bozjan Mounts and More
FFXIV How to Get the Gabriel Mark III Mount
A flashier upgrade to the Gabriel Mark II mount, the Gabriel Mark III can only be obtained by getting lucky with the personal final chest in Delubrium Reginae.
The mount has a chance to be within the coffer at the end of the dungeon. You can also purchase it from the Market Board if someone has it listed, but it's going to be costly.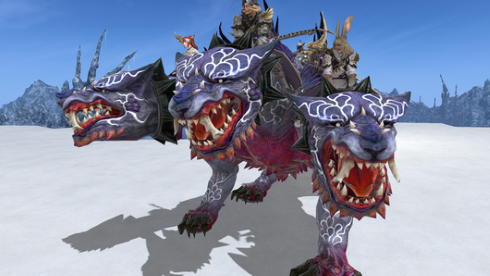 FFXIV How to Get the Cerberus Mount
The new Cerberus mount the community's been searching for after a previous datamine is finally officially in the game, and it can only be obtained by the new Bozjan 24-man Delubrum Reginae (Savage). It is a four person mount.
You will be able to pick it up from the Achievement Exchange in Old Gridania.
FFXIV How to Get Modern Aesthetics – Early to Rise
This new hairstyle looks great, but can only be obtained with luck from the personal final chest in Delubrum Reginae, though it's not a sure drop.
Alternatively you should be able to purchase it from the Market Board, provided you have the gil and someone is listing it.
FFXIV How to Get the /Malevolence Emote
The new /malevolence emote is bound to the item Ballroom Etiquette – Dark Entreaty, and can be purchased for 50 Bozjan Clusters from the Resistance Quartermaster at base. Bozjan Clusters randomly drop from mobs within the Bozjan Southern Front.
Alternatively, you can also buy this emote on the Market Board.
These aren't the only rewards for the new Bozjan content, with the new ilvl 510 armors looking like the Final Fantasy XII judges. These are also gotten via Delubrum Reginae, but must be augmented in order to be dyed and will likely be necessary for further Bozjan dungeons and updates due to their +5 Haste.
That's it for our guide on how to get the new items with patch 5.45! Check out our other Final Fantasy XIV guides here on GameSkinny.
About the author