You know what makes a round of 100-player Battle Royale even more crazy in Fortnite? Having to stop and dance at locations across the map while people are sniping you from afar!
Getting jiggy with it at five different spots where a hilarious "No Dancing" sign can be found will earn you five battle stars as Season 3 of Battle Royale gets underway. You can use any dance emote you want at these spots to complete the challenge and nab your stars.
In addition, these six other additional challenges have now been unveiled for this week of the new season:
Search between a Pool, Windmill, and an Umbrella (hard): 10 Battle Stars
SMG Eliminations (hard): 10 Battle Stars
Eliminate opponents in Greasy Grove (hard): 10 Battle Stars
Use a Launchpad: 5 Battle Stars
Deal damage with Assault Rifles to opponents: 5 Battle Stars
Search chests in Wailing Woods: 5 Battle Stars
Ready to get started finding all the forbidden dance spots? We've got you covered with a full list of locations below. Stay tuned for a full guide on the pool, windmill, and umbrella challenge to arrive shortly as well.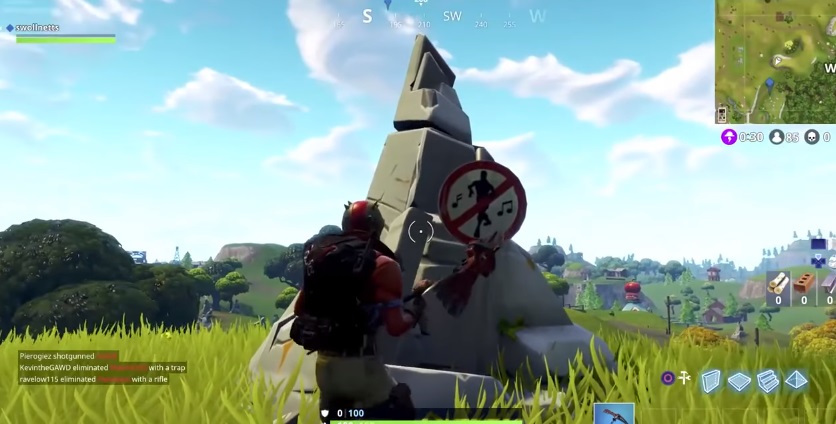 No dancing?!? We'll show you what we think about "No Dancing" signs! (thanks to DooM Clan for the screenshot)
Fortnite Forbidden Dance Locations
Thankfully, there are a lot more than five forbidden dancing spots scattered across the map, so the same spots won't always be swarming with players trying to dance.
The signs are kind of hard to see from the air or even the side while running on the ground, so you will need to do some searching. Be sure to be armed and ready to defend yourself while looking for the "No Dancing" signs!
At this point we've discovered 11 different dance locations scattered around the Battle Royale map, ranging from Junk Junction in the far north all the way to Flush Factory in the far south. If you land at the far north and really work hard to hit each location, you can conceivably get all five in a single match without getting killed by the expanding storm.
Although there are 11 spots to pick, these are all still going to be prime camping locations. If you find a killer sniper rifle (especially if you are playing the limited Solid Gold event, where all weapon drops are legendary), be sure to take out all the fools painting targets on their own backs by dancing at these signs.
For those of you who still need to be one of those poor exposed fools and wrap up this crazy weekly challenge, here's where you want to explore and engage in a little silly dancing:
At the metal Llama building to the north of Junk Junction (this is also part of the llama, crab, fox challenge from last week)
On the western shore of Loot Lake
In the parking lot at Retail Row
At the north end of Tomato Town by a broken-down RV
The gas station at the north end of Salty Springs
Next to the Taco Shop in Tilted Towers
On a mountain at the west of Pleasant Park
Next to the toilet statue at the Flush Factory
Near the pool by Anarchy Acres
Near a pond in Fatal Fields
Fortnite Battle Royale Season 3 Forbidden Dancing Locations
There may still be more Fortnite forbidden dancing sign locations we haven't discovered yet. Have you come across any others? Let us know and we'll get this listed updated!
Still need any more help with the game's Save The World or Battle Royale modes to increase your ranking? Check out our full list of Fortnite guides right here.
About the author