So you jumped into Galak-Z and were breezing through each sector like a pro, but suddenly, "Rambo"ing your way through space wasn't cutting it. And now you need a new way to defeat your enemies. Well, you're not alone.
Galak-Z Variant is one of the few free mobile games that offers extensive and diverse gameplay with a challenge (it's basically the mobile version of Galak-Z Variant S). If you're up for that challenge and want to improve your performance in the game while progressing as fast as you can, you'll want to have the best tips and tricks at your disposal.
This Galak-Z Variant guide covers the pros and cons of using a mech or fighter ship, using your environment thoughtfully, collecting bots, decrypting relics, and applying upgrades.
Choosing Mech Suit or Fighter Ship: What They're Best Used For
The first decision you will face is choosing your method of navigation and combat. Your character, A-Tak, can switch between piloting either a mech suit called Galak-Z or a fighter ship called Galak-S. At first, it's simple: you can pretty much play as either to progress. However, it soon becomes apparent that each vehicle and their respective weapons are going to be useful in different situations. So how do you choose and what's the difference?
The largest contrast between the two is this:
The mech is a short ranged, melee combat machine with a front shield and grappling abilities.
The ship is long ranged with dodge abilities, speed, and rockets.
Each has their own value, but to determine which is best to use, you should consider mobility and combat against specific opponents.
Some environments are tricky to navigate and have tight spaces. In these situations, it is usually easier to control and navigate with a mech. However, other locations may be open and require the speed and long range weapons of your ship. You should use a similar method to determine which to choose in a fight.
Study Your Opponents Before Battle
Before entering each location, be sure to check the stats of your opponent in the mission menu screen. You'll find that some are dangerous to fight at close range, such as opponents with shotguns or other close-ranged, high-damage weapons. For these, you'll want to fight at a distance with your ship.
Other opponents may be faster and more challenging to hit at long range, such as vulture void raiders. For these fast moving targets, you may want to close the distance with a mech and destroy them with melee combat.
Be sure to check your enemy types before each battle and select an appropriate vehicle.
Take Advantage of the Environment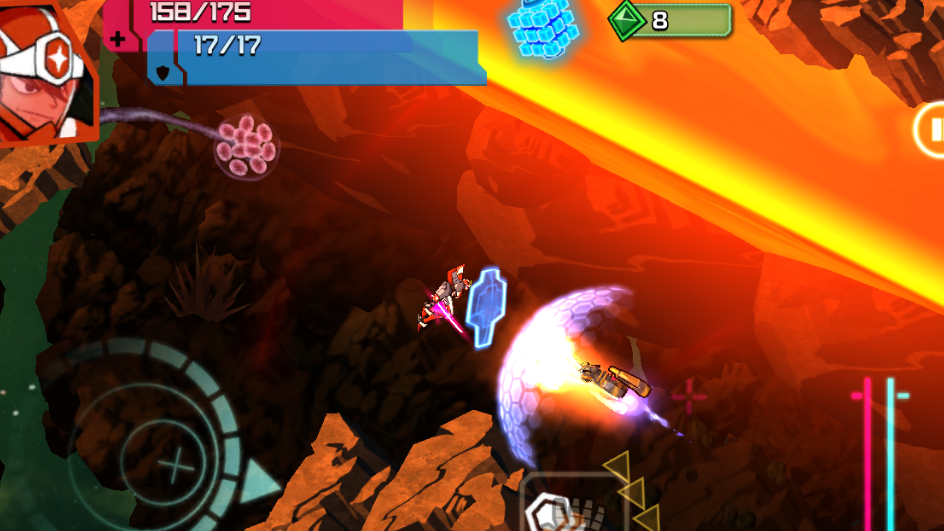 You may think the environment is a dangerous enemy as well, and you would be correct. But it can also be a great tool for hindering and destroying others. The most important elements to success in Galak-Z Variant are thinking quickly, being crafty, and using strategy to best your opponents.
Here are some tricks that you can test out the next time you're in a showdown with another ship or beetle.
Use Plants to Explode or Shock Enemies
One of the items you can use to your advantage are plants on stems. These plants, if run into, will explode and send dangerous bulbs flying in all directions. Some of these include pink bulbs that stick to your ship and slow you down. Others send out explosive damage or electric shocks that temporarily disable your abilities.
Be careful and avoid hitting these yourself. However, if you use your ship to fire at these plants, you can send the bulbs colliding into your enemies, thus hindering and damaging them. The best way to do this is to draw your opponent toward the plant and quickly shoot them from a safe distance.
Creative Grappling
You can also use the grappling ability on your mech to throw your enemies into danger. In the heat of battle, it can be easy to use your special ability without much thought, but you will want to use your grappling ability strategically.
Fire the grapple when you're in a pinch, and once you have an enemy in your clutches, try throwing him into explosive pipes, spikes, and fire pits! This will deal an extra load of damage and make your job easier. You can also try throwing enemies into one another, damaging many at a time.
Understanding Bots 201: What to Look For
No matter how crafty you are in combat though, you won't get far without upgrading and collecting bots. Bots should be your priority. Collecting them will offer improvements to your core stats such as movement, attack, defense, and relic decryption (covered in the next section).
These bots offer a unique set of perks to improve your ship, and they can be leveled up with experience points and bot parts. Though their importance is not immediately apparent in the first couple of sectors, you'll find that you're going to need a range of bots to face more challenging enemies.
Rather than choosing random bots and rushing in, you should consider the following when choosing them:
Speed
Damage
Range
Health
You should also study the special abilities of your opponent. For example, if you are going up against Void Shotgun Hyena, who charges in to deal heavy damage, you should have equipped bots that can improve your escape mobility and provide strong long-range damage. Bots offer these changes, so you can adapt to your enemy.
Not only do bots upgrade your ship and mech, but they also can be used as opponents against other players in "Bot Battles" You can select a team to improve your chances of stumping other gamers who try to face your robots.
Relics: Get Them Now, Not Later
Relics are another component you'll become quite preoccupied with. These are items you should spend time collecting in each sector for your bot to decrypt.
Essentially, relics contain salvage, bot parts, and more importantly, components for ship and mech upgrades, which you uncover after their decryption is complete.
Though you may survive without ship upgrades for a while, you'll find it increasingly difficult to succeed without collecting relics from previous sectors you have visited. Ship and mech upgrades can be used strategically to counter your enemies, and you'll need them as your foes grow more difficult to defeat. In the long run, it will be worth your time and effort to collect relics.
Remember, relics only contain parts of upgrades. You will need to continue collecting in the same location to acquire all the parts to a single upgrade. After decrypting enough relics to have a full upgrade, the location will turn green with a check mark, indicating there is nothing more you need to acquire.
Decrypting relics does take some time, however. You can expedite the upgrade process by paying with crash coins, which decrypts a relic immediately. But the more powerful the relic, the more time and crash coins it will cost. You'll find that you can't always rely on expediting, so what is the most efficient way of decrypting relics?
Efficiency's the Name of the Game
First, you should always have one of your bots decrypting a relic, and ideally, you should have numerous relics in your bot's query. Your items will decrypt while you are in and out of the game, so your time is being used efficiently. Let your phone notify you when a relic is decrypted, and once you collect your upgrade parts, be sure to send the next relic to your bot for decrypting.
If you prefer to play while you wait, you can continue your journey to other sectors or spend your time collecting other relics, but know that you can only hold a limited amount of relics. If you reach your limit, you will be unable to collect more until you have room in your query, but you will still be able to progress through sectors.
Tips on Which Upgrades to Use and Why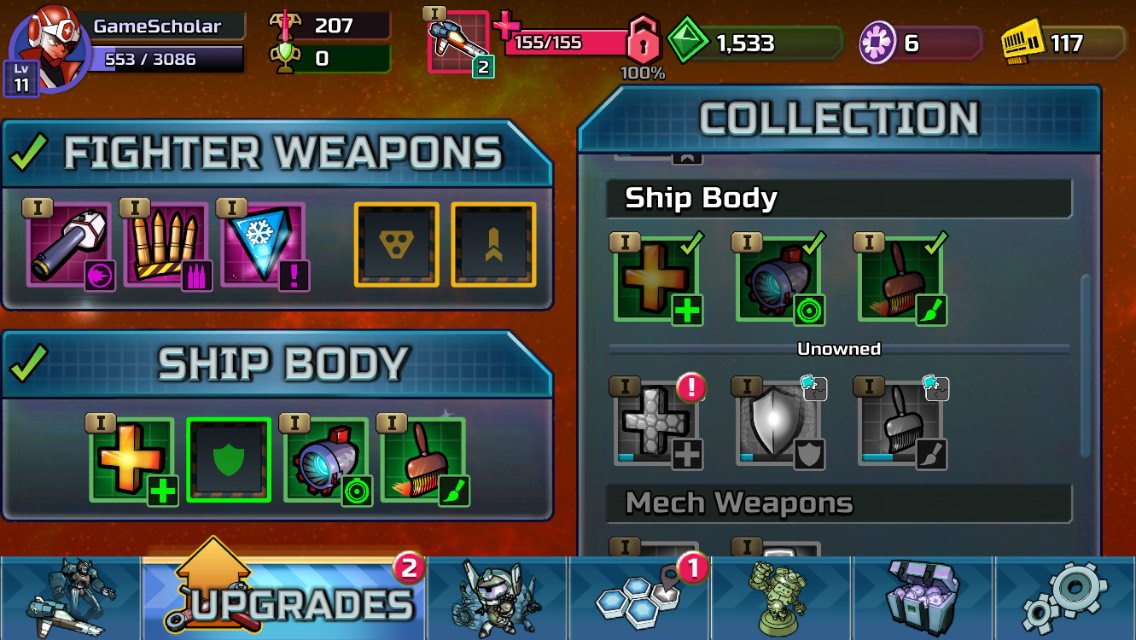 After you have obtained ship and mech upgrades from decrypted relics, you may start mixing and matching immediately for your fighting preferences. However, the decision on what upgrades to add should always be determined by your opponent, similar to how your selection of bots should be based on who you are trying to defeat.
Again, think about the perks and special abilities of specific bugs, raiders, and imperial fighters. Your mission menu provides the stats for each opponent you will face.
Though there are plenty of options to choose from, the following upgrades have been some of my favorite and useful in during my time with Galak-Z Variant. Here's what they offer and where to find them.
Your Top 5 Upgrades
Tower Shields — This upgrade to your mech is the best all-around improvement for your shield, an essential tool to keep your health from depleting. Tower shields is one of the only upgrades that offers significant improvements to three shield qualities: barrier health, barrier parry, and barrier size.

Sector 8.4 — Tower Shields (I):

Barrier health increase to 32.
30% increase in barrier size
10% chance for your barrier to parry attacks,

Sector 14.2 — Tower Shields (II):

Barrier Health increase to 48
40% increase in barrier size
15% chance to parry

Sector 17.3 — Tower Shields (III)

Barrier Health increase to 64
50% increase in barrier size
20% chance to parry

Bullet Proofish Hull — This upgrade starts off small but offers armor protection from your ship's main source of damage, enemy fire.

Sector 7.5 — Bullet Proofish Hull (I)

Health increased by 16
Projectile damage resistance increased by 18%

Sector 13.6 — Bullet Proofish Hull (II)

Health increased by 25
Projectile damage resistance increased by 24%

Sector 17.8 — Bullet Proofish Hull (III)

Health increased by 36
Projectile damage resistance increased by 30%

Revved Up — A vital tool for your survival is your ability to evade danger and close in on targets when ready. This upgrade improves your ship's speed and agility.

Sector 1.3 — Revved Up (I)

Top speed increased by 10
Turbo speed increased by 18

Sector 10.6 — Revved up (II)

Top speed increased by 15
Turbo speed increased by 27

Sector 17.5 — Revved up (III)

Top speed increased by 21
Turbo speed increased by 36

Knockback Tips — These fighter ship bullets are incredibly useful for keeping enemies at bay and depleting their health. As long as you can make the shot, knockback tips will momentarily keep foes from dealing extensive damage because each shot will, as the name suggests, knock them back.

Sector 3.4 — Knockback Tips (I)

Damage increased by 3
Laser Knockback increased by 20

Sector 9.2 — Knockback Tips (II)

Damage increased by 5
Laser Knockback increased by 30

Sector 15.7 — Knockback Tips (III)

Damage increased by 7
Laser Knockback increased by 40

Power Blade — Though it is one of the first upgrades you can earn, power blade is essential for dealing damage from your mech's primary weapon.

Sector 2.2 — Power Blade (I)

Damage increased by 4
Big attack knockback increased by 70
Damage to bugs increased to 25%

Sector 9.5 — Power Blade (II)

Damage increased by 6
Big attack knockback increased by 110
Damage to bugs increased to 30%

Sector 9.5 — Power Blade (III)

Damage increased by 9
Big attack knockback increased by 140
Damage to bugs increased to 35%
Though these are a few strong upgrades against most enemies, remember that you may need to switch it up depending on mission combat requirements.
Select weapons and body components that will actually be useful against the enemies you face. You can always test run your upgrades before missions to experience their effectiveness first hand. Apply those you feel most comfortable with and those which offer counters to your enemies.
If you are still stuck on which to choose, you can never go wrong with more damage, health, or shield. Keep selecting new and stronger upgrades from higher sectors as you progress, and this will improve your chances of success!
Get Out There and Fight!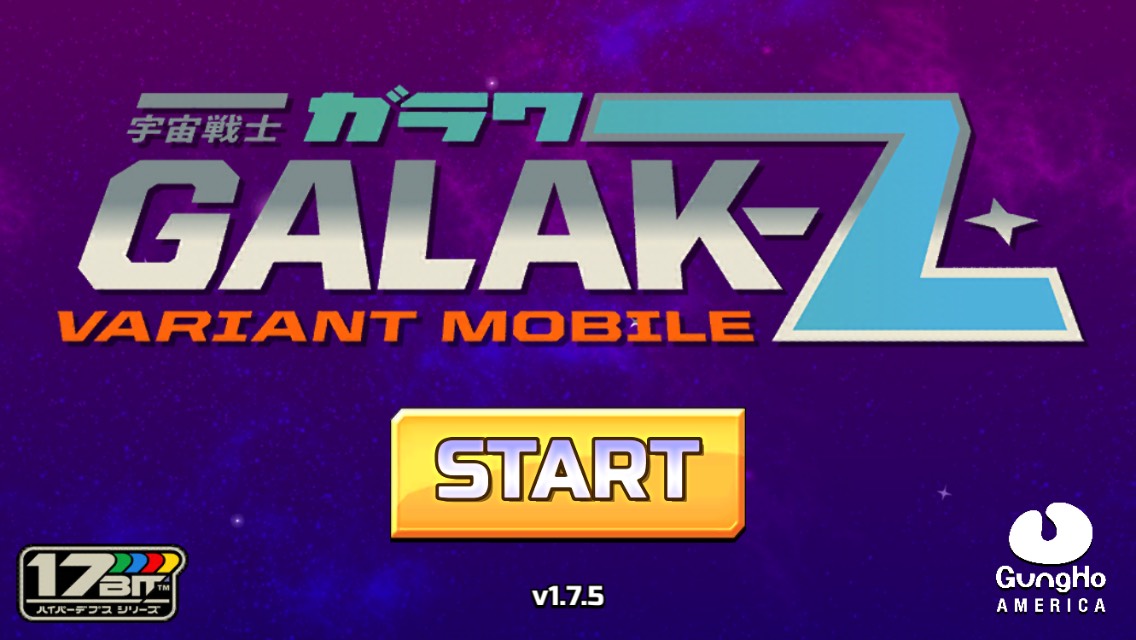 Now that you have these tips and tricks under your belt, it's time to get back out there.
Remember to:
Use your environment to your advantage
Always collect relics and bots
Carefully select your vehicle, bots, and upgrades based on your enemy
Use these strategies to approach fights with careful thought and consideration. Doing so will save you the trouble of exploding in space and having to restart missions.
Have fun, and see you, space pilot.
Make sure to stay tuned to GameSkinny for more news, info, and guides on Galak-Z Variant, as well as other SCHMUPs and space-shooters!
About the author