Soldier is 1 of the 5 classes available in Gears of War 4 Horde Mode. This is your basic, all-around class. That doesn't mean it is average or worse than the other classes, it just means there is more variety.
I'm going to go over what the Soldier class can do, as well as a few tips on playing it. If you want general help with horde, check out my Gears of War 4 Horde Mode guide.
This guide will go over the basics of the Scout class in Gears of War 4 Horde Mode including:
Soldier Basics – What the class does, their loadout, and skills.
Soldier Tips – Tips for playing the class.
Soldier Basics
The Soldier class specializes in grenades and assault rifles, but they comes with a balanced loadout. If you want to have more variety and just kill enemies, Soldier is the class for you.
They do have a special Fabricator ability, Hammer of Dawn Strike, but other than that, no bonus to things like Engineers, Scouts, or Heavy.
A Soldier's job is to kill things and let other teammates worry about everything else.
Loadout
Lancer – Classic Assault Rifle with a chainsaw attacked to it for melee encounters.

Gnasher Shotgun – Classic Shotgun that deals immense damage in close-range situations.
Frag Grenade – Explosive grenade that is good in groups and can be stuck to enemies and surfaces.
Snub Pistol – Small pistol that deals average damage. Good if you need to conserve ammo for your other weapons.
Skills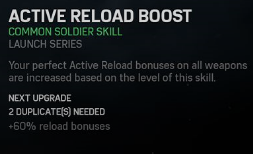 Remember, you have to unlock some skills and equip them before you get the effects.
Active Reload Boost – Increases your perfect active reload bonuses on all weapons.

Assault Rifle Capacity – Any Assault Rifle you carry (Retro Lancer, Hammerburst, and Enforcer) can hold more total ammo.
Assault Rifle Damage – Any Assault Rifle you carry deals more damage.
Assault Rifle Magazine – Any Assault Rifle you carry can hold more ammo in the magazine.
Cover Boost – While in cover, you take less damage.
Grenade Capacity – You can carry more grenades.
Grenade Damage – Your grenades do more damage and have an increased blast radius
Grenade Plants – You can plant more grenades.
Hammer of Dawn Strike – Adds the ability to the Fabricator.

When activated, calls down a Hammer of Dawn Strike at the location.
Only players with this ability equipped can use it.
Soldier Tips
Get the Cover Boost and Active Reload abilities

Having that damage reduction is great and you can stay in cover since you have no reason to grab or deposit power.
Active Reload also affects all weapons so that's a good one to have.

Find out your vulnerable areas, and plant grenades there

Grenades are good traps and can alert you of enemies.
That's it for my Gears of War 4 Horde Mode Soldier guide. Let me know if you have any questions!
About the author