The latest update to GTA Online, Los Santos Tuners, has introduced a few new race types, missions, challenges, and more. One of these new race types is Pursuit Races, and you may be wondering how to do them.
Pursuit Races are series that combine cop chases with street races, incorporating LSPD cruisers hot on your tail as you race other players.
How to Unlock Pursuit Races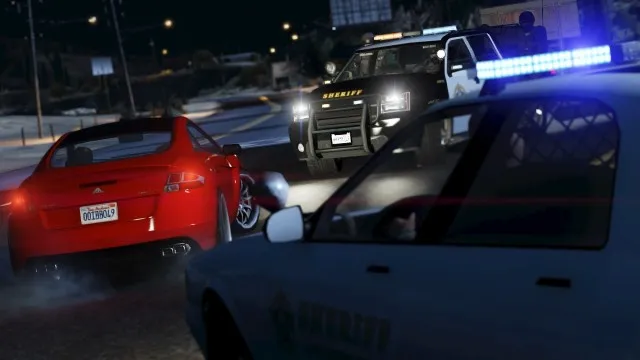 To start a Pursuit Race, you need to unlock them by reaching Reputation Level 5. Reputation is a new level system introduced in Los Santos Tuners and is increased by participating in events and activities at the Los Santos Car Meet.
To reach Level 5, you need 550 Reputation Points. Simply being in the Los Santos Car Meet will earn you 150 Reputation Points per hour passively, and you can earn additional points for taking part in races, win or lose. Once you hit Level 5, you'll get a notification that you have unlocked Pursuit Races.
How to Start a Pursuit Race
To start a Pursuit Race, open your map and scroll through the icons on the right until you get to the race icon. Click it to highlight all of the race locations on your map. Find a Pursuit Race and set it as your waypoint, then head over to it to set up your race.
When you initiate a race, the lobby will open for other players to join, with a maximum lobby size of 16. Four players are required to start. Once the lobby is filled up or the countdown has run down, the race will begin.
Pursuit Races are a bit abnormal compared to your standard GTA Online races, as checkpoints are incredibly spaced out, and you can take any path you choose to reach them.
The Reputation Points you earn from a race depend on how many players are competing and on what place you finish in. Placing near the top will give you more points if there are a lot of players in the race, while coming near-last will give you fewer if there are lots of players. Regardless, you are guaranteed between five and 100 points every race.
Despite being released eight years ago, GTA Online continues to get routinely updated with new content, and the Los Santos Tuners update does not disappoint. Go give these Pursuit Races a try, and be prepared for pure chaos in these series.
About the author