The day has finally come! Farmers the world over are ecstatic. Stardew Valley finally has multiplayer, at least in some form.
The game's multiplayer works just like much of the playerbase had hoped. Each player on a server has their own cabin and inventory, and they can do pretty much all the same things the host player can do. However, there are some exceptions.
You may be happy to know that this newest patch comes with the ability to marry other players in-game, which can be done using a Wedding Ring. But you may be less happy to find that only the GoG and Steam versions of Stardew Valley can be played multiplayer at this time.
However, before you decide to hop into the beta branch and give multiplayer a whirl, be sure to back up your saved data before you apply the beta branch.
Here's how to get things rolling like a cheese wheel.
Step 1. Opt-in for the beta
Let's go over this bit by bit, as this itself is a multi-step process.
Right click on Stardew Valley in your Steam library
Click on 'Properties'
Click on the 'Betas' tab
Enter the code jumpingjunimos in the 'Enter beta access code to unlock private betas' section
Click 'Check code'
Click on the drop menu under 'Select the beta you would like to opt in to'
Click on 'beta — Help new test updates before they go live!'
Close the Properties window
The game will now download and install a small update. It will also say [beta] next to the title in your library.
Step 2. Prepare Your Current Farm or Start Anew
You can either bring your friends onto your current farm to help tend your land, or you can start a new, fresh farm.
Whichever route you decide to take, you need to have space for other players to join you. This is as easy as choosing how many cabins are available to start when making a new farm under the new Co-op option on the main screen. But it does require some extra preparation if you want to bring people to your established farm.
How to prepare your farm for other players
You have to build enough cabins to host your friends before you can invite them. Each guest needs a cabin.
You can go to Robin to request she build cabins for you.
Luckily, they are super cheap. Each cabin costs a mere 100 Gold and 10 Stone. What a steal!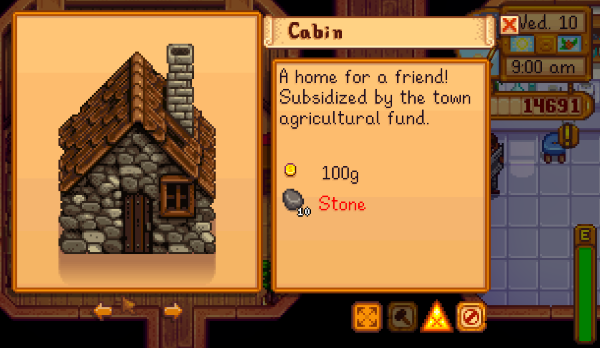 This is also how you add more cottages later if you made a new farm for multiplayer and started with only one or two cottages and want to add another.
Once the cabins are built, you can invite your friends or have random people join, depending on your server settings.
Step 3. Have Other Players Join Your Game
If you are hosting your farm, you can go in to the Settings menu while in-game and alter some things. You can set the server to be friends-only, invite-only, or shut the server down using the offline option.
You can toggle the 'Accept IP connections' option to allow players on your network to play with you via LAN as well.
Provided both you and your friends are logged onto Steam, your friends should be able to see your farm on their Co-op menu and join from there.
You can use the 'Invite Friend' button to invite your friends on the Steam or GoG versions of Stardew Valley.
You can also give your friends an invite code to join their game if they are using either Steam or GoG. This is best for players who are not on your friends list. You can find your invite code in the Settings menu by scrolling down and finding the 'Show Invite Code' option. Nab the code and share it with your friends to join your server.
—
It all sounds complicated, but in function, it's very easy to get Stardew Valley's multiplayer up and running — even now in its beta. Give it a try. It's not as hard to get working as it looks.
About the author