Imps are your cute little friends in Dreams. When you first start playing the game creation system, you only get a small selection of colors and outfits for your Imp. But that collection gradually expands as you unlock more Imps over time, letting you customize them more and more the further into Dreams you get.
Unlocking Imps is simple and easy, but you need to do some specific things to get new ones and equip them.
How to Unlock Imps in Dreams
Throughout your time in Dreams, you'll naturally come across a bunch of different Imp Quests. You might complete them by accident, or you might have them recommended to you as you work your way through other players' dreams.
As you complete these quests, you'll earn XP first and foremost, but you'll also unlock brand-new Imp designs.
My Imp Quests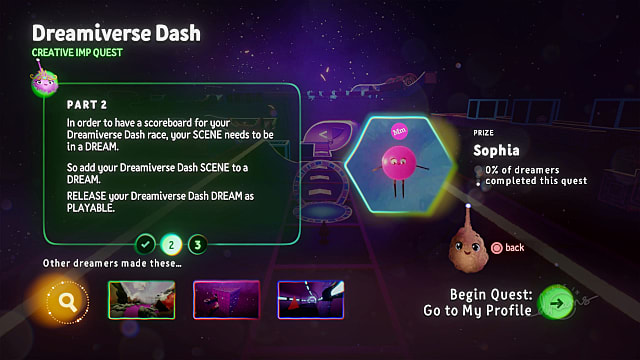 Figuring out which Imp Quests to do is a piece of cake. Navigate to your home screen, then go to your profile page and select "My Imp Quests" as the first option on the top right of the screen.
You'll first see a small list of Creative Imp Quests, which are colored green. You can click into any of them and see which Imp is featured as a reward for completing the quest.
As you scroll further down the list of Imp Quests, you'll also find One-Shot Quests (pink) and Tiered Quests (blue). One-Shot Quests only give you one objective, whereas Tiered Quests become more and more challenging as you complete each tier of the quest.
How to Customize Your Imp in Dreams
It doesn't seem like you can customize the individual features of your Imp in Dreams as of release, but you can still change the look and overall appearance of your Imp by selecting one of the newly unlocked Imps from the Imp Carousel.
To do this, you have to return to your profile page, then click into "Customize My Imp" on the lefthand side of the screen.
Move your cursor (or rather, your Imp) to the center selection at the top of the Customize My Imp screen, called Imp Carousel.
Select that, and an entire carousel of your unlocked Imps will appear before you. When you've chosen the one you want, tap the plus sign on the right side of the screen to save your selection.
—
And that's the skinny on how to unlock and customize your Imps in Dreams! In no time at all, you'll be dreaming with a brand-new look to suit your fancy. Granted, you might appear a bit Impish in that new outfit, but who's judging? Not us!
Stay tuned for more Dreams guides and tips as we make our way through the game. If you're wondering, "How do I level up in Dreams?", well, we've got a guide for that, too.
About the author