Understanding how to control and direct mobs is important in Minecraft Legends. Mob movements and commands help you fight Piglin Pit spawns and attack Nether Spreaders or defensive structures like towers at the same time. A good strategy is just one part of MC Legends. Without using all of the Golem movement tools available, you're army is weak.
Minecraft Legends Mob Movement Explained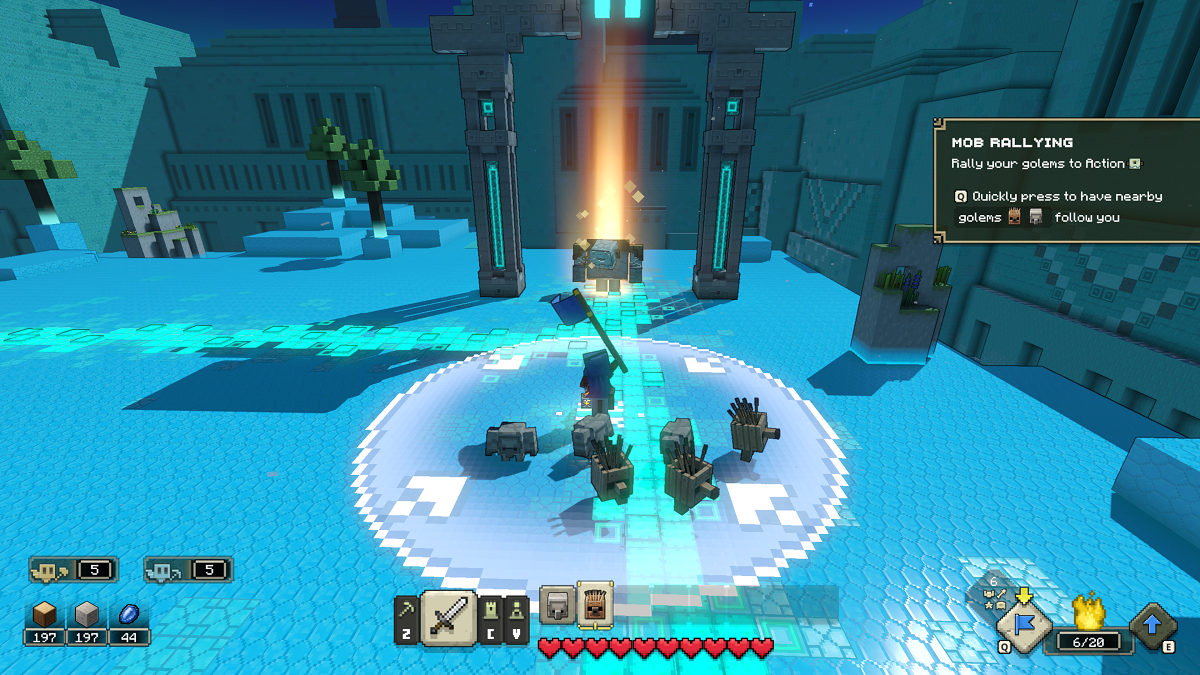 Screenshot by GameSkinny
The Banner of Courage is central to mob movement. It's what you use to control and direct your Golem armies.
The two actions are:
You can see your Banner action inputs in the bottom right corner of the screen while playing, on either side of the Flames of Creation symbol representing the number of mobs in your army.
The Rally Action input is on the left side.

The Waypoint Action input is on the right side.
Minecraft Legends Rally Action Explained
When you Rally an army, it follows you wherever you go. If you move, the army moves. If you don't move, it doesn't move.
When you press the appropriate input (Q on PC, for example), a blue circle appears on the ground around your hero. This represents the Rally area.
All Golems in this area will Rally to you. Those on the outside of the circle won't. They'll stay where they are, either remaining idle or fighting Piglins. For them to join you, move next to them and Rally the troops again so they're in the blue circle.
Check that you've Rallied all your troops before leaving an area if you want to take them with you. It's easy to leave a couple of units behind in the middle of nowhere. They don't auto-follow you, and their locations aren't marked on the map.
To stop Golems from following you, press and hold the same input used to Rally.
MC Legends Mob Waypoints Explained
Screenshot by GameSkinny
Next, you can direct mobs to a specific point in front of you by pressing the related input (E on PC, for example).
In the very early game, army waypoints are set at a specific, static distance from your Hero. Golems will move to the point, whether they're Rallied to you or not, when you press the Waypoint Action input.
How to Use Rally Points and Waypoints in the Early Game
The best way to use Rally Actions and army waypoints early is to:
Rally your Golems with the Banner of Courage.
Have your mobs follow you to a target.
Set an army waypoint beyond the target.

Another choice is to set a waypoint in the middle of a building or Piglin horde.
Remember that the distance between your Hero and the end of the waypoint can't be changed yet or using this method.
Using the Rally and command system this way is especially helpful with attacking buildings. Mobs will attack whatever is in their way, and if a waypoint is near or behind a tower or Nether Spreader, they'll attack the tower/building until it's destroyed.
How to Control and Direct Mobs With Banner View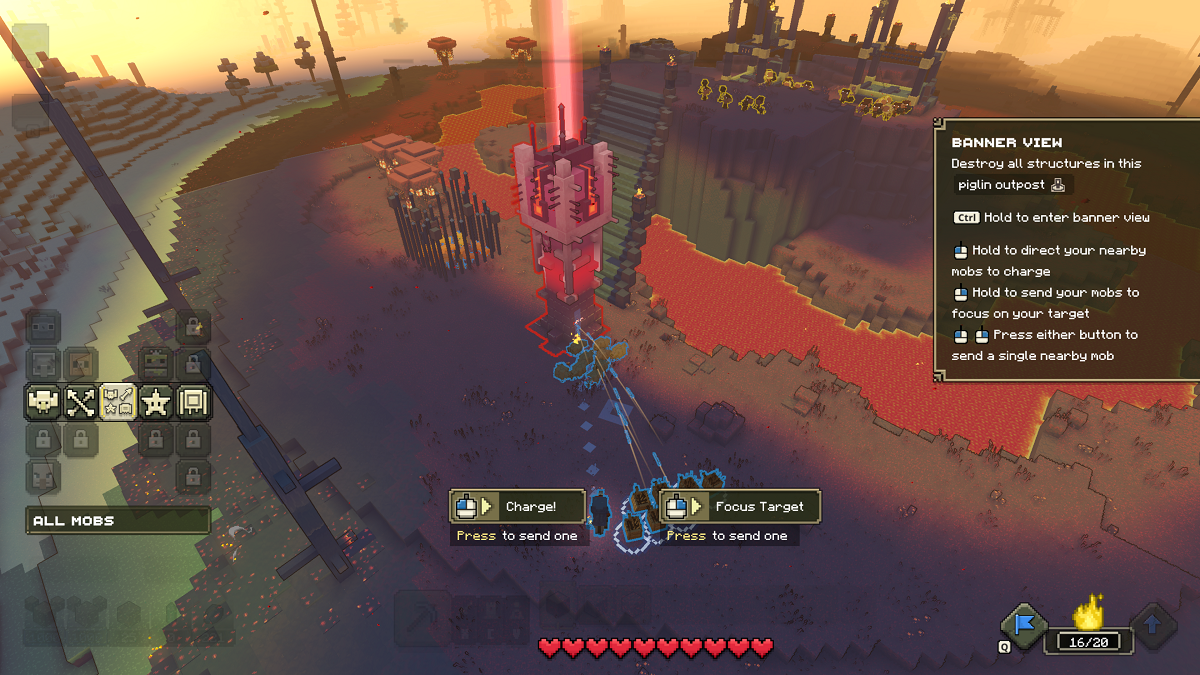 Screenshot by GameSkinny
After unlocking fast travel and getting access to iron via an upgrade, you'll soon unlock new mob movement and control options.
You'll be able to hold a specific input to enter Banner View.
On the left side, a new hotbar will appear, allowing you to cycle through individual mob types and individual Golems in those categories (melee, ranged, special, and Legendary). You can also select all mobs at once as usual.
You'll now have new commands:

Mob Charge: Direct all nearby mobs to charge to a waypoint.
Mob Target: Have mobs focus on a specific target or building.
Single Mob Target: Command one Golem or mob to a target.
Single Mob Charge: Have one mob charge to a location.
Further, Banner View allows you to move waypoints up and down — closer or further — to your Hero. Now, you can attack targets closer to you without having to run backward or rely on mobs recklessly attacking anything on way to the army waypoint.
These commands give you more options when you want to control and direct mobs to specific locations. You can attack specific Piglin spawns and buildings at the same time, splitting your army as needed.
Other Notes on Mob Movement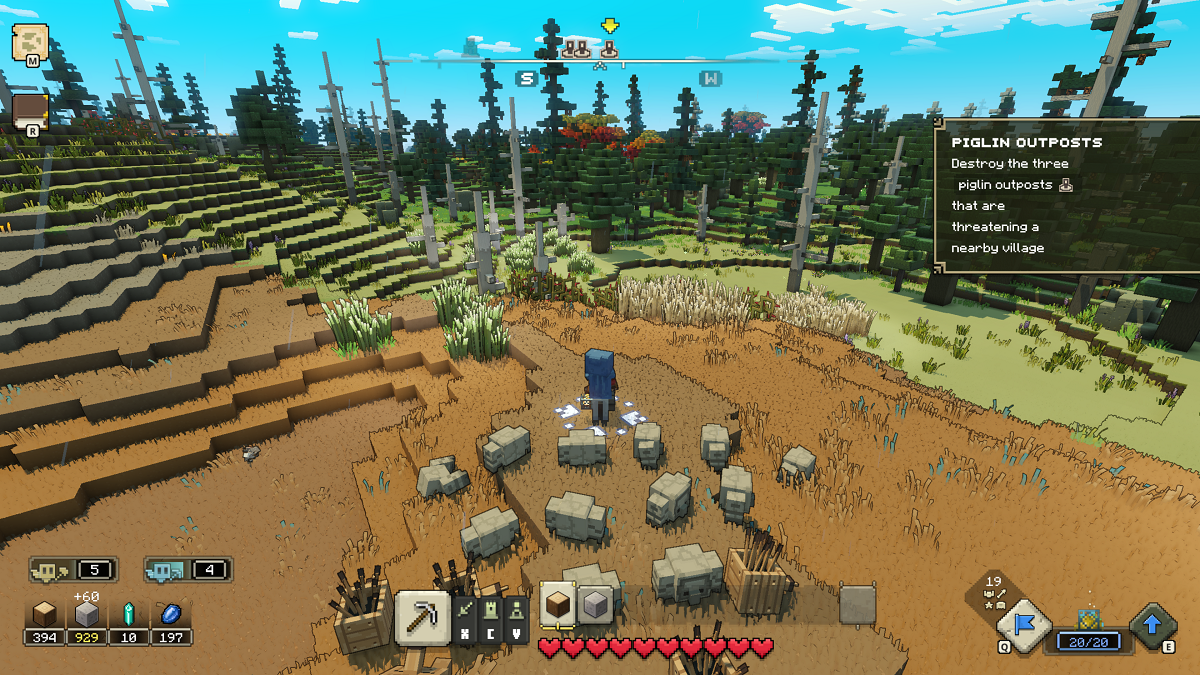 Fast travel teleports you and your army to repaired Wells.

Look out for Speed Wheat while traversing the overworld.

Speed Wheat boosts your movement speed and the movement speed of your mobs.
Speed Wheat has different colors in each biome, but it all looks like thick, waving stalks of clumped grass with a glow at the top.

In Tundra, these are black stalks with white tops
In Savana, they are brown stalks with tan tops.
In Forest, they are dark green stalks with light green tops.
And that's how to control and direct mobs in Minecraft Legends. The game really opens its strategy treasure chest once you unlock Banner View and are able to have more command over mob movements. For more, head over to our Minecraft Legends guides hub.
About the author