Every new themed release for Pokemon TCG ignites the community. There have been some utterly fantastic cards in recent sets, including Umbreon VMAX in Evolving Skies and Giratina V in Lost Origins. That tradition continues as the Paldea region comes to the game. It adds new fan-favorite characters and Pokemon from Scarlet and Violet and some expensive options you'll want to keep an eye out for. The terastal phenomenon showcases stunning new artwork and types, as well, and Terastallized Pokemon can't be damaged while on the bench. Here are the 15 most expensive Scarlet and Violet cards.
15 Most Expensive Scarlet and Violet Cards in Pokemon TCG
Iono — 269/193 — SV02: Paldea Evolved (SV02)
Price: $96.66
Paldea Evolved released with a bang, with many cards costing well over $100 when it first came out in June. Thankfully, these prices have gone down, with the most expensive card in this set being less than $100 now.
It's rare to see trainer cards at the top of the most expensive cards. However, Iono became popular in the Pokemon community when Scarlet and Violet first came out. The artwork is colorful and shows off her personality. The card lets you shuffle your hand into the deck and lets you draw a card for each remaining Prize card.
Charizard ex — 223/197 — SV03: Obsidian Flames (SV03)
Price: $81.89
What would a most expensive Pokemon cards list be without Charizard near the top? This impressive art showcases the terastal phenomenon perfectly. Its ability, Infernal Reign, lets you use Burning Darkness right away.
While there are different artwork varieties of this card with the same ability and attack — many on this list — if you are wild enough to add this version to your deck and not keep it locked away in your collection, you'll definitely be making a statement.
Magikarp — 203/193 — SV02: Paldea Evolved (SV02)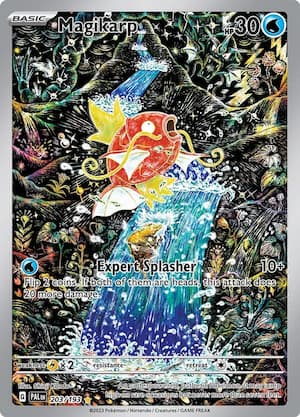 Price: $56.05
This beautiful Magikarp art is one of the most visually unique cards in the set. The details of the mountain and stream in the back and the Gyrados at the top are stunning. Although this is a powerful card to use in the TCG, using this card to evolve into a Gyrados would be a very stylish choice.
Miriam — 251/198 — SV01: Scarlet & Violet Base Set (SV1)
Price: $38.84
When this card first came out, it would have cost you an arm and a leg. However, the fan-favorite Miriam is now much more affordable. This card encapsulates the clumsiness of the character. It also helps recycle cards into the deck.
Iono — 254/193 — SV02: Paldea Evolved (SV02)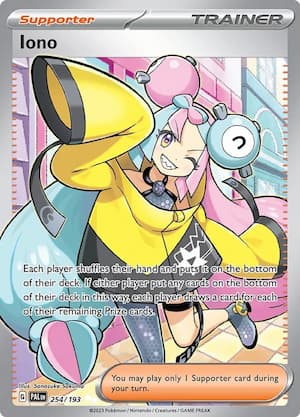 Price: $37.72
Iono makes another appearance on this list, this time showing off her signature wink pose she does for her streams.
Charizard ex — 228/197 — SV03: Obsidian Flames (SV03)
Price: $29.27
The terastallized Charizard appears again, this time in a gold variant. While not as visually stunning as before, this card does have a unique artistry, notably the patterns on its wings.
Chien-Pao ex — 261/193 — SV02: Paldea Evolved (SV02)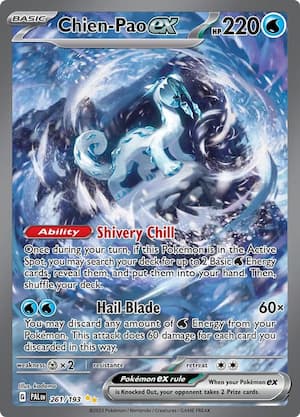 Price: $28.39
By far the best artwork of Chien-Pao in the entire set shows a dynamic pose with snow surrounding it. Its ability, Shivery Chill, easily lets you gain water energy for Hail Blade.
Chien-Pao has seen competitive viability, with it being the main card for the Chien-Pao EX Battle Deck. Even though this full-art card costs almost double what the deck is worth, it's still affordable for those who want to add some flair to their decks.
Gardevoir ex — 245/198 — SV01: Scarlet & Violet Base Set (SV1)
Price: $25.63
This wholesome Gardevoir is the final to a set of three from the Ralts line that tells a story. Ralts was given to a little, and the set shows them growing up together. Miracle Force not only deals good damage but also recovers from all Special Conditions.
Charizard ex — 215/197 — SV03: Obsidian Flames (SV03)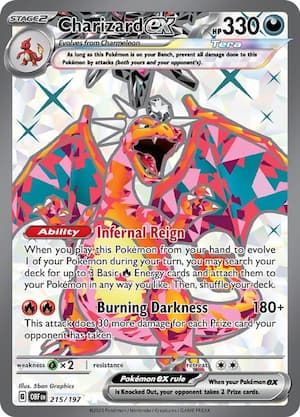 Price: $25.14
The same as the gold variant, but this one is silver. The colors on the wings pop out more due to the contrast of the blank background.
Tyranitar — 222/193 — SV02: Paldea Evolved (SV02)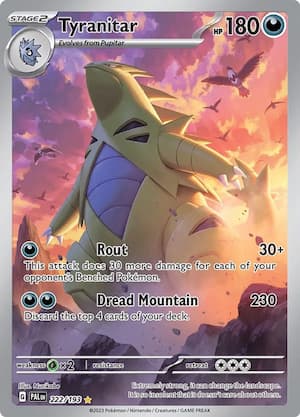 Price: $24.00
This full art of Tyranitar is reminiscent of its Godzilla origins, which it was inspired by. It towers over the land with a flock of Staraptors flying overhead. Dread Mountain deals massive damage, but in return, you have to discard four cards from your deck.
Charizard ex — SV03: Obsidian Flames (SV03)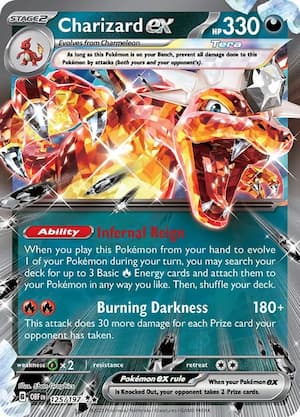 Price: $20.65
Terastallized Charizard makes one last appearance on this list. This time Charizard is popping out of the card and showing the sparkles of the terastallize form.
Miraidon ex — 244/198 — SV01: Scarlet & Violet Base Set (SV1)
Price: $19.90
Miradon is flying through the city looking into an apparent where there's a Fidough looking right back at it, which is cute and charming. The Tandem Unit Ability helps offset Phonton Blaster only being able to be used every other turn.
Chi-Yu ex — 259/193 — SV02: Paldea Evolved (SV02)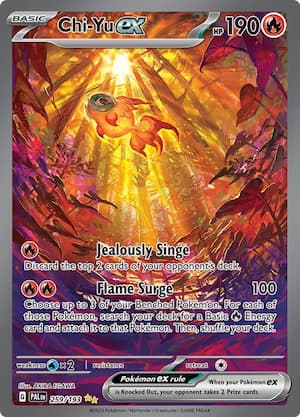 Price: $18.98
Our favorite goldfish Chi-Yu has never looked more mystical. This card gives off a sense of Autumn and is almost calming to look at. Chi-Yu allows you to have your opens discard two cards from their deck for the cost of only one energy.
Raichu — 211/193 — SV02: Paldea Evolved (SV02)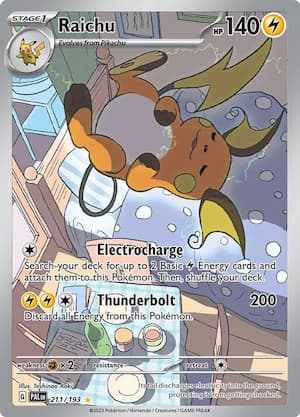 Price: $18.69
Raichu sleeping peacefully upside down on the bed is so cute. The artwork is wholesome and makes you want to sleep just as good as Raichu. Its Electrocharge also supports the Thunderbolt attack by providing the Electing Energy needed.
Tinkaton ex — 262/193 — SV02: Paldea Evolved (SV02)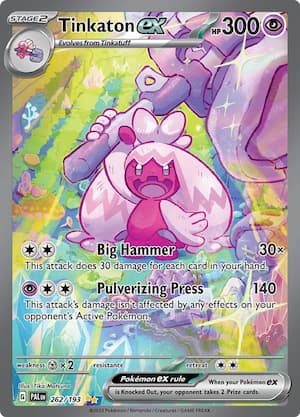 Price: $16.25
Tinkatonk has wonderfully colorful artwork that's so cute and fits its original Fairy typing. However, it can't be unsaid that it looks too happy as it has its hammer raised, ready to strike whatever poor Pokemon crosses its way. Pulverizing Press deals a good amount of damage and is not affected by effects on active Pokemon.
Similar to Chien-Pao, Tinkatonk has its own Battle Deck that can be purchased. With this card being the cheapest on this list, it's perfect for spicing up any deck you put it in — or just as a collector's card.
These were the 15 most expensive cards in the latest Pokemon TCG Scarlet and Violet sets. Be sure to check out other Pokemon articles and lists right here.
About the author