Ion is the general Titan in Titanfall 2 that most people start with. This also means that it is actually pretty good and balanced with abilities, weapon and stats. It may seem average at first, but give it a try and it may become your favorite.
I'm going to go over everything that the Legion Titan has to offer and give some tips on what to use. Check out my multiplayer guide for general Titanfall 2 help.
This guide will go over everything about the Ion Titan in Titanfall 2 including:
Ion Basics – The weapon and abilities of Ion.
Titan Kit – The general kit abilities.
Ion Kit – The kit abilities that are unique to Ion.
Titanfall Kit – The kit abilities for calling in your Titan.
Ion Basics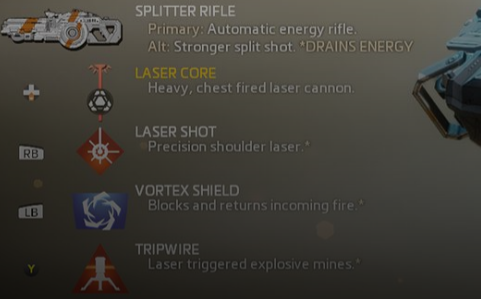 Weapon
Splitter Rifle – Primary: Automatic energy rifle.

Alt-Fire: Stronger split shot. This drains energy.
Abilities and Core
Laser Shot – Shoots a precision shoulder laser. This drains energy.
Vortex Shield – Blocks and returns incoming fire. This drains energy.
Tripwire – Throws out laser triggered explosive mines.
Laser Core – Shoots a heavy, chest laser cannon.
Laser Shot is a decent damage ability, though you have to wait a second for it to charge up.
Vortex Shield is fantastic for stopping projectiles, and you can send it back to them to deal damage.
Tripwire is a good skill to use when you want to stop people from getting to a certain area, escape, or cause extra damage to unsuspecting Titans.
Laser Core is very powerful, but not when the enemy can easily take cover. Use it in open areas.
Titan Kit
Assault Chip – Improves Auto-Titan precision and enables the use of offensive and utility abilities.
Stealth Auto-Eject – Automatically ejects and cloaks when your Titan is doomed, preventing Pilot death.
Turbo Engine – Grants 1 extra dash.
Overcore – Titan starts with 20% core build time.
Nuclear Ejection – Ejecting while doomed causes your Titan to detonate its core, causing massive damage to nearby enemies.
Counter Ready – Grants 1 extra Electric Smoke countermeasure.
Counter Ready can be useful to keep Pilots away, and what I usually use.
Overcore can also be pretty good, especially if you can take advantage of Laser Core.
Nuclear Ejection isn't a bad choice if you can get close enough.
Stealth Auto-Eject can also be useful if you want to ensure you can get some damage done as a pilot. Using this can ensure your Pilot won't die immediately.
Ion Kit

Entangled Energy – Splitter Rifle critical hits restore energy.
Zero-Point Tripwire – Tripwire deployment uses 0 energy.
Vortex Amplifier – Increases Vortex Shield's return damage output by 20%.
Grand Cannon – Laser Core lasts longer.
Entangled Energy can be great if you get critical hits because it restores energy, which all of your abilities use.
Zero-Point Tripwire can give free Tripwires, allowing you to save your energy for other things.
Vortex Amplifier is the best choice if you find yourself using, and hitting, with Vortex Shield a lot. If you aren't actually sending multiple projectiles back, it is not worth it.
Grand Cannon is useful if you can make use of the entire Laser Core and get multiple enemies with it.
Titanfall Kit
Dome Shield – Protects your Titan after Titanfall.
Warpfall – Fast and unprotected Titanfall.
This comes down to whether or not you are going to be near your Titan during Titanfall.
The shield is good if you won't be near so it can be protected while you get to it.
Warpfall is good for when you spawn as Titan, or are near the spot you call it in. It is also good for destroying other Titans by calling it in on top of them.
That's it for my guide on Ion in Titanfall 2. Let me know if you have any questions!
About the author