The Legend of Zelda: Tears of the Kingdom Boat helps you solve several puzzles, and you'll want to know how to make one using Ultrahand. This ability lets you grab, rotate, move, realign, and attach various objects together. Early on, though, you'll need to create your own water-faring vessel. Here's our guide to help you make a Boat and cross the lake in Zelda: Tears of the Kingdom.
How to Make a Boat in Zelda: Tears of the Kingdom
The first lake you'll need a boat for is on the Great Sky Island, the game's tutorial area. Once you've learned a thing or two in the Ukouh Shrine, you'll head to the east toward the second Shrine. You can cross the chasm along the way by attaching a cart or board to a hook, then riding it along the rail. You'll see the lake in the next section, and the In-Isa Shrine is on the opposite coast.
TotK Boat Building 101
To make a boat that can cross the lake in The Legend of Zelda: Tears of the Kingdom, you'll want to do the following:
Find and use a weapon with a sharp, flat blade (i.e., swords or axes).
Chop down trees to turn them into logs. Once they fall over, don't hit them anymore, or they'll turn into wood (which you can't use for this task).
Have around three logs and attach them side by side via Ultrahand.
Then, you should spot a sail nearby. Grab it with Ultrahand, and rotate it so that it stands vertically. Attach it to the center of the boat.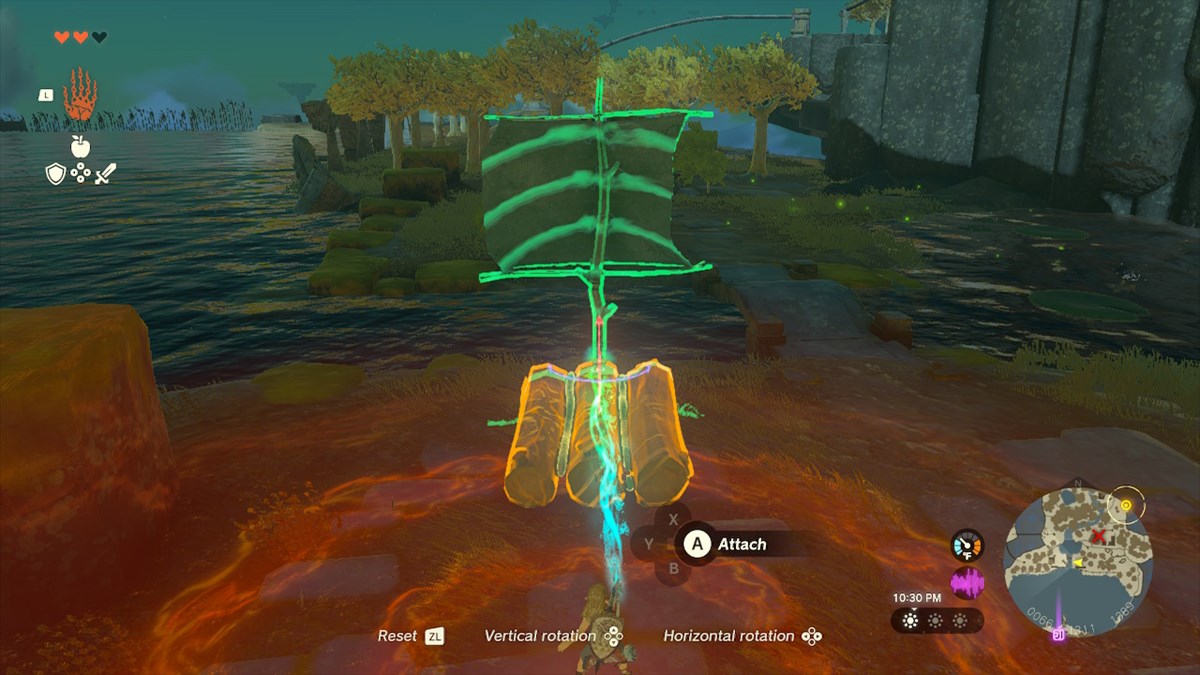 Once you've done this, target the whole thing with Ultrahand and place it in the water. Jump on it, and you'll see that the wind is blowing toward the opposite shore. Soon, you'll be able to reach the In-Isa Shrine, where you'll learn the Fuse ability.
These steps can be used for building TotK Boats all across Hyrule, not just here in the tutorial area. As you explore, you'll come across more bodies of water to cross and be able to make more intricate vessels with Zonai Fans and more.
And that's how you make a boat to cross the lake (or other body of water) in Zelda: Tears of the Kingdom. For more building tips, help articles, and strategies, head over to our Zelda: TotK guides hub.
About the author