Google Earth Team Has Developed Augmented Reality Mobile Game for iOS Using Google Tech
Get up, get outside, and go fight for control of the human mind in Ingress.
After being in closed beta since November 2012 and released for Android in December 2013, Ingress has finally found its way to iOS.
A product of Google's Earth, Maps, and Street View teams, Ingress is a massively multiplayer online game that gets players off the couch and into their own community, on the hunt for "portals."
After choosing a faction (either The Enlightened or The Resistance), players use the app as a scanner on their phones to detect portals (which are often public artwork and other cultural landmarks) and hack them. After being hacked, the portals can then have resonators added to them as a line of defense.
However, enemies from the other faction can then attack, using weapons known as eXotic matter pulses, in an attempt to reclaim the portal. Portals can also be linked together across the globe in order to make them even more powerful, and to help further shift the balance of control over the human mind.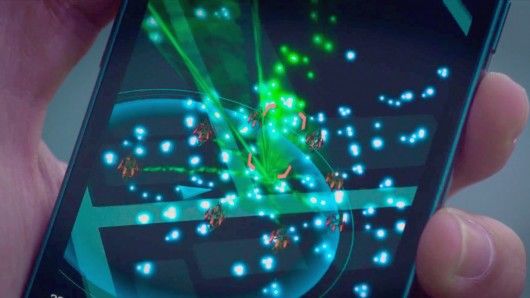 A portal as portrayed in Ingress
Ingress was developed by the team responsible for Google Earth, Maps, and Street view and is available for Android and iOS, having cross-platform play capability between them. Ingress is available for download on Android here and now iOS here.
Published Jul. 14th 2014