SteamVR is finally released and how to play with it
SteamVR was released on April 5th. Make sure to see if your computer is capable of playing VR games.
On April 5, 2016, SteamVR was finally released and features about 50 Virtual Reality games on Steam. SteamVR provides 360° room-scale virtual reality experience so playerd can see in all directions as they are gaming. It is coming to market in partnership with HTC Vive. It is a premium VR system that includes a headset, two single-handed controllers, and two base stations that track them all in the same space. At the moment, SteamVR only supports HTC Vive and Oculus Rift. It is certainly exciting news for VR game fans as they are able to enjoy the gaming experience with a Vive headset on Steam.
Before buying, here are the list of items that players will need to consider if they want to play on SteamVR:
Windows computer that can handle 1080p and 60 frames per second is the minimum requirement. According to Steam, these are the recommended system requirements. There is also a performance test if users are not sure about their computer's operating system.

OS: Windows 7 SP1, Windows 8.1, or Windows 10
Processor: Intel® i5-4590 / AMD FX 8350 equivalent or greater
Memory: 4 GB RAM
Graphics: NVIDIA GeForce® GTX 970 / AMD Radeon™ R9 290 equivalent or greater

4 X 3 meters square (about 13X10 feet square) of space with the height that a player won't hit the ceiling when raising his or her hand. Also avoid any tripping and slipping hazards in the room.
HTC Vive headset, input and tracking. If purchased on the official page of HTC Vive, they will come in a full set.
The tracking system provides a GPS system of the room. If the player move too close to objects like couches and walls, they will see a grid in the VR world to remind the player to stop moving forward. It will be accurate as the geographic information is determined by laser.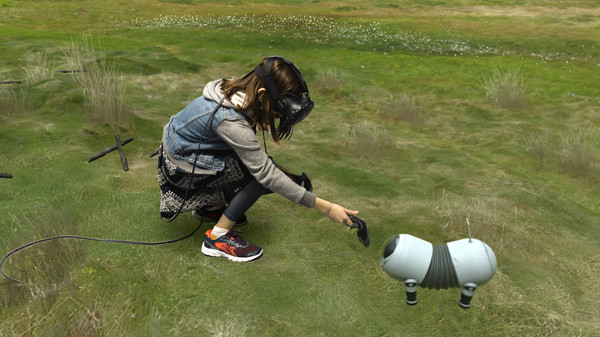 Player and dog playing fetch in the VR world
Player vs what he sees in Space Pirate Trainer
At the moment, Steam is stepping forward with the VR technology and giving their users a new type of gaming experience. It is truly a growing market with great potential. In the future, there will be more VR games available on SteamVR.
Published Apr. 5th 2016