Bound for Ultraviolence: #50Blessings the Hotline Miami Sequel
The bloodiest and most entertaining game of last year is back for more.
Hotline Miami, the incredibly brutal top down 2-D action game, is getting a sequel. The game featured an 80's aesthetic and what amounted to an alterna-80's soundtrack. The game was well-received and critically acclaimed for it's combination of retro art style and extreme physical violence. A level was not cleared until every person on the floor had been killed, preferably in a violent fashion, as the pop-synth background urged you onward towards darker and darker moments.
News of the sequel was teased on the Hotline Miami twitter with the hashtag #50Blessings.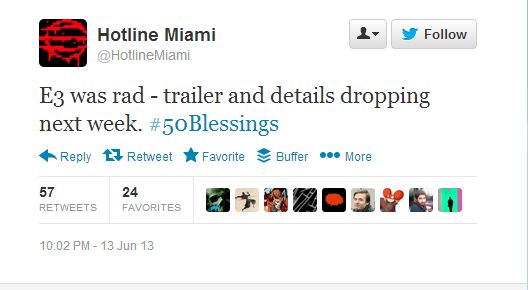 Hotline Miami is an acid trip of a game, with masks, ultra-violence, and a killer soundtrack. If you liked Drive, chances are you'll enjoy Hotline Miami. The sequel, according to reports, will focus on an early 90's aesthetic, but will be the "grand finale" of the IP. The game is also rumored to be more focused on "emotional experiences," which might sound strange if you realize you can use a power drill to lobotomize someone in the game.
According to reports, the game will feature the main character of Hotline Miami, but not in a playable form, and will follow a parallel plot to the original game. Also back are many of the same bands that made Hotline Miami's soundtrack so unique and powerful.
Fans won't have to wait long to hear more, as the trailer and more details about the game will be appearing soon.
Published Jun. 20th 2013