The International 4 Gets National Cable Airtime
Dota 2 fans will have the chance to see which team receives the record $10.8 million grand prize through a deal with ESPN
The International 2014, Dota 2's biggest tournament, will enter the mainstream with a cable television deal involving "the worldwide leader in sports."

Valve announced on Thursday coverage of the five-day event will be presented in collaboration with ESPN, beginning with a broadcast by ESPN3 on Friday at 3 p.m. ET.
Valve's Market Director of Operations Erik Johnson said:
From the success of the Compendium to the collaboration with ESPN, this year's International really demonstrates how much competitive gaming has grown to rival traditional sports. We believe the teams have also pushed to a new level of play this year and will further demonstrate the incredible advances made across this tournament since it first began three short years ago.

Dota 2's premier tournament began in Germany with a prize pool of $1 million. This year, it has caught the gaming community's attention by offering the largest cash grand prize ever in a competitive gaming tournament - $10.8 million.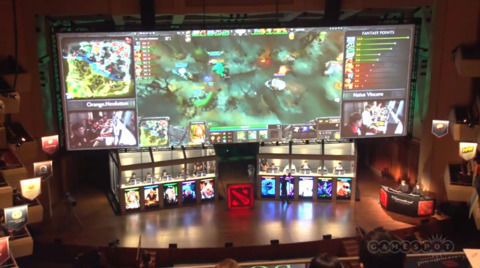 Players of the game were mostly responsible for helping raise the record amount, motivated by in-game rewards with every monetary goal.

While all 10,000 tickets for the event in Seattle's Key Arena have been sold out, ESPN3 will be providing Dota 2 fans who tune in to the online streaming service with match highlights, interviews, and commentary.

ESPN's partnership with Valve is the latest collaboration during the recent growth in popularity of eSports.

Last year, the League of Legends finals was held at the Staples Center in Los Angeles. The event brought a sold out audience of 11,000 people to see gamers compete in the online multiplayer battle arena game. Recently, ESPN partnered with Major League Gaming (MLG) in June to host a Call of Duty tournament during the X Games.
In addition to ESPN3 providing coverage, an exclusive finals preview show will take place on cable channel ESPN2 at 11:30 p.m. ET.
The final match preview can also be viewed digitally on WatchESPN.
The International 2014 main event matches will take place July 18 through the 22, concluding with the final match presented on ESPN 3.
Published Jul. 18th 2014