FIFA 20: Everything We Know — Release Date, Gameplay, Cover Athlete, and More
A new five-a-side mode and a more diverse career mode highlight the coming changes to EA's industry-leading soccer franchise. Here's everything you need to know.
FIFA 20 is set to launch for everyone on September 27, with three days of early access for those who buy the Champion or Ultimate editions of the popular soccer sim.
With the Premier League having kicked off this weekend and the other major leagues set to shortly follow suit, excitement is high and fans can't wait to get their hands on the updated rosters to try out their club's newest signings.
If you're counting down the days until FIFA 20 debuts, here's everything we know — and everything you need to know — about EA's next offering, including gameplay, ultimate team, and more.
VOLTA Football Will Change the Game
The biggest criticism that sports series receive is that they don't often need yearly editions. The problem of paying full price for roster updates and minor tweaks every year culminated in a class-action settlement over the Madden series, which added no fire underneath developers to add real value from year to year.
The best way to do that is to add something which changes the players' experience drastically, and that's what VOLTA aims to do.
Played on a smaller pitch with walls, and teams of just three to five players, the developers promise the mode will offer a whole new way to play FIFA.
It's Street Football, Not FIFA Street 20
EA has experimented with soccer outside of the standard 11-on-11 simulation of FIFA with FIFA Street, but fans should not expect a redux of the shuttered franchise in VOLTA.
While FIFA Street was an arcade-style game in the same mold as NFL Blitz, VOLTA aims to instead continue its real-world simulation experience, just one different than full-side matches on professional pitches. Players will still behave realistically and respond to the game's standard physics engine.
Flair is The Name of the Game
Where the mode sets itself apart, beyond the changes in numbers and dimensions, is the focus on skilled and showy maneuvers. Just like real streetball artists, players in VOLTA can perform eye-catching moves which don't just beat opponents but also embarrass them.
In order to develop these talents, players progress with a system ripped from the RPG world: skill trees.
Co-ed Play is Possible
While female representation has remained an area where FIFA has made strides but also stumbled, VOLTA finally offers fans the opportunity to play games with men and women at the same time.
As you build your squad of players, you can mix and match from male and female performers.
Online Co-Op is Not
The announcement of VOLTA was widely met with excitement; however, one concern was not being able to launch a full squad of created pros to take on opponents as a unit. While couch co-op is available, as yet, there is no ability to fill your squad with your online friends.
The good news is you will still have the option to take the game online in seasons mode, earning promotions and relegations as you go.
Career Mode Borrows Some Familiar Features
For offline play, Career Mode is still king, and so it's no surprise to see EA pouring resources into the mode, especially with the loss of The Journey. There's a lot to like about the announced changes so far.
Football Manager Mode
While FIFA remains the clear leader of its field, even if Pro Evolution Soccer provides a stiffer test than some of the other major sports' also-rans, that doesn't mean it's the only game in town for fans of the sport.
For players less interested in the on-field side of the sport and more interested in the men and women behind the scenes who make it happen, Football Manager is the undisputed top dog, and EA has taken a few pages out of Sports Interactive's playbook.
Press conferences will play a bigger role in FIFA 20, as will text-based conversations between players and managers. The decisions made by gamers while carrying out these conversations can lead to shifts in morale and future performances on the pitch. A happy squad is more likely to perform well, and morale will also be altered by playing time, club results, and personal form.
The generation and development of players have also been changed in an effort to more accurately represent reality.
This means an increased range in the amount a young player's height and weight can develop, as well as more accurate racial distributions when regarding generated players. Development of all players will also take on a dynamic effect, with great seasons increasing a player's potential for the next year, allowing for large leaps by young players or helping to hold off decline for another year with veterans.
Women on the Sidelines
While VOLTA may be the only mode which allows women onto the pitch alongside men, there is now nothing stopping gamers from playing as a female manager pacing the sidelines. It's a simple tweak, but one which allows everyone to see themselves represented on screen.
This ability for anyone to immerse themselves is further bolstered by the advanced customization options for your manager's appearance. Not only does the game let you choose your personal style, ranging from the business-appropriate look of a CEO to the more relaxed approach of a Newsies cap and khakis, but you can fine-tune your facial features to find just the right look to create the manager you want to see on screen.
Career Mode Odds and Ends
Here are a few leftover tidbits worth mentioning:
Increased initial wages add flexibility to squad building
Defender costs are on the rise, reflecting a similar shift in the real world
Opposing AIs will make better choices with their lineups, ensuring strong lineups for big fixtures

The fixture algorithm has been tweaked to avoid congestion
Madrid Represent on the Cover, for Real
Few peripheral notes in gaming draw more hype than who will get to grace the covers of annual sports sims. The good news for the world's best international footballers is that landing a spot on the cover of FIFA doesn't carry the same stigma of a cursed season that American football players face when they end up as the face of Madden.
With FIFA 20, three men get the honor of resting on your game shelf, with your choice of edition choosing cover athlete.
Standard Edition Cover Athlete: Eden Hazard
When Chelsea sold Eden Hazard to Real Madrid in a summer where they were forbidden to buy a replacement, many viewed it as a poor omen for their upcoming campaign. For Real Madrid, however, it has proved to be even more of a boost than expected as they gain not only one of the world's elite attacking forces, but also some bonus representation on the cover of the Standard Edition of FIFA 20.
Get the Standard Edition

Release date: September 27
Platforms: PC, PS4, Xbox One, Switch
Price w/ EA and Origin Access: $53.99
Price w/o EA and Origin Access: $59.99
Pre-order bonuses:

Up to 3 FIFA 20 Ultimate Team Rare Gold Packs
(1 Per Week For 3 Weeks)
Choose one of five mid-version ICON Items for 5 FUT matches
Special Edition FUT Kits
Champions Edition Cover Athlete: Virgil Van Dijk
For fans willing to splash a little extra cash on some perks at launch, including a few days of early access and extra gold packs in the game's opening weeks, there is the Champions Edition fronted by Virgil Van Dijk.
While his signing was criticized as overpaying for an unproven talent in January 2018, doubters were proven wrong when he led Liverpool to the third-highest points total in Premier League history and a Champions League title this past season.
Get the Champions Edition

Release date: September 24
Platforms: PC, PS4, Xbox One, Switch
Price w/ EA and Origin Access: $71.99
Price w/o EA and Origin Access: $79.99
Pre-order bonuses:

3 Days Early Access (Play from September 24th)
Up To 12 FIFA 20 Ultimate Team Rare Gold Packs
(1 Per Week For 12 Weeks)
Choose one of five mid-version ICON Items for 5 FUT matches
Special Edition FUT Kits
Ultimate Edition Cover Athlete: Zinedine Zidane
The Ultimate Edition offers even more free packs and a legendary frontman in the form of Galácticos-OG and current Real Madrid manager Zinedine Zidane.
Get the Champions Edition

Release date: September 24
Platforms: PC, PS4, Xbox One, Switch
Price w/ EA and Origin Access: $89.99
Price w/o EA and Origin Access: $99.99
Pre-order bonuses:

3 Days Early Access (Play From September 24th)
Up To 24 Rare Gold Packs (2 Per Week For 12 Weeks)
Loan Icon Player Pick: Choose 1 of 5 Loan Icon Items
(Mid Version) for 5 FUT Matches
Special Edition FUT Kits
FIFA 20 Demo
The FIFA 20 demo is out right now. It became available on Tuesday, September 10, 2019. Here's what you need to know.
It is currently available for the PC, PS4, and Xbox One. There is not a Nintendo Switch demo of the game, although the full game is releasing on that platform.
How to Download the Demo on PC
Go to the Origin Store on PC
Click "Try it Now"
Click "Add Game to Library"
The demo will begin to download
How to Download the Demo on PS4
Go to the PlayStation Store
Go to the Games tab
Got to the Demos section
Find the FIFA 20 demo
Click download
It is also on the "Hot Now" section on the main screen
How to Download on Xbox One
Gameplay Updates Aim for a Realistic Feel
While it's easy to be skeptical about changes to the in-game experience of sports games from year to year, if EA is to be believed, there is a lot going on that's new in this year's edition.
Offensive Changes
Scoring goals is where the fun is, so let's start with looking at what's been done to change how you'll do that.
The primary focus has clearly shifted to creating a more-realistic experience going forward. For starters, the situational value of shots will be factored in more strongly.
This means that players put through cleanly will see a wider margin for error when slotting the ball home, while accurately timing your shot is not all you need to do to turn your back-to-goal volley into a high-value opportunity.
Speaking of timed shots, the feature will remain — to the joy of some and ire of others — but the timing will become stricter. That means when you gamble on a timed shot, the chances of instead blasting the ball away have gone up.
A new feature allows for a set-up touch, rolling the ball forward before firing off a pass or shot with a brief run-up. This is a mixed bag, offering improved options when successful, but requiring more time and exposing you to being dispossessed.
The passing game will also see changes, with the two most notable on opposing ends of the power scale. When passing with pace, the option to drive a pass on a pass-and-go opens up new runs to build off of. When finesse is your preference, small dinked passes preferred by players like hold-up striker Olivier Giroud are now a manual option for when you want just a little air on the ball to clear a defender, but it's not so much it troubles the receiving player.
Defensive Changes
A popular defensive tactic for less-skilled players is to not get in the way, allowing your AI teammates to make sound choices and win the ball back as frequently as possible. With FIFA 20, this tactic may be on the way out.
A new tackling engine has been developed which allows for more dynamic defensive interceptions. This not only means more successful challenges but also smarter ones, with players making the effort to deflect the ball away from danger and toward a teammate if possible.
This is only effective in manual challenges, though, so it's on players to learn how to time their own challenges. AI Teammates will also be less urgent with jumping in to offer support, opting instead to retain their shape more often than not.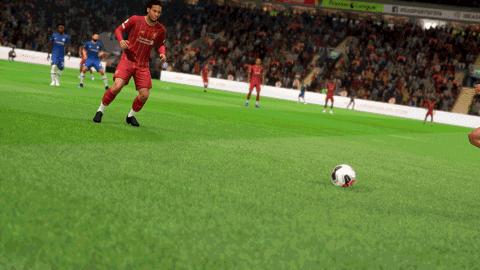 The effects of set-pieces are often a tug-of-war from year to year, with them being deemed overpowered one year, only to be excessively nerfed the next. With crossed set pieces proving very dangerous again in FIFA 19, a balance was inevitable, and it is coming in the form of improved tactical AI when choosing marks.
EA promises it will now be less likely to see your crafty number-10 marking the opposing team's towering center half, or your air-dominant defender standing around in space marking nobody.
Goalkeepers have some good and bad news to deal with as well. While improved manual ball claiming will make it easier to cut out dangerous crosses, the extent to which you can manually adjust your keeper prior to shots has been reduced to just a couple of steps, and set to lock in at the same time the shooter's direction does.
Dead Ball Changes
The system for firing shots on goal on dangerous dead ball situations has received a fairly large overhaul, much to the shooter's advantage. A targeting reticle now makes it very clear to the shooter where they are lining up their shot, while also allowing for the ability to hit the ball for power but still keep it low to the ground. It's all for when you want to blast a shot under the wall.
Control over the ball's movement is increased as well, with both the spin you put on using your right stick and the angle of approach you opt for determining how much the ball moves in the air.
One-on-One Battles at the Forefront
Several of EA's early press releases have focused on the increased importance of players going head-to-head. From tweaks to the way aerial duels go off to the decreased effectiveness of defensive support, it's clear that learning to win these direct battles will be key to top-level play.
Off ball development has been slowed down, with players taking more time to assess the game situation and look for opportunities to act. This means that the player in possession may need to do more while they wait for the correct run from a teammate.
To get this right, changes have been made to make the existing jockeying system more agile and responsive.
Introducing Error
One area which was met with controversy when announced was the addition of error into chained skill moves. While running a series of skills was a popular option for skilled players, it now comes with a great deal of risk.
Every time you chain a skill move beyond your second move, there is a chance of error causing your player to be dispossessed. The extent of this penalty will increase exponentially with each chained move, so long runs will become much riskier. This is further enhanced if the moves being chained are already high-skill moves.
Although some fans who did not enjoy running into opponents who they felt were spamming fancy dribbles will relish the change, top players who relied on their hard-earned skills to break down opponents are up in arms over the injection of random chance into their offensive endeavors.
The Old Stand-Bys
While EA is promising lots of changes, players can still count on much of what they've come to expect from FIFA. That means that one-offs are easy to access, and the game will be loaded with all the top leagues and licenses, including exclusive rights to the Premier League, Champions League and Europa League.
Online options will still include both the club-based Seasons mode and fantasy-inspired FIFA Ultimate Team, where players build their squads from packs of players throughout the world.
There are likely to be more announcements in the weeks to come as the launch date nears, so stay tuned to GameSkinny for everything you need to know about FIFA 20.
Published Sep. 13th 2019