Nioh is Almost Here, Will it Really be Able to fill the Dark Souls Gap?
After the Dark Souls series ended last year, gamers were left with a void in that style of gaming but does Nioh have what it takes to fill that hole in Souls players hearts?
Last year, the Dark Souls series saw its end, much to the chagrin of many gamers. A series of games that went outside of what was the mainstream at the time, the Souls series helped redefine the modern RPG, and in an industry that was dominated by the fast-paced first-person shooter, Dark Souls was able to show us that a game about slowing down and thinking your way through your problems was something that gamers were very willing to support.
With its end though, we were left with a void.
Some games have tried to capture the essence of Dark Souls, but no game has been able to do exactly what Dark Souls was able to accomplish... until now. Enter Nioh.
Nioh is an RPG developed by Team Ninja that takes place in a fictionalized version of the Sengoku period of Japan. The game follows a sailor named William who is pursuing an enemy and finds himself in Japan. He is enlisted by Hattori Hanzo to defeat the supernatural forces that have begun to cause problems in the area.
After watching a fair bit of gameplay, it is very clear that Team Ninja had the Souls series in the front of their minds while developing this game. There are so many aspects of the game that just feel like they came straight from those games and on top of that, it's clear that they have added new mechanics to the tried and true formula that will feel more than familiar to Dark Souls fans.
The Basics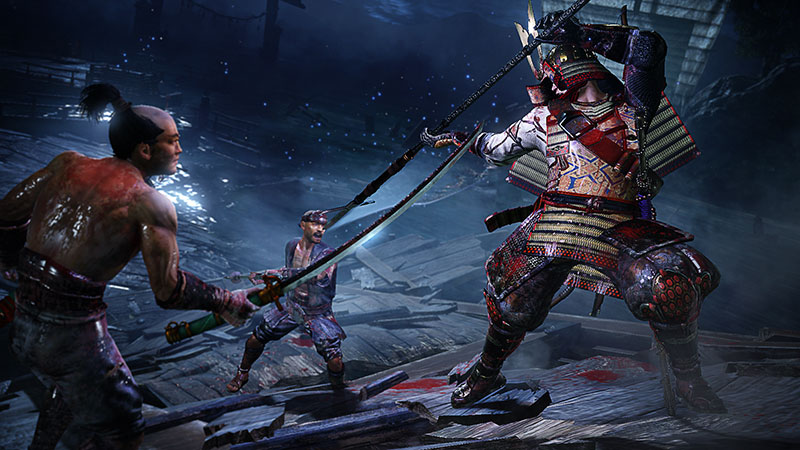 From the very start, there are some core things that Souls players will recognize about this game. The bonfires of Dark Souls have turned into shrines in Nioh. At these shrines you are able to heal yourself and level up, but each time you do this, the game respawns all of the enemies in the area -- just like in Dark Souls.
On top of all of this, Nioh adds some new capabilities to the mix. From any shrine, you are able to change out something called a guardian spirit, which imbues William with strength and other buffs. You are also able to collect smaller tree spirits that give you even more benefits.
Shrines are also where you are able to summon other players for co-op play. Finally, you are able to change out your ninjutsu and onmyo magic from the shrines, giving you other unique benefits.
The leveling system is also very reminiscent of Dark Souls, where each time you buy a level with Nioh's equivalent of souls (called amrita), you get one point in a selected skill and the price of the next upgrade costs more.
There is a co-op summoning system similar to the From Software series, too, one where you can summon other players into your game to help you fight through whatever level you happen to be on at the time. From what it looks like, there is currently no way to choose who you summon into the game, but that may change before the final release.
As well as summoning help into the game, there is a semi-PVP element here, too. Just like Dark Souls, you will find the locations of where other players have died in a level. But unlike the Souls series, where you can only watch a short spectral version of a character dying, you can actually summon a computer controlled version of that character in order to fight it. Defeating this Revenant, as they are called, will net you one piece of the equipment that that fallen player was wearing at the time of their death.
Combat
Combat looks like it would be right at home in the Souls series. You will have to think through your actions before making them. If you just run into combat expecting to slash your way out, you will definitely be punished for it.
As for actually being in combat, things will feel pretty familiar to Souls fans as well. You don't have a shield, but you will be able to block with whatever weapon you have. You have a strong and light attack, but on top of that, Nioh adds in a stance system for every weapon. You have an option between a high stance which deals the most damage but your movements are much slower, a low stance where you move much faster but your attacks only do chip.
You have an option between a high stance, which deals the most damage but slows you down, a low stance, where you move much faster but your attacks only do chip-damage, and a mid-stance between the two.
You have access to a handful of melee weapon types such as katanas and spears, as well as a few ranged weapons like bows, guns, and cannons. You can have one short melee weapon, one long melee weapon, and a couple of ranged weapons equipped at a time. Now I'm not sure if this affects your equip load, but I would be willing to bet that it will.
Level Design
When I think of a Dark Souls or Demon's Souls level, I imagine a decently sized level with a great mix of large open areas that are ripe with enemies and tight corridors perfect for ambushes. Not only do the levels in Nioh have this, they loop back on themselves to give a player working through them a good stretch of challenge as they fight through the enemies contained within it.
Just as the player is really starting to feel the weight of making it through the level, they stumble upon a shortcut that will lead them back to that precious bonfire or lantern. If there isn't a short cut, they may find a brand new bonfire or lantern waiting for them.
On top of this, From Software levels are also some of the most gorgeous locations I've ever visited in video games. The thought of coming out of the Catacombs of Carthus to see the shining Irithyll of the Boreal Valley in Dark Souls III still gives me chills to think about.
These ideas seem to have carried into Nioh.
From the gameplay I've seen, the levels all feel like they took many pages from the Dark Souls design philosophy.
There are doors that can't be opened from the side on which you find them. There are ladders that have to be kicked down before being used. On top of that, I've even seen some clever shortcuts that fit pretty well in the level. I saw someone have to kick a large bucket of water off of a roof to put out a fire that was blocking his path up the hill to the next location. I felt that was a nice touch.
Enemy placement also seems to be something that a Dark Souls fan will find familiar. Ambushes are exactly where you would expect them to be and they seem to be challenging enough to make them feel at home.
If you've been missing the Dark Souls experience and can't wait any longer for From Software to announce Demon's Souls 2, Nioh looks to be the game for you. The combat is just as slow, methodical, and punishing as any From Software title. The levels are just as deep and engaging and the game does plenty to add new mechanics for us all to explore. I am truly excited to see where Nioh takes us.
And for those of you thinking that they want to give this game a shot before it comes out this February, they are doing a "Last Chance Beta" this weekend. Give it a shot and see if it's for you!
What do you think? Have you been missing Dark Souls? Let us know in the comments!
Published Jan. 20th 2017