Speakeasy Fisticuff League Review: Fun For Everyone
Looking for a fun game for everyone to enjoy? Look no further than Speakeasy Fisticuff League on PS4.
If you're looking for a fun game that you can play with friends and family (including the kids) then look no further with indie developer Super Soul and Gun Media's newest game Speakeasy Fistcuff League. This is a free-for-all rumble for two-four players set in the 1920's era with a playful soundtrack suiting the theme.
The game has a brief tutorial that explains the basics and controls. You'll learn to Fake, Block, and Attack/Tag. The controls and moves are pretty simple--it all comes down to timing.
This isn't your typical fighting game that would come to mind like Mortal Kombat, Street Fighter, Tekken, Killer Instinct, or Soul Calibur. It's nothing like them at all. There aren't any weapons, special moves, nor is there a plot or backstory. Speakeasy is straightforward and it works for everyone at any age.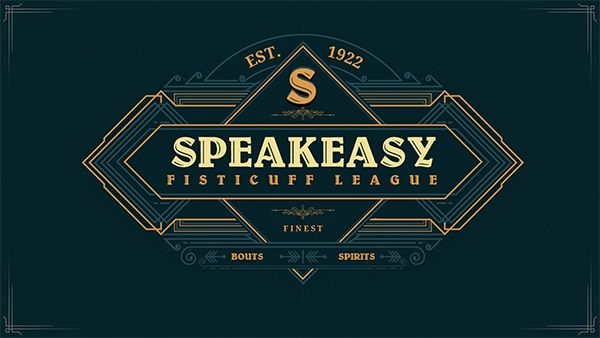 The game features 6 themed basic stages to play on: the Chinese Theater, Gangster Alley, Random, Warden Clyffe, Hanger, and Speakeasy. The game's characters are all pretty transparent references to early 20th century historical figures:
Nicola Volt - Scientist
Richard Slugging - Fisticuff Champ
Barrelhouse Jones - Jazz Legend
Amelia Airborne - Aviator
Random 1920 Character
Charlie the Tramp - Lights, Camera, Action!
Carrie the Hatchet - Pioneer
Each is adorable and it is fun to play around with historical knockoffs of Amelia Earhart and Nikola Tesla.
You'll definitely get some laughs with your kids and friends.. Just make sure you have additional controllers.
I definitely loved the gorgeous, delightful graphics and thought the soundtrack was fun. The gameplay was very simple and entertaining. There were a lot of laughs with my fiance as we met in many Face Offs thanks to our scores. It all came down to the timing and whoever messed up on the control prompts. This is what I'd call a fun "party game."
Speakeasy Fisticuff League is a small and light arcade game; it's very cute. But it failed to hook me.
Loads of Unlockables... That I Wasn't Invested Enough to Unlock
The game also features 24 Unlockables that you gain access to the more you play. These are mainly new modes or alternative skins that add nothing to the characters themselves to warrant the time investment.
The thing is, these aren't terribly compelling Unlockables and the criteria to unlock things is a essentially a laundry list of simple numbers to hit:
Richard's Training Gear - Win 50 matches with Richard Slugging
Amelia's Globetrotting Gear - Win 50 matches with Amelia Airborne
Carrie's Formal Wear - Win 50 matches with Carrie Hatchet
Nicola's Lab Clothes - Win 50 matches with Nicola Volt
Charlie's Umbrella - Win 50 matches with Charlie the Tramp
Barrelhouse Glad Rags - Win 50 matches with Barrelhouse Jones
Beanie - Complete tutorial
Bargain Bin Glasses - Correctly perform 50 Face Off sequences
Woman's Turban - Attack 50 times
Drink Assist Helmet V2.1 - Attack 500 times
Viking Headgear - Attack 1,000 times
Spartan Helm - Attack 5,000 times
Speakeasy Clown - Attack 10,000 times
Gas Mask - Block 500 times
Mardi Gras Mask - Fake 500 times
Conductor's Cap - Swap 500 times
Dune Cap - Oh you will find out
Magician's Hat - Pile 150 hats and other items on the ground
Confetti Mode - Play 100 matches
Bricks Mode - Play 1,000 Quick, Twos or Threes matches
Wooden Nickles Mode - Play 50 King of the Hill matches
Barrel Mode - Play 500 matches
Vintage Mode - Play 250 Tag Team matches
Lights Out Mode - Log 25 hours of play
You get the idea. These unlockables are the only real sense of progression available in the game. While it is a throwback to the arcade titles of old, in practice this makes you appreciate why the convention is often left behind.
I Give it a 6 Because I Got Bored Quickly
This is a very simple game. That is both its greatest strength and weakness.
Getting started is easy, select a game mode, connect additional controllers to assign, each player selects his/her character, and then select the level. That's it, sounds simple? Yes. The next screen will allow you to select how many victories (up to 9) needed to win and if you'd like a "Face Off." Once you select those, it's off to the rumble.
Your characters will face opposite one another, you'll see a timer at the top of the middle of the screen and a banner in the middle which will indicate that it's time to fight. Based on your tutorial, it's up to you what moves you'll decide to use. Again this is also important to which mode you selected as well.
It all boils down to who attacks the fastest and lands the blow. If you try to attack before the indicator states, you lose that turn and the point goes to your opponent. Faking your opponent may or may not work, nor will attacking all the time. Your opponent will figure that out pretty quickly to block your attacks (you only have so many).
When you both attack at the same time, you'll enter "Face Off" which quickly prompts (square, 'X,' circle, triangle) you on which buttons to select quickly. The winner is selected based on who messes up first. This was really fun and prompted many laughs.
Tag Team consists of 3 characters on each team and plays just the same with the exception of swapping out characters in place of another. Once a character is swapped they cannot fight until next round. King of the Hill and Tournament are modes for 4-players only.
No Online Play For This Fighter
The only downside to Speakeasy Fisticuff League is that I'm not quite sure on the replayability here. Yes it's entertaining but only for so long. I'll admit it only held my attention for so long. There's no online play, you're required to have additional controllers if you're thinking of giving it try. This might be a considerable factor--it was for me. I only had one controller for my PS4 so I had to borrow one in order to play the game.
By no means am I saying this isn't a good game. You'll definitely get some laughs with your kids and friends.. Just make sure you have additional controllers.
Be sure to watch the launch trailer at the top of this article to get a glimpse of GameSkinny's own Amanda Wallace playing Speakeasy Fisticuff League!
Speakeasy Fisticuff League is available to play on the PS4.
Our Rating
Looking for a fun game for everyone to enjoy? Look no further than Speakeasy Fisticuff League on PS4.
Reviewed On: Playstation 4
Published Dec. 30th 2014