GTAV Nominated for Best Promotional Effort by a Game - 2014 Dragon Slayer Awards
GTAV has given away a bunch of promotional items since it was first available for pre-order last year. Reward Rockstar Games with a vote to help them out in the Dragon Slayer Awards!
For the third year in a row, Guild Launch (a partner site with GameSkinny) will be holding the Dragon Slayer Awards. Designed to focus on the community aspects of gaming, this year Grand Theft Auto V has been nominated for "Best Promotional Effort by a Game." Let's see why:
Grand Theft Auto V has been all about downloadable content, limited-edition giveaways with pre-orders, and fan art of all kinds for the past week. According to the Rockstar Games Facebook page, there's a GTA Online (GTAO) Independence Day Special that's ending soon. The downloadable content comes with star-spangled cars, special-made weapons, new clothes and accessories with just a pinch of patriotism that only Rockstar Games can deliver.
GameStop had a Grand Theft Auto Event last weekend where they were offering cool things like free GTAV posters with any pre-order of the game on a next-gen console like the PS4 or the XBox One, 50% off the game's strategy guide, 50% off Shark Cash Cards for use in GTAO, and more.
Rockstar Games' Facebook page also featured a number of fan-made content, from 'fan-created' gameplay videos on Twitch to fan art. Their Twitter page, however, shows posts from the GTAV Social Club and offers direct viewing access to those same fan-created gameplay videos that showcase new 'jobs' based on old GTA missions from years past, game spoofs on real-life shows like The Walking Dead, and other cool stuff.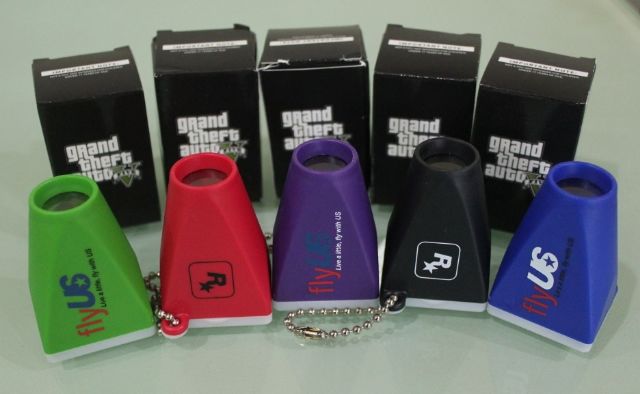 So why is GTAV nominated for the 2014 Dragon Slayer Awards?
Rockstar Games has done a spectacular job promoting Grand Theft Auto V since its release last year before September 17. Stores have given away great items like viewfinders, posters and key chains and apparently haven't stopped just yet. GTAV is making its way to next-gen consoles November 7 and there will be more promotional giveaways as that time draws near. Aside from that, GTAV is a great game with a lot of extra things to do after the main story has finished, like challenging other online players to a race or mission in GTAO. This game is not your average GTA game, so go vote for GTAV for Best Promotional Effort by a Game on GuildLaunch.com!
Published Jul. 30th 2014