Nintendo Responds to Petition for Robin Williams Tribute in Next Zelda Game
Robin Williams' love for Zelda has influenced a petition in his memory. Can his joyous spirit be kept alive in the next Zelda game?
Robin Williams' death earlier this week touched many, leaving people of all ages shocked and upset to have lost a man who brought such joy and laughter to the world.
Robin was not only a talented actor and comedian, he was also a fellow gamer! He even named his daughter, Zelda Rae Williams, after Nintendo's Princess Zelda from The Legend of Zelda. They have both worked with Nintendo in the past, starring in an advertisement for The Legend of Zelda: Ocarina of Time. In the ad, Robin explains how his daughter and the Princess are "both pretty magical". Which makes for the most adorable ad in existence!
Fans of Robin Williams and Zelda alike have signed a petition on change.org for Nintendo to include a character named 'Robin' as tribute to him in the next Zelda game. So far the petition has managed to collect over 10, 000 signatures!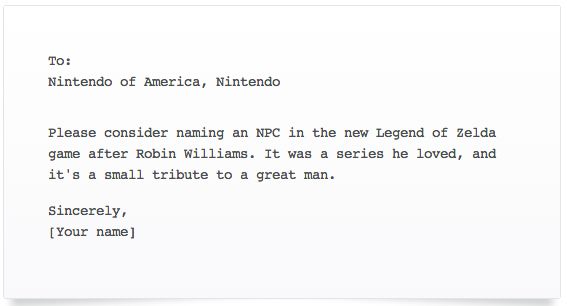 Nick Schaedel organized this petition and explains it as being "born of a sense of loss, and a desire, as the news coverage turned away from celebration of Robin's life and into the deeply personal circumstances of his death, to focus again on something positive".
Nintendo has acknowledged this petition with an ambiguous response; however, it still remains heart-felt.
"Robin Williams was loved at Nintendo. Our hearts go out to his entire family, and especially to Zelda Williams who we've worked with multiple times. We appreciate the outpouring of support from the gaming community, and hear the request of fans to honor him in a future game. We will not be discussing what might be possible for future games during this difficult time, but we will hold our memories of Robin close."

-Nintendo
Schaedel remains positive to this response, reinforcing that it would be wonderful if Nintendo does decide to include Williams in their next Legend of Zelda title for the Wii U. However, even if they don't, Schaedel says that "this petition simply stands as a reflection of a lesser-known way that Mr Williams touched the lives of many people. That's fine too."

This is just one of the massive movements that have occurred since Robin's death, showing the enormous amount of dedicated people from around the world who have been moved by his passing and wish to see something positive come from it as a remembrance of his uplifting presence. A similar petition to this has led to World of Warcraft working on a non-playable character in his memory.
"He won't get to play it, but he'll live on forever in a universe he always loved."
Published Aug. 17th 2014