A New Promo for Persona 4: Dancing All Night
Atlus releases the latest character promo for Persona 4: Dancing All Night, the newest Persona spin-off game.
Atlus began streaming the newest promo for Persona's newest spin-off game, Persona 4: Dancing All Night. The promo was released today, showing the Persona 4 character Yukiko Amagi. The minute and half-long video features Yukiko saying many of her lines from the game, as well as a remix of "Heartbeat, Heartbreak", an in-game song from the original Persona 4.
The game is set six months after the Inaba City serial murder cases are finally solved, when Rise Kujikawa finally returns to the entertainment industry. Rumors are spreading, saying that "at midnight, if you see a strange video playing on a certain site, you'll be transported to the "other side" and will never wake up again". Soon after, members of the idol group Kanamin Kitchen, including Rise's underclassman Kanami Mashita, are disappearing.
The "hero" Rise, Kanami, Yosuke, and many other Persona 4 characters must engage in a dance battle against the Shadows of the other world, the mysterious Mayonaka Stage.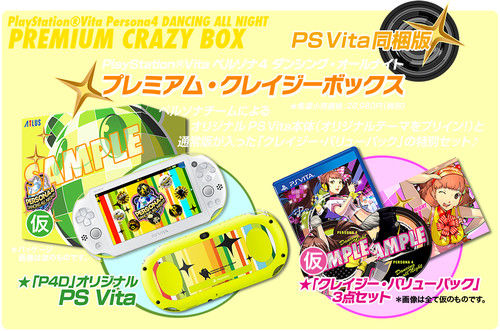 The first edition copies of the game will include a Blu-Ray with footage from the upcoming Persona 5. A special, "crazy value pack" will also be released on the same day. The "value pack" will include:
A collector's box edition with an original illustration

The game itself

A 2-disc original soundtrack

Three DLC-exclusive items
A "premium crazy box" will also be released. This edition will have the "crazy value pack" as well as a limited edition PS Vita with a Persona 4: Dancing All Night design. The PS Vita rhythm game will be released in Japan on June 25th, after being delayed for a season. The game is already confirmed for American release.
Published Apr. 11th 2015