Cards Against Humanity Clone: Play on Your Chromecast!
Get an extra dose of terrible on your TV with the Cards Against Humanity clone Casts Against Civility.
Cards Against Humanity is an amazing game that I frequently describe as "Apples To Apples for Adults." The goal of the game is to use cards to respond to a statement or question the Card Czar puts down. For instance, the Card Czar could play "What is Batman's Guilty Pleasure?" and you might want to play your "Vehicular Manslaughter" card.
"Unlike most of the party games you've played before, Cards Against Humanity is as despicable and awkward as you and your friends." - Cards Against Humanity
It's guaranteed to bring out the most terrible parts of you out in the open, and is responsible for my friends thinking that I have a centaur fetish (I don't, promise).
Frequently out of stock on Amazon, the official Cards Against Humanity game can be a hassle to get ahold of - although you can download your own set from their website for free. Luckily for those of you with android devices, there is a clone called Casts Against Civility available on the Google Play Store.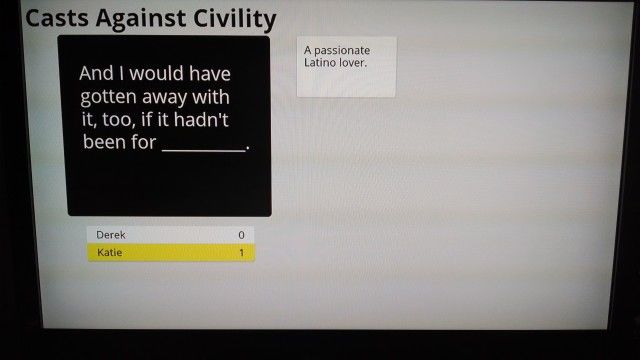 The game is currently in its beta stage, and utilizes smart phones and Chromecast to play on your television. Simply have all your friends download the app, connect to your wifi, choose a name, cast to your Chromecast and let the game begin.
Okay, that actually sounds like more than the original Cards Against Humanity requires. Assuming your Chromecast costs around $35, each participant paid $100-$200 for their android device, this is suddenly far more expensive than the $25 dollars to buy Cards Against Humanity on Amazon.
Assuming you have the necessary tech lying around, it does seem like a neat novelty to play Casts Against Civility on your television. It's a central location that makes it easier for everyone to read the black card and each player's response. Plus - screen capture potential makes it easier to share your friends' idiocy.
I'll be testing this out tonight with my husband, and hoping that I can play a wacky enough combo to erase Centaurs out of everyone thoughts.
Published Mar. 12th 2014