Aura Kingdom Exclusive Producer Interview
We sat down with Aura Kingdom Producer Aaron Biedma to get the skinny on Aeria Games' new free-to-play, anime-themed MMO.
Aeria Games' new MMO, Aura Kingdom, heads into closed beta today. I recently got the chance for an exclusive sit-down interview with Producer Aaron Biedma to talk about the free-to-play title and what makes it a unique and compelling experience.
GameSkinny: First off, what about Aura Kingdom stands out to differentiate it from all the other free-to-play anime MMOs out there?
Aaron Biedma: The first thing that stands out is the eidolon system, and the fact that it's not just a pet – it's also your companion along the way. It's talking to you, it's remembering your battles, it's leveling up with you, it's getting you items in game... it's multi-talented; it's not just a pet following you along or giving you stats.
Second, it's just well-polished, not only in terms of graphics but also gameplay. X-Legend [the Asian MMO company behind the development, which also made Eden Eternal and Grand Fantasia] has made two other games along the way and they take everything that works really, really well, and then take it to the next game and just expand and improve.
GS: You get one eidolon early on. How do you acquire new eidolons?
AB: There are a number of different ways: quest lines, world drops... there are ways to combine different items that drop throughout the world and eventually, through recipes, to make broken keys, and then keys to unlock them. In addition, if you have extra keys after you've unlocked an eidolon, you can use those keys to level up the eidolon even further. There are 16 eidolons at launch, and a lot more in development.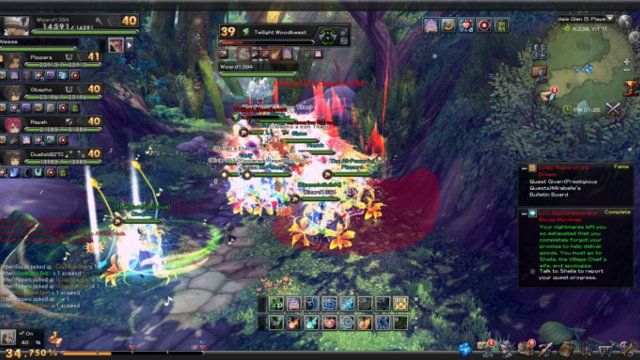 GS: What kind of changes did you have to make in terms of the localization, to make sure it was a more polished experience for a North American audience?
AB: What's nice is that we've worked with the developer quite a bit over the years, and so they take a lot of our suggestions to heart. Changes that we've made on previous games have come up, and a lot of the gameplay has been really well-designed for a North American audience. We've made some changes as far as leveling curve and XP gain, to make it more like Western gameplay, but a lot of it has been translations and making it work for the Western audience.
GS: Speaking of Westernizing, how much of a grind do you see it being getting to level 40? [During the beta, content will only extend out to level 40, though the max level is 50, and there will be content present at launch to get players to that level.]
AB: It's not going to be much of a grind getting to 40. There are a lot of different things to do; you're not going to level just by grinding and killing mobs. You'll level through the quest lines, side quests, achievements, titles, and so on. This game is built to have a rich storyline and to level up through that.
GS: What kind of PvP do you have planned? And why is it restricted to level 50 characters?
AB: For the beta, we're just going to have five-on-five arena [deathmatches], but we do have additional stuff in development right now. Right now – and this may change in the future – they want to bring up in through the PvE, through the storyline, before you get into PvP.
GS: What do you have for groups of larger than five people? Raids, open-world activities, etc.?
AB: There are going to be different guild activities in the guild hall, like eidolons that spawn during different times of the day. There's a table in the guild hall once you get to certain levels, that lists out when the eidolons will spawn. When they do spawn, the whole guild can attack, and if you can take it down, everyone has a chance to get the eidolon as a drop.
There are also going to be world bosses that go at certain times, and everyone who's in on the attack – or even heals someone who's in on the attack, so healers have a chance to get in on it – will have a chance at world drops and things like that. There's going to be more in development going forward, but so far we do have those going at closed beta launch and commercial release.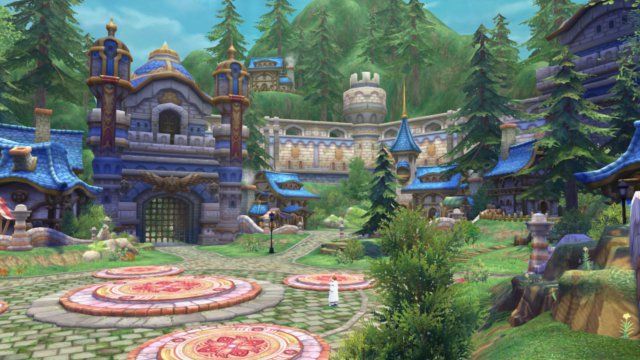 GS: It's free-to-play, and that means different things to different people – for many, that's "How are they going to get into my wallet?" What do you have to offer players who want to play the game for free or at least a minimal investment?
AB: We haven't set everything yet, but we do have ways to get things free in the game. We have the Loyalty Point system, whereby just by doing quests and achievements in game, you'll earn Loyalty Points, and you're going to be able to get items in game with them, including cash shop items. You also get free items from your eidolons, and there will be special events, so there will be plenty of ways to get things in-game, even if you're not a spender. There is going to be a cash shop, and if you look more towards [what we've done with] Grand Fantasia and Eden Eternal, there's going to be a lot of vanity in it, but there will be a wide variety of different types of items.
Thanks to Aaron and Aeria Games for their time! If you want to get in on Aura Kingdom now, you can purchase a Founder's Pack for guaranteed access to the closed beta. Otherwise, just hang in there until the open beta or full launch on 2014.
Published Dec. 16th 2013