Nintendo Shows off Menus for Super Smash Bros 3DS
Taking a peak at the menu system for Super Smash Bros 3DS and coming back with a bit more information.
"Never judge a book by its cover!" That's what Mom taught us, but she never said anything about video game screenshots.
Towards the end of July, Nintendo and Sora LTD's Masahiro Sakurai, Director and Gamed Designer, have been showing off select screen shots for Super Smash Bros for the Nintendo 3DS. A majority of them have been of opening menus and character mini games, showing off just what lies under the hood. In the images below, we get a look at what button we need to get a rise out of system, literally, and at the same time get a few facts revealed to the general public.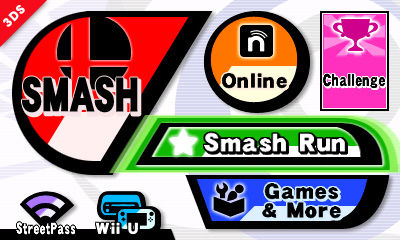 Many of the menu options look strikingly similar to the past couple Smash Bros installments, in icon design and basic option, guess if the wheel isn't broken, don't fix it, right? The basic options that have always been a staple of the series (Classic, Smash, Stadium, Training, etc.) still exist in SSB 3DS, so the classics modes such as Solo story mode still have a large role in the game. However, the game takes advantage of the secondary screen, using it as a visual and textual description of each mode, showing off game characters staring in mini games or Mario positioned on the Solo mission map. This sort of display not only showed us the summary of the mode, it also gave us a clue as to two Boss battles in Solo play; Bowser and Lucario.
Sakurai also let us see other options like Albums and Replays, these will be affected by the 3D Slider on the system. Pictures taken with the 3D on will be in Stereoscopic 3D when viewing and the pictures taken without are only in 2D. Extra options like Trophies, Records, and Tips can be found in images below as well, giving a comprehensive tracking system for all your Smash Bros accomplishments.
Something new Nintendo is offering to Smash Bros 3DS is a customize character option. At first glance, it seems it be only for Mii fighters, no word if it's offered for the standard characters yet. This area allows you to enhance your Miis in a number of ways: Equipment, Specials, Headgear, Outfits, and Powers. The items used to upgrade these stats are collected by playing missions in the campaign, it could be quite possible from mini games as well but that hasn't been confirmed.
With all these tittilating screenshots revealing more than expected, Super Smash Bros fans have that much more to be excited for come its release on October 3rd. Check out the rest of the menu images below and leave comments on what you think.
Image source Miiverse Director's Room Super Smash Bros
Published Oct. 10th 2014