Unmask Scribblenauts Unmasked: September 24th
Beware comic book fans, you'll have a new game to fond over on September 24th, Scribblenauts Unmasked: A DC Comics Adventure.
If you guys don't remember from E3 and Comic Con, Scribblenauts Unmasked: A DC Comics Adventure, is due to release this fall... and, well, this month! Not only does it bring your favorite DC Comic characters to life, but you get to solve problems using the DC comic theme!
Gameplay not so different, but wait - Superheros... and Villains?!
Like the other Scribblenaut games, you'll be in control of Maxwell, while spawning items and, in this case, superheros to help you solve puzzles throughout the game. A great example would be in the likely case of using Superman's heat vision to help out during a puzzle. Don't forget, you can also change the superheros by adding adjectives to their character. We might just get the chance to make a "zombie-batman."
But with all good, comes the other hand of evil. You'll also have the ability to spawn in the shady characters of the DC comics world such as the Joker and Doomsday. The possibility of being able to customize them is definite as seen in the trailer with the tricked out Doomsday.
Turning it up a notch, Scribblenauts style
In the game, you'll be in the DC world, so you might recognize
some locations such as Aquaman's Atlantis, Gotham City, and the base of the Green Lantern on Oa. Not only will that be familiar, but you might not be able to recognize your favorite characters since they've added over one hundred Green Lanterns, and thirty-four Batmans. They definitely out did themselves this time with the creativity level in Scribblenauts Unmasked.
The Bat-Computer is Bat-Tastic
A new feature in the game is the Batcomputer, which is like your own personal encyclopedia for the DC world. This will become probably the only way to keep track of the 2,000 or more characters. I know when I play the game I'll be making a lot of references to this little gadget!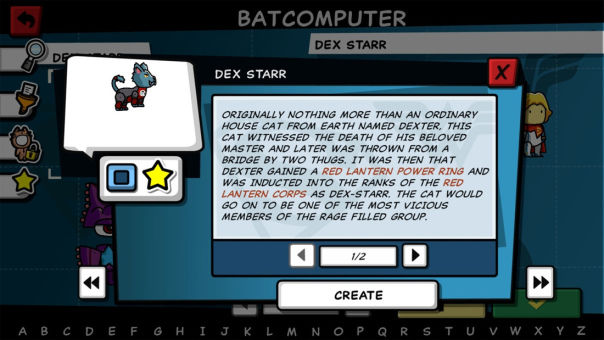 So my verdict is, if you love comic books, and love being imaginative and creative in Scribblenauts, you might wanna check this game out. It'll be available on the Wii U, Nintendo 3DS, and for PC. We can only hope it'll be available on Steam like its earlier Scribblenaut game, Scribblenauts: Unlimited.
Published Sep. 3rd 2013