Anime and Their Video Game Counterparts: The Good, The Bad, and the Ugly
A video game of your favorite anime sounds like a good idea but do they make good games. We broke down the good, the bad, and the ugly of anime video games.
Anime has inspired numerous video game counterparts that allow fans the opportunity to play some of their favorite characters. Unfortunately, this does not always mean that the games do justice and provide fans with an enjoyable experience in their anime universe. While some games rise to the occasion by bringing a fun and memorable experience, some quickly turn into a headache for the player. Here is the good, the bad, and the ugly of anime inspired video games.
The Good
Some games do an amazing job of merging what makes an anime great with video game functionality that provides an overall enjoyable experience for the player.
One franchise that has managed to achieve this is Naruto, which, in recent years, has developed a successful line through its Ninja Storm titles. As a fighting game series, the Naruto games allow players to become some of their favorite characters and live out some of the most iconic moments from the TV show. The series did not start out the best, but over time has developed a good balance of style and substance that make it a fresh and fun fighting game with the anime setting that fans love. The roster of characters is one of the largest ever seen in a video game which can feel overwhelming, but it does allow a player to use their favorite character even if they were not that important in the show.
Another franchise that blends game and anime well is Danganronpa. Now this is a video game series that inspired a successful anime but nonetheless it does a great job doing both. The game is a point and click mystery adventure that puts players in a the role of a grim detective trying to figure out who is the mastermind behind the evil plot. It is unique story that somehow fits very well in the game universe. The art style is fantastic and there are many parallels between it and the show which is a good fan service. The game seems simple but offers enough intrigue to feel rewarding to the most observant players.
The Bad
Now some games do not do as well of a job at crafting a video game with anime world, which can leave players with an unsatisfying gaming experience. Usually these games try so hard to make the anime world come to life, that they miss the mark for good gameplay.
One such example of this is Dragon Ball Xenoverse. Taking place in the Dragon Ball universe, Xenoverse is a fighting game that looked great. It was very flashy and offered a unique story but that was essentially all that it had to offer. The combat of the game felt very unfair which bogs down a fighting game, where fairness can determine the outcome of a match pretty quickly. Now the game is still a fun time and does enough to satisfy fans wanting to play a Dragon Ball game but this game does not stand out without its anime elements.
One Piece: Burning Blood faces similar issues. This game offered a lot as far as fun 3D combat is concerned, but does not do a lot outside of that. If you are not a longtime fan of the series, this game is not for you. The combat is fun and wacky, which is very much One Piece, but makes little sense to anyone that is not familiar with the series. The story is also an arc of the show but does little to make the player feel as though they are living the One Piece story and are instead just watching a different format of the anime.
The Ugly
These games got the mix of anime and game all wrong. They make an attempt to provide a video game experience to an anime world and end up delivering something very far from that.
A franchise with a history of this is Sword Art Online. Sword Art Online's universe is literally a video game so it would make you think that there is a lot that can be done, but that has yet to be the case. Fans of the series have been left with games that are repetitive and do little to build off the universe. Most are repetitive and feature frustrating combat mechanics that leave many people doing the same moves over and over again. The games have not brought the anime to life and lack any real development for the overall story. There has yet to be a saving grace in the series and we do not know if we will see one to come.
Another franchise with similar hiccups is Attack on Titan. The first Attack on Titan game, Humanity in Chains, was a disaster. The visuals were muffled, the gameplay was lackluster, and overall the game was a disservice to the anime world many fans love. It is a frustrating experience to see a world you love get bombed with an ugly video game. On a lighter note, the franchise did improve itself by offering a new PS4 title which was a much better game though still not spectacular. In the newer game, the combat was much better and visuals were cleaner but it suffered from a generally unsatisfying plot.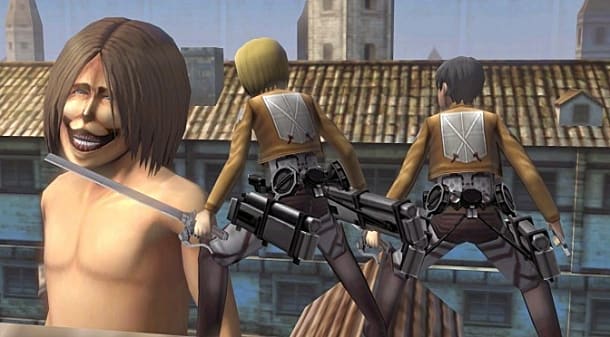 Some anime games know what to do and some should just stay out of games. Let us know in the comments which anime games are favorites and your worst nightmares
Published Nov. 30th 2017