See Link's New Ride in Mario Kart 8 in New DLC
Nintendo reveals a new Zelda themed bike from the upcoming Mario Kart 8 DLC
This November the first DLC pack for Nintendo's Mario Kart 8 releases on the Wii U. In anticipation, Nintendo has released art showing off a new Legend of Zelda themed bike that comes with the pack.
The bike is dubbed the Master Cycle, and according to Nintendo, has "plenty of horse power." The bike is reminiscent of a horse, with a beautiful blue and gold paint job. The bike comes adorned with series staples, such as the Hylian Shield and the Triforce.
The Master Cycle is one of four vehicles being added to Mario Kart 8 in this DLC pack. The pack will also come with three new characters to race as: cat-suit Princess Peach, tanooki-suit Mario, and Link himself. Also included is 8 new tracks. The pack will set you back $8.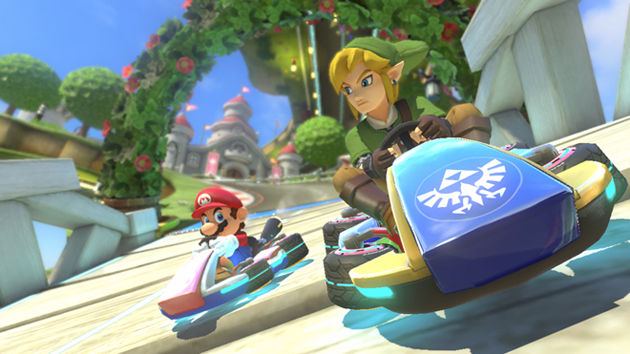 A second DLC pack for Mario Kart 8 will drop in May 2015. It will also introduce 4 new vehicles, 8 new tracks, and 3 new racers. The three racers are Animal Crossing's Villager and Isabelle, and Dry Bowser. This pack is also $8 separately. However, gamers can purchase both packs together for $12. If you do, you automatically receive 8 new colors for both Yoshi and Shy Guy.
For more details on the upcoming Mario Kart 8 DLC packs, you can click here.
Published Oct. 16th 2014