Black Ops II Hollywood Scribe David Goyer Wants To Make A Da Vinci's Demons Game (Exclusive)
The Hollywood writer behind this summer's Man of Steel and Treyarch's Call of Duty: Black Ops II believes Leonardo Da Vinci deserves top billing in his own video game.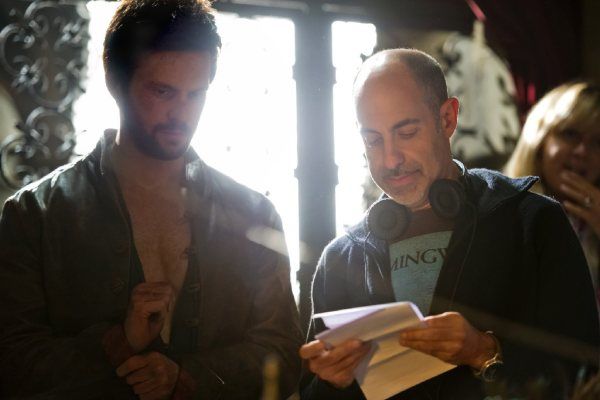 Hollywood producer and writer David S. Goyer has helped craft comic book heroes like the Dark Knight and Superman in movies like The Dark Knight Trilogy and Man of Steel. He's also worked with game developer Treyarch on both Call of Duty: Black Ops games. With his own hit show getting picked up for a second season at Starz, Goyer is already thinking about a Da Vinci's Demons video game.
"If ever there were a character that you could wrap a game around, whether it be an RPG or whether it be a smaller game, it's Leonardo Da Vinci," Goyer said, who has begun production on the second season of the show. "There are definitely a lot of possibilities with this character and I think there are a lot of cool gameplay elements that would lend themselves really well to Da Vinci."
It was Goyer's last TV project, Flash Forward, that gave him is first interactive gig. Treyarch execs were fans of that short-lived series, which involved a lot of nonlinear storytelling.
"The first Black Ops game had that kind of nonlinear structures as well, and Treyarch had gotten lost in an abyss, so they thought I might be able to help them with that," said Goyer. "I do like nonlinear storytelling. Black Ops 2 is completely nonlinear, even that we had over 15 different endings. In a weird way you're almost writing a matrix of some scenes. We had to create a flow chart, as opposed to just beating something out in a normal fashion."
Goyer, who is a gamer, enjoyed the challenge that video games brought, especially after working in Hollywood for so many years.
"It's completely different... The challenge with writing a first person shooter is that the player is the main character, so you have to figure out different ways to deliver exposition. You have to be clever because you can't cut away. Sometimes we had to figure out some ways around it. It's much more complicated to convey exposition or information that the player has to have in order to complete the game."
Goyer added that shooters are usually more about environments and the challenge is to get the player emotionally invested in the characters and the story.
When he has time, and between the show, the movies and two young children, he doesn't get to play games as he once did; he does keep up with big games like BioShock Infinite. He called that an amazing game, even though he had only played a little bit of it.
"I'm sure as the kids get older I'll play more games with them, but right now they're too young to young... My wife doesn't let me even have any video games in the house. I have a detached office where I play them."
Gaming has influenced his Hollywood work over the years, especially since he has remained a fan of gaming even if his gameplay time has diminished recently.
"An obvious point of reference would be Assassin's Creed II in terms of Leonardo showing up in that series... Thanks to comic books and video games people are more adjusted to the idea of historical fantasy, or doing revisionist takes on historical characters. And I think that's helped with our show, because that concept isn't something that's done frequently in television."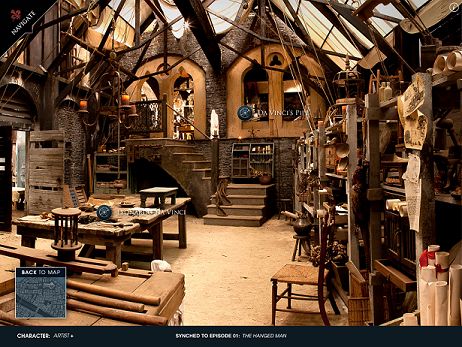 Starz has been at the forefront of embracing technology, which fans of Spartacus (like me) know from the mobile, Facebook and free-to-play console DLC games that have been released since that show first took the world by storm. With Da Vinci's Demons, the cable TV network decided to create its first second screen app for Apple iPads.
"With the app – I won't say that I'm an expert gamer, but I would say that I'm an enthusiastic gamer because I do play games and download app games and things like that, so I was able to add some perspective to what they were doing," said Goyer. "The app they made for this particular show is actually pretty clever. It has some minimal RPG elements to it. It was never going to be Assassin's Creed because it takes a long time to develop a good game and this is a new show."
The app, which is called Citizens of Florence, syncs with the show and dynamically unlocks interactive content in real-time. Fans can explore the virtual world of Florence as a character class like an artist or banker, and learn about the real city and the actual inventions of Da Vinci. It's the first step to what Goyer hopes will be games.
"I think it's interesting with The Walking Dead game that they've done as a companion piece to that show," Goyer said as well. "With the show continuing to go I'd love to do a full-scale console RPG for DaVinci's Demons, which I think the show could really lend itself to something unique."
Given Starz' track record with games, it's likely Goyer will get his wish, hopefully for Season Two.
Published Jun. 5th 2013