Steam Libraries, The Modern Day Dust Magnets
It's time to blow some dust of these hurdles of junk and find the treasures hidden beneath.
Most PC gamers can relate to the fact that most Steam libraries consists of more games than what the owner is playing. Often games are never installed and quickly forgotten; nothing more than some sort of trophy from a bundle or one of the many sales. I myself, am a prime example of this weird trend's extreme side. Here is my profile for context.
According to SteamDB, 86% out of the 1387 games in my library have gone untouched. Though not entirely accurate, it's a good indication. Steam isn't always the best keeper of time, especially considering offline gaming and the use of 3rd party launchers.
Before you ask, yes, I do have a minor hoarding problem with digital commodities. But in my defense, almost all of it was either bought on sale or in a bundle, over the course of more than three years.
It's almost like a sport to me, finding great sales and deals, and then hanging them up on the almost never ending wall of shame I call Steam.exe. On one hand it's fantastic having so many portals to entertainment (or frustration) available at a moments notice, but on the other it's a massive waste of money, and space considering Steam's library is so..simple.
It's time to clear some dust and uncover whatever secrets, or junk, is hidden deep in this library of oddities. It would whitout a doubt be too optimistic of me to think that I ever will have time to catch them all, so I'm gonna have to settle with something else. My plan is to at least dedicate a couple of hours every week to play one random game from my available stash, and do a write-up of it here for my own record keeping -- and your entertainment.
The tool I'll be using is The Wheelhaus, a Steam roulette gadget made by Reddit user f00d4tehg0dz. It's a fantastic tool for people in the same boat as me, and it even plays the theme us InsideGaming fans love!
At the end of each write up, I'll supply a GIF of the roulette spinning, and what game it lands on. That way you'll have an idea of what is to come.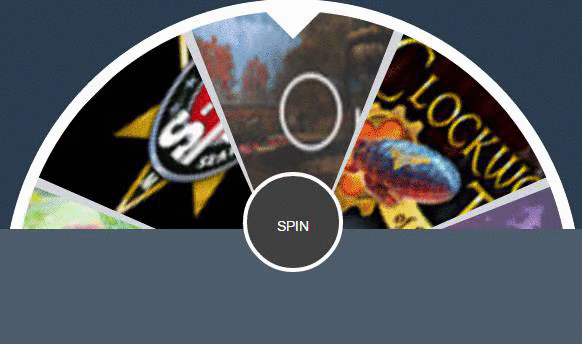 The Sun at Night
"Explore, blast, and shield your way through massive branching levels as Laika the space dog. This 2D adventure features customized gameplay and an incredibly deep narrative." From the store page on Steam. In spite of the mixed reviews on Steam, I'll might enjoy this being somewhat of a sci-fi junkie.
Happy spinning, and until next time!
Published Nov. 22nd 2015