5 Things To Do in New Goat Simulator 1.1 Patch
5 goat-nificent things you can do in the new Goat Simulator Patch 1.1
As if the original Goat Simulator wasn't outrageous enough, Coffee Stain Studios decided to take it up a notch by releasing a free patch to the bizarre goat antics of the original.
While there are plenty of new places to fling yourself from, people to terrorize, and hilarious hidden goat upgrades, here are 5 new features that are worth your time to explore:
Related: Goat Simulator Patch 1.1: All 6 Battery Locations
Related: Goat Simulator Patch 1.1: Achievement Guide

Related: Goat Simulator Patch 1.1: How to Unlock New Goat Mutators
Related: Goat Simulator Patch 1.1: All 30 Golden Goat Trophy Locations Guide [Pictures]
1. Ride a Bike While Someone is Riding Your Goat
There's really not much to explain about this one besides how absolutely entertaining this is to watch.

You could spend a good half hour riding around the new Goat City Map with an unsuspecting civilian riding on your back. Not only will you be carrying around a new friend, but you can ride a longboard or bicycle while doing so.
2. Take a Leisurely Cruise
While exploring the new map, you may happen upon a speed boat near the dock of the carnival.
If you board the boat you'll be taken by surprise as the driver quickly turns your scenic, lovely boat ride into high-speed chaos.

If you manage to hang on, you'll be surprised where you end up.
3. Try Some Carnival Rides
Hard not to notice, Coffee Stain Studios included a rather significant carnival amongst many other features in the Goat City Map.
Including a ferris wheel, roller coaster, and various other recognizable attractions, your goat adventures will be endless.
4. Buy Some Goat-astic Hats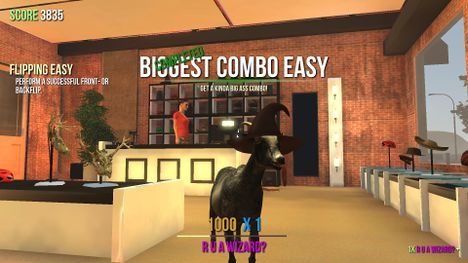 If you manage to find some money lying around, your goat can swing by the Hat Shop to pick out some stylish hats and accessories.
You can find money caches hidden around the map and then bring them back to the shop via your tongue.
5. Play With Your Friends
Arguably the most entertaining feature added is the ability for multiplayer destruction. What better way wreak havoc on a town full of unsuspecting people than with another goat sending inanimate objects flying by your side?
With the new multiplayer feature, there is double the anarchy and double the fun. The patch is free, so it wouldn't be too hard to convince a friend to rag doll down the streets of Goat City with you.
Published Jun. 7th 2014